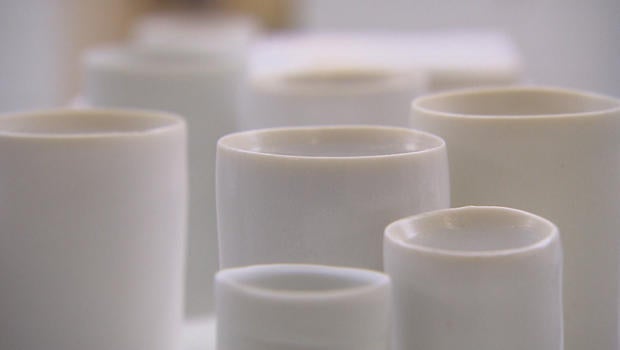 Potter and author Edmund de Waal on the poetry of objects
It looks easy when Edmund de Waal does it, forming in the language of his fingers a kind of tactile poetry. "There's this lovely feeling for me of the sort of breathing vessel, which is changing all the time," he said. "What I'm doing is making a space, making a volume."
He can make hundreds a day, thousands a year, of porcelain "pots," as he calls them. By the time they're glazed and fired, each one has its own identity, its own subtle beauty. But it's only when de Waal arranges them in groups, or edges them in gold, or obscures them behind frosted glass, or camouflages their fragility next to slabs of steel.
"They've got this beautiful, abraded, oxidized surface; it's almost like lichen or rust," he told correspondent Martha Teichner.
Only after he's agonized and tinkered in his South London studio do they become the works of art he intends them to be.
"There's a strange moment when all these things, which at the moment, they're all movable, and then you put this case on top and it pauses it," he said.
It makes you stop and really look.
How much simpler it would be to tell his story if Edmund de Waal were just one of the most important potters alive, which he is, but there's so much more to tell.
He's probably even better known for "The Hare With Amber Eyes," a very personal family history which has sold more than a million copies worldwide. The book is named for a tiny Japanese sculpture called a netsuke, one of 264, a collection passed down to de Waal.
Through five generations of his family, it's all that's left of their once-stupendous wealth.
The Ephrussis were a Jewish trading family from Odessa. At the beginning of the 18th century they became the biggest grain merchants in the world. "There was a great patriarch, and this patriarch sent half the family to Paris and half the family to Vienna," de Waal said. "And they founded big, substantial banks. They built palaces."
Charles Ephrussi, who bought the Netsuke collection in the 1880s, was a patron of the arts, immortalized in a Renoir painting.
The history of the Ephrussis is also the history of anti-Semitism in Europe. Their fortune was confiscated by the Nazis, their palaces seized, their art looted during World War II. Surviving family members scattered. Edmund de Waal's grandmother converted to Christianity.
He knew little of his family's past while growing up Christian in England within the walls of Canterbury Cathedral, where his father, an Anglican priest, was dean.
At the age of five, de Waal begged his dad to let him take a pottery class. "I can remember my first pot," de Waal said. "I can remember the mess. I can remember the chaos. And I went back the next week and I glazed it white. And then, that's just been it. That's 45 years of making white bowls!"
His obsession with whiteness, with porcelain, inspired his next book, "The White Road."
The Chinese had begun making porcelain many centuries ago, and the book is about Europe's centuries-long obsession with cracking the secret of how it was done.
The Germans finally managed in the early 1700s. Soon, the European preoccupation with porcelain metasticizes, as evidenced in the collection of the Victoria and Albert Museum in London, where the sublime is housed next to the kitschy. "So, there you've got incredible beauty and austerity, the very beginnings of porcelain. You've got all these skills being transformed into what I can only describe as total horror!"
So, how to sum up his own skills, this man who moves so naturally between writing and making pottery? "Well, for years and years and years, I called myself a potter who writes," he said.
For de Waal there's no contradiction between his two great talents. There is instead the single shared vocabulary that informs his life.
"The common denominator is poetry, and for me that poetry is charged language, and in some ways, that's kind of what I hope my installations do – they take unbelievably simple vessels, but if you put them together in the right order, in the right place, in the right form, then it's like poetry. It's charged objects. It's charged things in the world. And that's poetry."

For more info:

Story produced by Jon Carras.
Thanks for reading CBS NEWS.
Create your free account or log in
for more features.