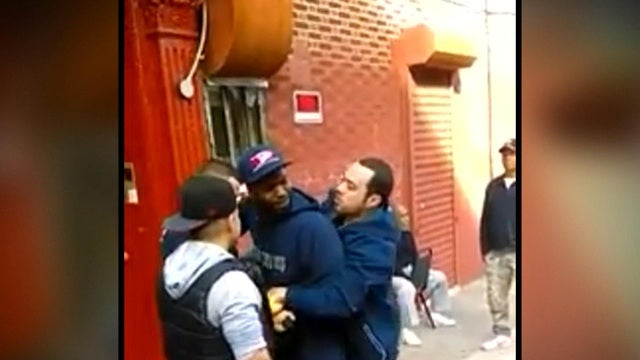 Postal worker speaks out on controversial NYPD arrest caught on video
The New York Police Department is investigating alleged disorderly conduct after the controversial arrest of a postal worker while he delivered packages on his route, reports CBS News correspondent DeMarco Morgan.
Cellphone video captured the plainclothes NYPD officers approaching 27-year-old Glenn Grays. The postal worker was in the middle of his shift on St. Patrick's Day.
"My ID right there on the side of the truck," Grays is heard saying in the video.
"Let's go get your ID," an officer says.
"I'm not going nowhere. I'm delivering my postal route," Grays responds.
Seconds later, the situation escalates and an officer demands for him to "stop resisting."
"I'm not resisting!" Grays says.
Grays is led away in handcuffs, with his mail truck left unattended.
"The only thing I think saved me is that it was on videotape," Grays said. He said he tried to comply with the officers' orders.
"Never been arrested, never received a summons. I was extremely terrified. I wouldn't say afraid - I passed the stage of afraid," Grays said. "I was afraid that if I didn't comply that something was going to happen to me."
Grays was frisked and put in an unmarked patrol car. That's when the video ends.
On the ride to the precinct, Grays said he was told to "shut up a numerous amount of times."
"They rear ended the car and I wind up from the back seat, banged my left shoulder onto the driver seat and banged my face into their armrest," Grays said.
"If it can happen to the mailman, it can happen to anyone in the community," said Brooklyn Borough President Eric Adams.
Adams, who is also a former NYPD captain, released the video to the public.
"Those officers were extremely aggressive and I believe that they wanted him to resist. He was smart enough not to resist," he said. "I believe because of that, he's sitting here today telling his story."
The NYPD has been hit with other caught-on-camera incidents of alleged police harassment against people of color, including the 2014 death of Eric Garner.
"One grabbed my arm and I said, 'You know, my wife is a cop.' He told me he doesn't care," Grays said.
Grays hasn't returned to work yet. He said he wants justice. To him, that means disciplinary action.
"I don't want them to be jobless because they might have family, kids they need to support," Grays said. "It's sad that I thought that when I put on a uniform that I'll be treated a little different, but it's no difference. You know, I'm just another brother with a uniform."
Grays has a court hearing scheduled in early May for the disorderly conduct charges. The NYPD told CBS News all three officers and the lieutenant involved remain on duty, but have been placed on general patrol pending the investigation.
The mayor's office said it is paying close attention to the case, saying all members of the NYPD are expected to act professionally and respectfully.
Thanks for reading CBS NEWS.
Create your free account or log in
for more features.