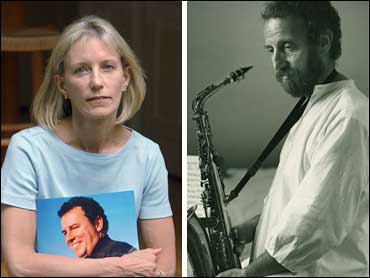 Portraits Of Victims Of Flight 3407
A human rights activist. An advocate for victims' rights. A healthcare worker engaged to be married. A breast cancer survivor. Musicians. Students. A Marine veteran of Vietnam.
Fifty disparate people were joined in the most tragic of circumstances, losing their lives in the fiery crash of Continental Connection flight 3407 last Thursday night. A partial list of passengers has been released. [This list was later updated by Colgan Air, the operator of the plane, and by various news reports.]
Family and friends, still in shock over their loss, remembered their loved ones and the lives they touched.
Crew:
In Florida, Pastor Allen Burner of First Baptist Church of Lutz, said the plane's pilot, Capt. Marvin Renslow, 47, was a loving father and husband.
In a statement to the media he read for Renslow's family, Burner said, "They want you to know that their faith is that God is solvent, that God is in control even when it seems that everything is out of control.
"They are very proud of Marvin's accomplishments as a pilot," Burner said. "They know that he did everything that he could to save as many lives as he could."
Rebecca Lynne Shaw, first officer, of Maple Valley, Wash., was just 24 years old, yet she'd logged more than 2,200 hours of flight time, reports CBS News correspondent Michelle Miller.
Her brother Bill Morris said, "She was perfect, the perfect little sister.
Her mother Lyn Morris said flying was Rebecca's passion. "She was light, she loved to fly … any time she could be in the air."
Shaw graduated in 2002 from Tahoma High School, where she was active in volleyball, softball and student leadership, district spokesman Kevin Patterson said. She attended Big Bend Community College before transferring to Central Washington University in Ellensburg. She graduated in 2007 with a degree in flight technology, university spokeswoman Teri Olin said.
Flight attendant Matilda Quintero, 56, of Woodbridge, N.J., began working with Colgan Air only last year.
Her brother, Sal Poidomani of Iselin, N.J., said she was very excited about her new career: "When she got her wings, she was really excited. She told me how tough the school was. She called me almost every day from Albany, she was at school several weeks. She just loved it. Absolutely loved it."
Quintero was a breast cancer survivor. Her family and friends say she wanted a little adventure in her life while she was able to spend more time with her family.
Neighbor Alison Eckert told The Home News Tribune of East Brunswick that Quintero "always looked on the bright side" and left behind a mother in her 90s, and two grown daughters - one who lived with her and her mother, and another in Morris County.
Donna Prisco, flight attendant.
Capt. Joseph Zuffoletto, 27, a pilot, loved flying from an early age and earned his private pilot's license at 17.
He spent his spare time at the Chautauqua County-Jamestown Airport, even when he wasn't flying.
"We had a small restaurant here at the airport that was understaffed," Dave Sanctuary, the airport manager, told the Post-Journal of Jamestown, N.Y. "He would come in many times when he was not on duty flying and would volunteer cooking at the restaurant. He was very kind, very professional, very likable."
Zuffoletto was off-duty, traveling to visit his grandmother, near Buffalo. Helen Nicotra remembered her grandson as someone who loved to fly, and who died doing what he loved.
"It was his life," she said.
Passengers:
Mary Abraham, a retired Army Reserve first sergeant, had worked at Invacare Corp., a medical-device manufacturer, for about 12 years.
Co-worker and good friend Marc Schwartz remembered Abraham for her outspokenness and said that on more than one occasion, she climbed up onto a table at a business meeting to make a point more persuasively.
"That was Mary. She was passionate," Schwartz told The Buffalo News.
Most recently, Abraham was training people to use the company's products in the region stretching from Maine to New Jersey.
Abraham, 44, worked from her home in West Seneca, N.Y., where she had moved to be closer to her parents, and frequently traveled for her job. She also was a greyhound rescuer and a member of a women's motorcycle club, according to Schwartz.
Schwartz said he dropped her off at the airport Thursday afternoon, gave her a hug and kiss and said goodbye. He learned the awful news about Flight 3407 the next morning.
"Everybody that knew her loved her. She had such a strong personality," Schwartz said.
David Borner, 49, of North Tonawanda, N.Y., worked for Kraft Foods and was returning from a business trip with a co-worker. Borner was to meet his family and then leave with them Friday for a cruise in Florida.
He loved the outdoors and fishing, said his sister-in-law, Karen Hannah.
"He was very involved with his children," his neighbor Ruth Belling told The Buffalo News. "It's just so tragic."
Borner's daughter, Nicole, a high school senior, was looking forward to playing soccer at Binghamton University, according to the Buffalo News. His son, Michael, is in eighth-grade.
"I was supposed to drive him to the airport" for his trip to Florida, another neighbor, Richard E. Ganter, told the newspaper. "I called Cheryl (Borner's wife), and she told me what happened. I was very stunned."
Ronald and Linda Davidson
(CBS)

Alison Des Forges (left) of Buffalo, was senior adviser for Human Rights Watch's Africa division. Considered one of the world's leading experts on the genocide in Rwanda, Des Forges testified at 11 trials at the International Criminal Tribunal for Rwanda as an expert witness. She was named a MacArthur Fellow in 1999.

Des Forges was returning home to Buffalo after a trip to Europe, where she had briefed diplomats on the situation in Rwanda and Africa's Great Lakes region, said Emma Daly, spokeswoman for Human Rights Watch. She sent an e-mail to colleagues from the airport before boarding the plane.

"She was working till the end," Daly said.

Des Forges had a "tremendous commitment to human rights and her tremendous principles," Daly said.

A Sept. 11 widow who put her never-ending grief over the loss of her husband on that black day to good use, trying to make the country safer, Beverly Eckert had met with President Barack Obama just last week at the White House to discuss how the new administration would handle terror suspects.

"She was an inspiration to me and to so many others. I pray her family can find peace and comfort," the president said.

"She was such an important part of all of our work," said Mary Fetchet, another 9/11 family activist. She learned Eckert was aboard the plane from another close Eckert family friend now headed to Buffalo.

Eckert, who was flying to Buffalo to celebrate what would have been her husband Sean Rooney's 58th birthday. He worked at Aon Corp., a risk management firm, at the 98th floor of the World Trade Center's south tower.

She cried when she would tell the story about how her husband - who was her high school sweetheart - called her on the morning of the attacks, and told her he loved her just before there was a loud explosion and nothing more.

Eckert was part of a small group of Sept. 11 widows, mothers, and children who became amateur lobbyists, ultimately forcing lawmakers in 2004 to pass sweeping reforms of the U.S. intelligence apparatus.

John J. Fiore, 59, of Grand Island, N.Y., had recently retired from the U.S. Air Force reserves as a senior master sergeant, according to fellow members of Grand Island Moose Lodge No. 180. The flight was the final leg of his vacation to China.

Fiore, a father of two, served more than 30 years in the Air Force and two years with the U.S. Marine Corp. He had done tours of duty during the Vietnam War, Operation Desert Storm and two separate tours during the Iraq War.

The lodge's treasurer, Rick Halas, said Fiore was a very dedicated and active member.

Fiore also was active in several veterans groups, including the American Legion and the Veterans of Foreign Wars, according to The Tonawanda News.

"There's not a better friend," Duane Frost, a longtime friend, told the newspaper. "There's not a better man. He did so much work for the legion and the veterans organizations. He was just a standup guy."

Ron Gonzalez, director of a youth services program in New Brunswick, N.J., was on his way to visit family in Buffalo, a colleague said.

The Bronx-raised Gonzalez, 44, worked for New Brunswick Tomorrow, a private non-profit organization that provides family counseling, employment and tutoring services for the city's schools.

Jeffrey Vega, New Brunswick Tomorrow's president, told the Star-Ledger of Newark that Gonzalez worked long hours and was dedicated to helping disadvantaged children and their families.

"He wasn't somebody who had an ego," Vega said. "It wasn't about him, it was all about the children."

Brad S. Green, Sr., 53, of East Amherst, N.Y., was a salesman for Kraft Foods and was returning from a business trip with co-worker David Borner.

Green and his family were kind and helpful - "the type of people everyone would want living next door," a former neighbor, Dave Braunscheidel, told The Buffalo News. Braunscheidel said he and Green used to help each other with home projects, like working on Green's hot tub and an engine on his son's three-wheeler.

Green was also a member of Eastern Hills Wesleyan Church in Clarence.

Another former neighbor, George Regan, said the Green family used to help him use the Internet to keep in touch with his son, who traveled around the world. Regan described Green as being very well-liked.

In a statement, Kraft Foods extended its condolences and wrote: "We are devastated by the news and our heartfelt thoughts and prayers are with our employees' families during this difficult
time."

Green is survived by his wife, Sharon, and two children, Jennifer and Brad Jr.

Kevin Johnston, an employee at Henkel Corp. adhesive factory in Buffalo.

George Abu Karam, of Tiberias, Israel, had been a member of the South Lebanon Army, an Israeli-backed Lebanese militia. He was flying to Buffalo to visit his cousin.

Abu Karam first arrived in the lakeside city of Tiberias in 2000, when Israeli troops pulled out of south Lebanon and many SLA men fled after them, fearing retribution if they stayed behind, a friend, Aviv Omer, told Israel Radio.

"You could say that he didn't just fit in, he led," Omer told the radio station. "He was always surrounded by friends, always smiling. He had presence. He was a big man. He worked as a security guard after the SLA. He always tried to look tough and project confidence, but inside he had a heart as soft as butter, a heart of gold."

Oded Zafti, the owner of a bar that employed Abu Karam as a security guard, told the newspaper Haaretz: "He was a man with a good soul, enterprising and devoted."

Laizer Labkovski, a rabbi with the Chabad movement in Buffalo, said Abu Karam's cousin was at the airport to pick up Abu Karam when he learned of the crash.
(CBS)

Ellyce Kausner (left), of Clarence, N.Y., was a second-year law student at Florida Coastal School of Law in Jacksonville. Her sister, Laura Kausner, said Ellyce was flying home to be her nephew's date at a kindergarten Valentine's Day party on Friday.student at Florida Coastal School of Law.

CBS' Miller reports Kausner was flying home from Florida to visit her brother Chris, who described the emotional phone call he had to make to his parents.

"I heard my mother make a noise on the phone I have never heard before," Chris Kausener said.

Kausner was part of a group of about a half-dozen young women who had remained close friends since middle school, said one of the group, Candice Ciesla.

"Ellie was a crazy, out-there kind of girl, totally full of life," said Candice Ciesla. "This is a huge nightmare, the most surreal thing I've experienced."

Ciesla, who now lives in California, learned of Kausner's death when she got a call from a high school friend.

"I was in the grocery store when he called and I almost fainted right there," Ciesla said.

Nicole Korczykowski of Eden, N.Y., and her boyfriend, Johnathan Perry, 27, died while on their way to visit her family in Buffalo, N.Y.

Perry grew up in Loveland, Ohio, where his parents still live. "They're just a wonderful, wonderful family," neighbor Kathy Palmer told The Cincinnati Enquirer. "He was very smart and very bright."

The oldest of four, Perry graduated from the University of Pennsylvania with an economics degree and moved to New York City. He was a licensed broker and worked for New York-based investment management company W.P. Carey Co. He was promoted to director of the firm's Amsterdam office last year, and he traveled between the two cities for about 10 months with Korzcykowski.

Jerome Krasuski, 53, was returning home to Cheektowaga, N.Y., with three other colleagues from Northrop Grumman, where he was a program manager.

The former North Tonawanda resident worked for the Williamsville defense contractor for more than 20 years. He became a grandfather for the first time four months ago with the birth of his granddaughter, Ava.

"He had a heart of gold," a cousin, Karen Kras, told the Buffalo News. "I mentioned the other day that I needed a lock for my basement door. He disappeared, came back and said "I had this one in my tool box.' He was always doing little things like that for everyone."

Brian Kuklewicz, 41, "lived life to the fullest; he just used every minute of every day," his sister-in-law Chris Michalski told The Buffalo News. "And he loved his family, his wife and his boys, to the fullest extent."

Kuklewicz was married to Karen, for 13 years. Their twin sons, Nicholas and Jacob, turn 9 this week.

"His life was for his family," Michalski said.

Kuklewicz was born in Cheektowaga, N.Y., and later returned there after high school. He worked as an engineer at Burns Cascade, an industrial valve manufacturer, and was in New Jersey on a business trip before boarding Flight 3407.

He enjoyed camping and traveling. The family took cruises and went to Mexico and Disney World.

"He was absolutely funny. That's how we're getting through this ... just by bringing up all the funny things about Brian," Michalski said.

Bethany Kushner, 19, was returning home to Angola, N.Y., after spending a few weeks in California. A 2007 graduate of Eden Junior-Senior High School, Kushner attended Keuka College for a year and planned to complete her studies at Buffalo State College.

On a Facebook page set up in her memory, Kushner's friends remembered her as being a fun-loving girl who played tennis in high school and college.

"Beth never ever let you be unhappy for a minute," wrote Kelsey Kenefick, of Buffalo. "She could always make anyone smile. She was a great person and a great friend."

She is survived by her parents; her brother, Joe; and sister, Megan.

Sean Lang, 19, of Montgomeryville, Pa., was flying north to visit his girlfriend. Lang's parents and brothers learned it was his flight that had gone down shortly after the crash.

"He was incredibly loved," Lonnie Cooper, Lang's brother, told the Bucks County Courier-Times. "He was an incredibly cool guy. All of his friends looked up to him as a leader."

Lang had been attending college at Penn State's Abington campus. Cooper said his brother had not declared a major, but was excited about an upcoming transfer to the main campus in State College.

"He was a huge Penn State fan," Cooper said.

Lang also threw his heart into supporting the Eagles and Phillies. He and his friends were among the many thousands who attended the Phillies' World Series celebration parade.

Lang worked in an Army/Navy store in Montgomeryville. He also enjoyed snowboarding and had recently taken a trip to Vermont.

"He was into living life to the fullest," said Cooper.

Maddy Loftus, 24, of Parsippany, New Jersey, was headed to Buffalo for a reunion of the Buffalo State women's ice hockey team she played for in 2002 and 2003, said Jeff Ventura, the school's sports information director.

Loftus' 22-year-old brother, Frankie Loftus, said his sister never worried about flying because their father was a pilot for Continental. He said he dropped her off at the airport Thursday.

"She was an amazing person. She loved to make everyone happy," he said. "Everyone who met her loved her instantly."

Loftus transferred to St. Mary's University in Minnesota after her sophomore year, Ventura said.
(AP Photo/Princeton University)

Lorin Maurer, 30, (pictured at left with boyfriend Kevin Kuwick) had worked raising money at Princeton University for its athletics department.

"We are heartbroken that someone so young and full of life could be taken from us so suddenly," Brian McDonald, the vice president of development at Princeton, said in a statement released by the university.

Maurer was traveling to New York to meet the family of her boyfriend, Kevin Kuwick, an assistant basketball coach at Butler University, The Buffalo News reported.

Maurer, who grew up in Sinking Spring, Pennsylvania, was a champion swimmer at Rowan University in Glassboro, New Jersey, where she graduated in 2001. She received a master's degree from the University of Florida.

Canadian Don McDonald of Fort Erie, Ontario, was a technical manager at Pharmetics Inc., where he'd worked for 26 years. He was returning home from a business trip to be with his wife and young daughter.

Peter Lucyshyn, a spokesman for the Canadian firm, said McDonald was loved by all his employees. he said they are shocked by the news and are being offered grief counselling to help them deal with the tragedy.
(CBS)

Coleman Mellett (left), was an accomplished jazz guitarist, and a touring member of trumpeter Chuck Mangione's band for the last several years. The group was scheduled to perform Friday night at the Kleinhans Music Hall with the Buffalo Philharmonic.

Mellett grew up near Washington, D.C., and moved to New Jersey to study at William Paterson University, according to his MySpace profile. After graduating he moved to New York and earned a master's degree at the Manhattan School of Music in 1998.

Mellett, 33, lived in East Brunswick, N.J., with his wife, singer Jeanie Bryson, according to the Star-Ledger of Newark.

Dawn Monachino, 44, a pharmaceutical representative at Schering-Plough Corp. who lived in Clarence, N.Y., was coming back from Newark on a business trip along with a co-worker.

"She was loving, caring and giving," her husband, Michael Monachino, told The Buffalo News. "She was the one who would remember the tiniest thing that would be important to someone else. That's what she brought to the marriage. She was the center of joy in my life."

Monachino, who was originally from Carbondale, Pa., typically drove 10 hours round-trip to Pennsylvania every two weeks to be with her mother, who has Alzheimer's disease.

A West Chester University graduate, Monachino taught elementary school in Pennsylvania and South Carolina before moving to Clarence in 1995.

Her two dogs were constant companions, according to her husband, who said she cared for them as though they were her children.
(AP/Mossop Family, Lavalee Harriott)

Donald Mossop, his wife Dawn Mossop, and their only child, 12-year-old Shawn Mossop (left), were on their way to visit relatives in Canada. Dawn's sister, Ferris Reid (pictured right), a visiting nurse also of Bloomfield, accompanied them.

The Bloomfield, N.J., residents were all members of the North Montclair congregation of the Jehovah's Witnesses, where Donald Mossop was an elder.

Donald Mossop was a technician for Xerox, while his wife was an executive secretary with drugmaker Schering-Plough.

Family friend Dale Robinson-Lewis told CBS Station WCBS that the Mossops were "God-fearing, loving, caring people, the type you would really want as friends."

Gerry Niewood, of Glen Ridge, N.J., played saxophone, clarinet and flute for some of the biggest names in pop music, according to his MySpace profile.

He was flying to Buffalo for a performance with Chuck Mangione's band, whom he'd played with for numerous years.

In addition to Mangione, Niewood backed artists as diverse as Peggy Lee, Simon and Garfunkel, Judy Collins, Frank Sinatra and Sinead O'Connor, among others. He also played on the soundtracks of movies including "A Bronx Tale," "When Harry Met Sally" and "The King of Comedy."
(CBS)

Mary Pettys, of West Seneca, N.Y. She was heading home after a business trip for her job as a software director for an insurance firm.

Petty's family told The Early Show that when their mother died two years ago, Mary (the oldest of ten siblings) stepped in and basically became the matriarch, the one they all turned to, and she gave back, becoming "the rock" of the family.

She was the sister who did everything for everyone without giving it a second thought, putting everyone's needs before her own. But Mary, a lifelong Buffalo area resident, was finally enjoying true love, and recently got engaged to Bill Adamski. They were planning her first wedding for this spring.

Julie M. Ries

John G. Roberts III, a native of Lewiston, N.Y., who lived in India, was returning home for an overdue visit with relatives.

Roberts, 48, was the oldest of five children and traveled overseas often. His father, John Jr., owns a popular local restaurant and the family was well known in the area.

"John had an excellent sense of humor and way with words that made him fascinating to listen to and to learn from," said an old friend, Rabiah Coon.

Roberts received his master's degree from the University of Buffalo and a Ph.D. in English from the University of Rochester. He served as a captain in the U.S. Army Reserves from 1985 to 1993, according to the Niagara Gazette.

At the time of the crash, Roberts was a vice president for the consulting and accounting firm Deloitte in Mumbai.

Kristin Safran, of Bradford, Pa., was the owner of Ark Specialty Services, a consulting company to the bottled water and beverage industry. She also served on the board of directors for the International Bottled Water Association and was apparently returning home from a meeting.

"She was what you wanted someone to be ... a good neighbor, a good mom; she was very successful in her business," neighbor and friend Kimberly Weinberg told The Bradford Era. "I knew her mom-to-mom."

Safran leaves behind her husband, Russ Safran, and two daughters.

Safran was a leader for the recycling advisory council in McKean County in northwestern Pennsylvania. She was a "dynamo," former county recycling coordinator Mary Williams told the Bradford Era.

"Give her any program - how to help the schools, how to get support from companies - she was just a whiz at it," Williams said.
(AP Photo/IDPF)

Jean Srnecz, 59 (left), of Clinton, N.J., was a senior vice president of merchandising for Charlotte, N.C.-based book distributor Baker and Taylor. Ahe also served on the boards of the Book Industry Study Group and Educational Paperback Association.

Srnecz graduated from D'Youville College in Buffalo and received a master's degree in political science from SUNY-Buffalo. She also earned a master's of business administration in finance from New York University.

"I worked alongside Jean for 30 years and there was no one more knowledgeable or respected, as a professional and a person," Baker and Taylor President Arnie Wight said in a statement. "Jean truly loved this business and was loved by many it. She will be sorely missed."

Srnecz was headed to the Buffalo area for a visit with family members.
(WIVB)

The daughter of a Holocaust survivor, Susan Wehle (left) of Amherst, N.Y., had dedicated her life to reaching out to people with her music and faith. She was cantor at Temple Beth Am in Williamsville.

"She had a tremendous ability to teach. She also had a tremendous love for life, a zest for life, one that she shared with everyone she knew," executive director Sylvian Schwartz of the Holocaust Resource Center told CBS affiliate WIVB.

Ernie West, 54, of Clarence, N.Y., was deputy director for business development at Northrop Grumman in Amherst. His business trips often took him to Europe and Australia.

West liked grilling in the backyard, landscaping the house and swimming laps in his pool, according to friends and relatives. He's survived by his wife, Jennifer, and his 2-year-old daughter, Summer.

He worked for 22 years as a marketing manager and systems manager for Sierra Research Corp. in Buffalo, according to The Buffalo News. Before that, he was an electronic warfare and ground-directed bombing specialist for the Air Force in the 1970s while stationed in North Dakota, Louisiana, Montana and South Korea.

He also served six months as a field operative with the Office of Special Investigation.

Shibin Yao

Clay Yarber of Riverside, Calif., was a Vietnam War veteran with two Purple Hearts who, according to his ex-wife, never liked flying.

"He didn't even like being on helicopters when he was in the Marine Corps," said Shari Ingram, of Largo, Fla.

Yarber, 62, became a musician after the war, Ingram said. He played the guitar and sang and had several bands in the Tampa Bay, Fla. area. His favorite type of music was rhythm and blues.

He lived in the Tampa Bay area for several decades, but recently moved to Riverside, Calif., to help his son pursue a music career.

Yarber was going to spend Valentine's Day with his girlfriend in New York before moving there in March, said his son, Chris Yarber, 22.

"He would bend over backward for anyone," said Chris Yarber, who described his father as a 6-foot-4 muscular man who would stop and help a stranger on the street if he or she dropped a bag or would break up a fight if he saw someone getting bullied. "He was just like John Wayne."

Chris Yarber said his father hadn't touched a guitar in several months after he lost a finger in an accident.

Clay Yarber had four biological children, three daughters and a son, as well as an adopted daughter.

On The Ground:

Douglas C. Wielinski, 61, was at home with his family in Clarence Center when the airplane crashed into his house. His wife and daughter got out of their collapsing house in the nick of time.

On Friday Karen Wielinski told friends that she crawled out of a hole in the wreckage seconds after a plane hit her home. Her daughter Jill, 22, also escaped with relatively minor injuries.

"Everything just came crashing in around her - the walls, the ceiling, everything," said Dr. John Ptak of Clarence Central Schools, where Karen works as a secretary.

"It was not her time, nor was it her daughter's time," he said.

"He was a good person, loved his family," Karen Wielinski said of her husband.

Wielinski, a military veteran and engineer, was marketing manager at Luvata, a manufacturing company. He was interested in local history and was a past member of the 2005 Clarence Center Community Association board. He also enjoyed visiting history classes at Clarence Central High School and sharing his experiences from Vietnam with his daughters' generation.

"He frequently came to the school to do lectures on Vietnam," said Superintendent Dr. Thomas Coseo. "The students were always enthralled to hear his lectures."

"We're all deeply saddened," said Jack Alonge, director of human services at Luvata. "He was a quiet, wonderful, good person who cared deeply for his family."

Doug leaves behind a wife and four daughters (Jill, Kimberly, Jessica and Lori), who are now getting assistance from the Red Cross. The community is also setting up a fund to help the Wielinski family.
Thanks for reading CBS NEWS.
Create your free account or log in
for more features.