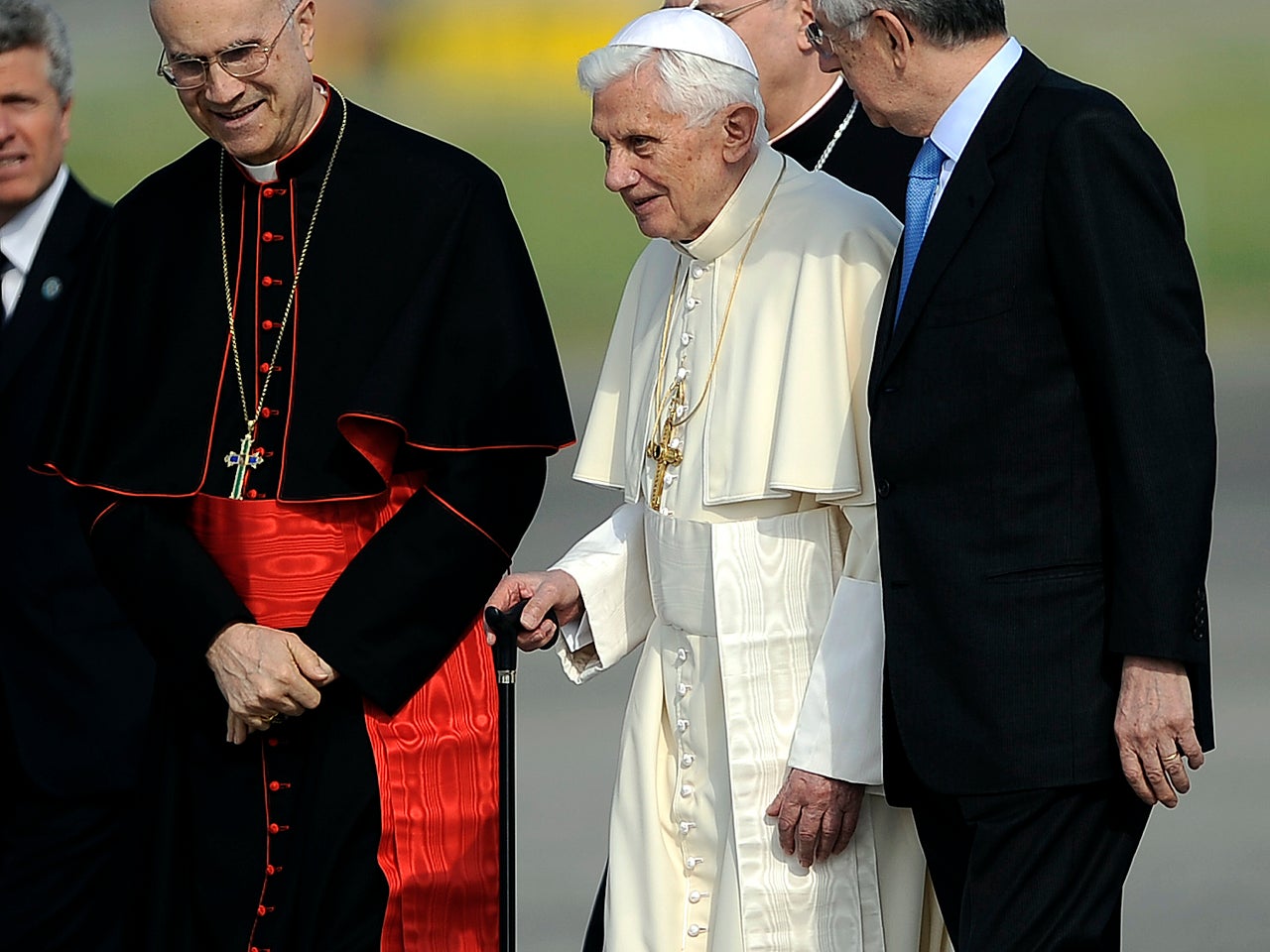 Pope uses cane at airport before heading west
(AP) ROME - Pope Benedict XVI on Friday used a cane — apparently for the first time in public — to help him walk up to a plane during an airport ceremony to see him off on a pilgrimage to Mexico and Cuba.
Benedict, who turns 85 next month, leaned on a black cane with his right hand as he walked steadily for about 100 yards to the foot of the Alitalia plane from the helicopter which flew him from the Vatican to Rome's Leonardo da Vinci airport Friday morning.
Papal aides, speaking on condition of anonymity, said the pope started using the cane about two months ago in private because it makes him feel more secure, and not for any medical problem.
Cuba arrests dissidents ahead of papal visit
Vatican rule allows some priests to marry
Pope denounces gay marriage lobby to US bishops
Italian Premier Mario Monti and church officials greeted him at the departure ceremony. Benedict then climbed the steps of the aircraft unaided, stopping at one point to wave, before entering the plane, which began a 13-1/2 hour-flight to Mexico.
Benedict returns to Rome on March 29.
A few months ago, Benedict started using a wheeled platform to save his energy when navigating the vast length of St. Peter's Basilica. On Wednesday, Benedict didn't hold his usual weekly public audience, Vatican officials said, so he could rest before the trip.
During the flight, Benedict denounced the drug-fueled violence wracking Mexico and urged Cubans to use dialogue to find new models to replace Marxism.
Benedict spoke to reporters after breakfast aboard the special Alitalia flight, saying "idolatry of money" lies behind the violence that has claimed more than 47,000 lives in Mexico since a government crackdown began in 2006.
On Monday, Benedict will leave Mexico for Cuba, where he said that it is "evident that Marxist ideology as it was conceived no longer responds to reality," and he urged Cubans to "find new models, with patience, and in a constructive way."
The pope replied to a few questions from journalists which were submitted before the trip.
Talking about Mexico, he decried that the violence, and the lust for money that he said lies behind it, were destroying that predominantly Catholic country's young people in particular.
Benedict said that the "great responsibility of the church is to educate the conscience, teach moral responsibility and strip off the mask (from) the idolatry of money that enslaves mankind, and unmask the false promise, this lie that is behind" the drug culture.
A journalist asked Benedict what has changed in Cuba since the groundbreaking visit in 1998 by his predecessor, John Paul II to the Caribbean island, which had then been ruled by Marxist leader Fidel Castro for four decades.
In Cuba "today it is evident that Marxist ideology as it was conceived no longer responds to reality," Benedict replied. "So you have to find new models, with patience, and in a constructive way."
The pope cautioned that "this process requires patience and also decisiveness."
The journalist referred to reports that dissidents in Cuba are still routinely harassed and arrested, including in the weeks leading up to Benedict's visit.
Benedict said that the church wants "to help in the spirit of dialogue to avoid trauma and to help bring about a just and fraternal society, as we want in the whole world."
"We want to collaborate in this sense, and it's obvious that the church is always on the side on the side of freedom, freedom of conscience, freedom of religion," the pope said.
Benedict said John Paul's visit to Cuba ushered in a slow process of dialogue and cooperation between church and state on the island.
The weeklong trip to Mexico and Cuba, Benedict's first to both countries, will be a test of stamina for the pope.
John Paul II was just 58 when he made the first of five visits to Mexico, building a passionate adoration among many Mexican Catholics.
So far Mexicans have shown restrained excitement about the pope's arrival in Guanajuato, a deeply conservative state in sun-baked central Mexico. Dedicated campgrounds with a capacity for hundreds of thousands of pilgrims were virtually empty, though as many as 300,000 people are expected for Sunday's Mass.
Carlos Aguiar, president of the Mexican Episcopal Conference, said he expected the faithful to begin arriving Friday.
The papal envoy, Christophe Pierre, said Benedict's visit would allow Mexicans to "discover the pope" and "his ability to communicate, to speak deeply, but simply."
Guanajuato has been spared most of the country's drug violence, even if a recent series of apparently gang-related shootings killed some two dozen people in the state.
Yet even the drug cartels profess to be people of faith. At least 11 banners signed by the pseudo-religious Knights Templar gang were found in five municipalities of Guanajuato last week, including in Leon, offering peace during the papal trip.
Benedict is visiting a church battling to overcome painful setbacks that include legalized abortion and gay marriage in the capital of the most populous Catholic country in the Spanish-speaking world.Guanajuato's constitution declares that life begins at conception and bars abortion with extremely limited exceptions. Seven women were jailed there in 2010 for the deaths of their newborns and later released. The women said they had miscarriages, not abortions.
Benedict's church is encouraging more such laws across Mexico, and a measure before Congress would strip away many of the remaining restrictions on religion that were imposed during conflicts more than a century ago.
Church leaders also are trying to overcome a scandal over the most influential Mexican figure in the church.
The Rev. Marcial Maciel founded the Legionaries of Christ order, which John Paul II praised as a model of rectitude. But a series of investigations forced the order to acknowledge in 2010 that Maciel had sexually abused seminarians and fathered three children. Church documents released in a book this week reveal the Vatican had been told of Maciel's drug abuse and pederasty decades ago.
The biggest crowd in Guanajuato's main city Thursday evening appeared to be the thousands of youths attending a convention of evangelical Protestant missionaries a the highway exit leading to Bicentennial Park, where Benedict will deliver Mass on Sunday.
Light of the World Church spokesman Ezequiel Zamora said the convention had been planned long before the pope's visit was announced, and the evangelical church had no intention of trying to upstage the pontiff.
Thanks for reading CBS NEWS.
Create your free account or log in
for more features.