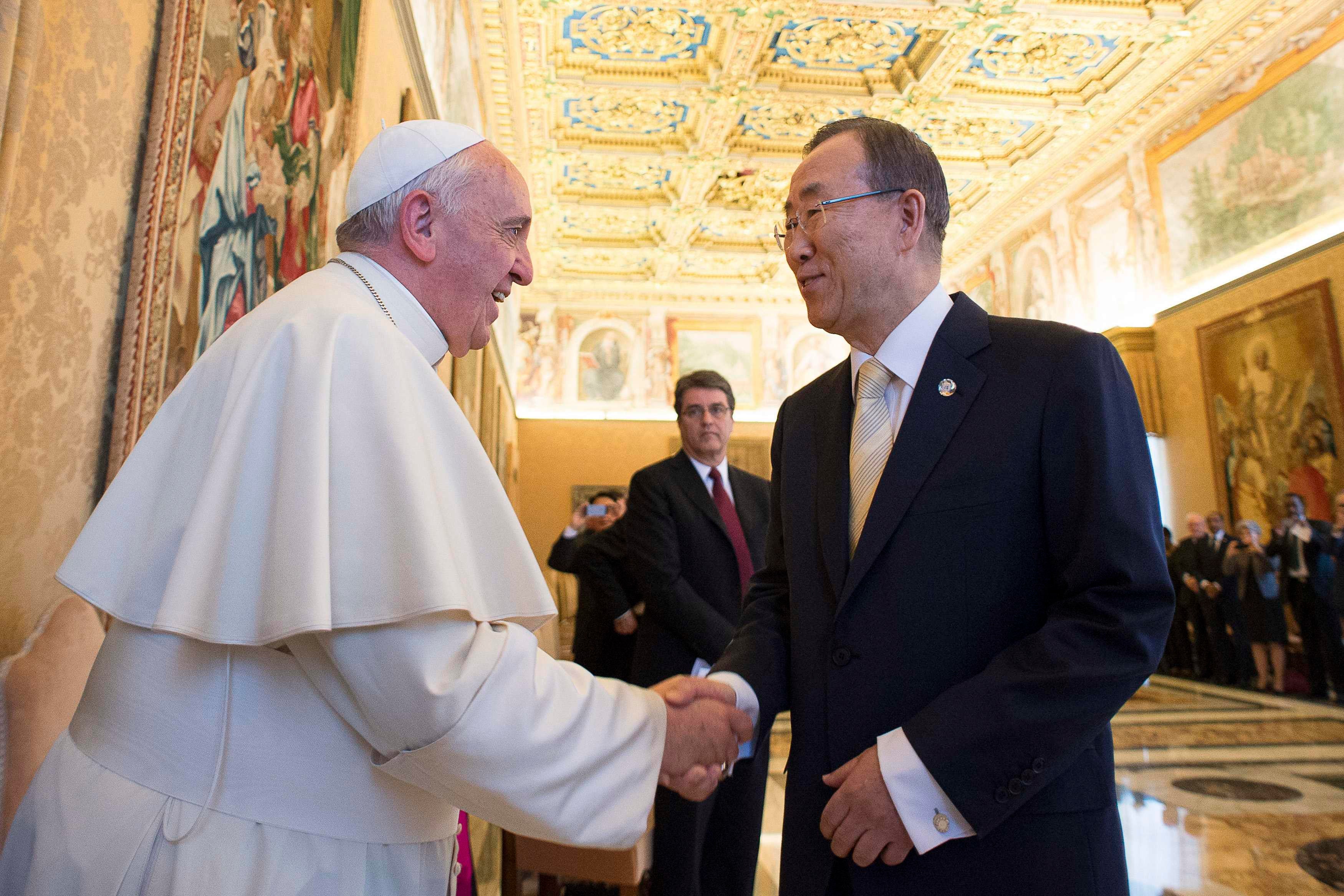 Pope implores governments to redistribute wealth to the poor
VATICAN CITY -- Pope Francis called Friday for governments to redistribute wealth to the poor in a new spirit of generosity to help curb the "economy of exclusion" that is taking hold today.
Francis made the appeal during a speech to U.N. Secretary-General Ban Ki-moon and the heads of major U.N. agencies who met in Rome this week.
Latin America's first pope has frequently lashed out at the injustices of capitalism and the global economic system that excludes so much of humanity, though his predecessors have voiced similar concerns.
On Friday, Francis called for the United Nations to promote a "worldwide ethical mobilization" of solidarity with the poor in a new spirit of generosity.

He said a more equal form of economic progress can be had through "the legitimate redistribution of economic benefits by the state, as well as indispensable cooperation between the private sector and civil society."

Francis voiced a similar message to the World Economic Forum in January and in his apostolic exhortation "The Joy of the Gospel." That document, which denounced trickle-down economic theories as unproven and naive, provoked accusations in the U.S. that he was a Marxist.

Francis urged the U.N. to promote development goals that attack the root causes of poverty and hunger, protect the environment and ensure dignified labor for all.
"Specifically, this involves challenging all forms of injustices and resisting the economy of exclusion, the throwaway culture and the culture of death which nowadays sadly risk becoming passively accepted," he said.

Friday's audience came just days after the Holy See was battered in a second round of grilling by a U.N. committee over its record of handling priestly sex abuse. Neither the pope nor Ban spoke of the issue, but Francis referred to another topic at the U.N. hearings: the church's opposition to abortion. He called for respect for life "from conception to natural death" and his denunciation of the "culture of death" echoed previous papal exhortations against abortion.

During the meeting, Ban invited Francis to speak to the United Nations. The Vatican hasn't confirmed any such trip, but Francis is widely expected to visit the U.S. in September 2015 to participate in a church meeting on families in Philadelphia, making a U.N. stop then likely.
Last month, President Obama told "60 Minutes" correspondent Scott Pelley that Francis voiced his concern for the poor when the two met recently in Rome.

"Well we spent a bulk of our conversation around issues of poverty and inequality, themes that he has been talking about quite a bit," Mr. Obama said. "And obviously issues that I care about deeply. The very poor finding fewer and fewer ladders to get into the middle class. Youth unemployment high. You know, these are chronic problems. And, you know, what the pope's able to do in a way that no politician can do is to shake people's conscience and to shine a light on the problem. It's our job to come up with policies to do something. What the pope can do is to help mobilize public opinion."

Robert Mickens, a U.S. journalist covering the Vatican, told Pelley that Francis chose his name to reflect his profound concern for those in need.

"He took the name Francis from Francis of Assisi, who is probably the most beloved saint you know among Catholics and especially non-Catholics," Mickens said. "And you know had this great love for the poor, God's creation, nature, peace. And what we've seen is that he lives very radically, very simply rather than some monarch prince or king or monarch pope."
Thanks for reading CBS NEWS.
Create your free account or log in
for more features.