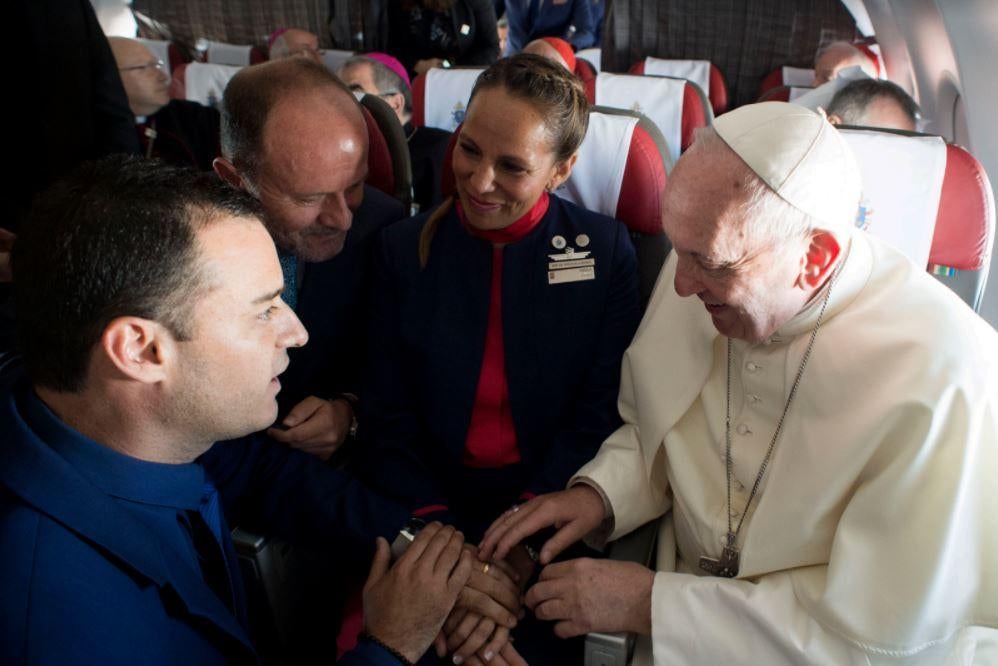 Pope marries flight attendant couple mid-flight
Pope Francis has married a couple of flight attendants on board a flight from Santiago, Chile, to the northern city of Iquique.
Carlos Ciuffardi and Paola Podest had planned to wed on February 27, 2010, but a massive earthquake struck and their church collapsed on their intended wedding day. They eventually had a civil service, but had yet to be formally married in the eyes of the Catholic Church.
The two LATAM Airlines flight attendants were on the trip from Santiago to Iquique and, as all crew members are given the opportunity to do, went up to the front of the aircraft for a photo with Pope Francis.
When the pope asked them if they were married, the couple revealed the story of how the deadly quake had forced them to cancel their wedding. The pontiff asked if they would like him to conduct the ceremony right there on the plane, and they agreed.
The pope asked them repeatedly if they were sure, but they didn't waver. Pope Francis blessed the wedding rings the couple have worn since their civil ceremony. The couple, who met when Podest was working as Cuiffardi's boss, now live in Santiago with their two children.
"We can't believe the Pope married us," Carlos told members of the media on the flight. "A pope has never married anyone on a plane."
"We hope it will promote marriage," the groom added. "We have a Vatican document, it's all valid."
The chairman of LATAM was roped in as an official witness to the wedding, and an accompanying Chilean cardinal drafted the legal document for the marriage by hand.
Pope Francis gave the bride a white rosary and the groom a black one. He asked Ciuffardi if his wife was still the boss, to which Ciuffardi laughed and said yes.
The Catholic Church leader told the couple. "this is what's missing in the world, the sacrament of marriage. I hope this motivates couples to marry."
The couple said they planned to celebrate in Iquique Thursday night with colleagues, and have a "tiny honeymoon," as they were scheduled to fly back to Santiago the following day.
Thanks for reading CBS NEWS.
Create your free account or log in
for more features.