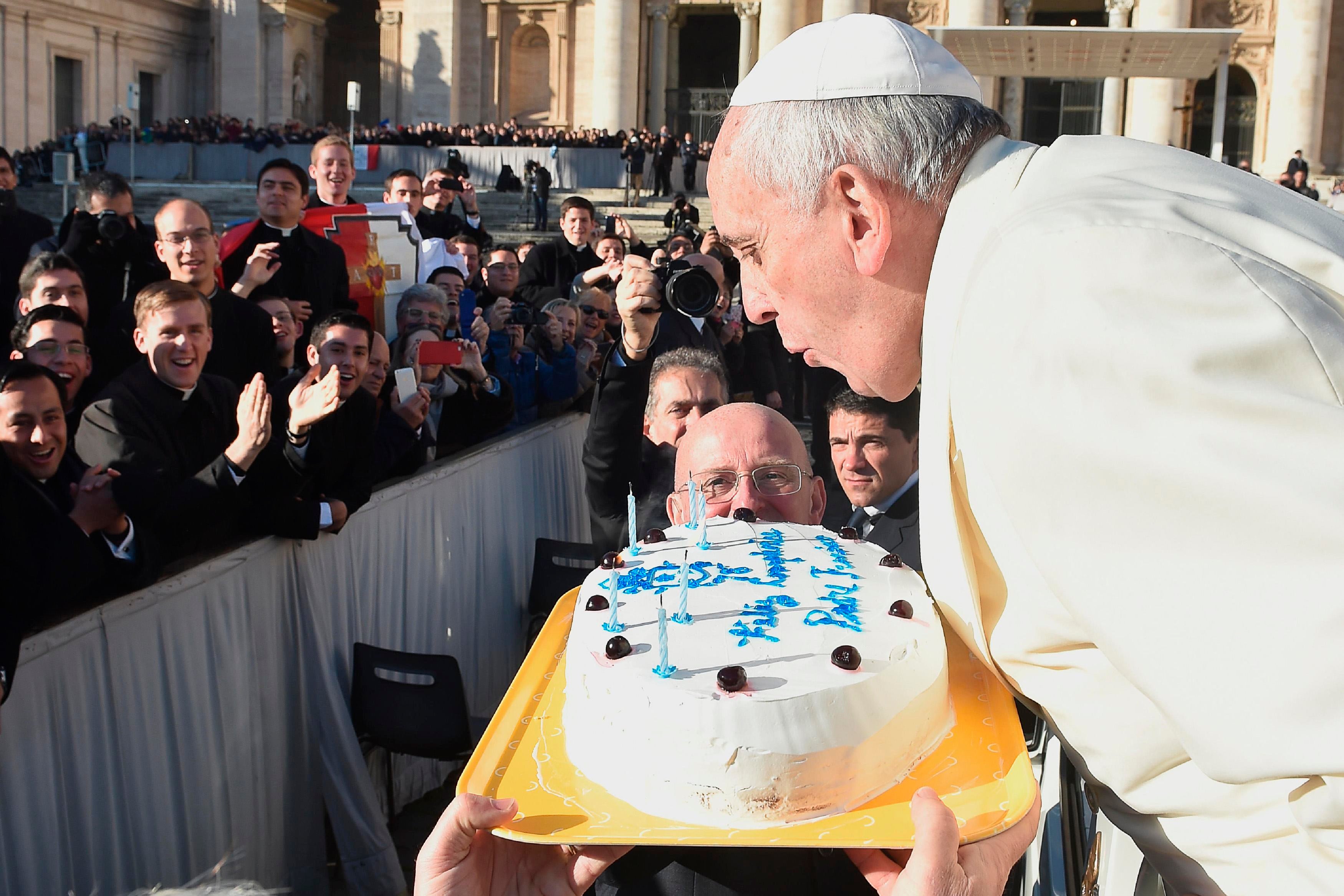 ​Pope Francis celebrates birthday with cake, tango, food for the poor
VATICAN CITY -- Pope Francis got a cake, cards and a tango demonstration for his 78th birthday Wednesday -- and 1,760 pounds of chicken meat for the poor.
The Vatican said Wednesday the meat, provided by a Spanish producer, would be distributed to soup kitchens.
Francis also greeted eight homeless people bearing sunflowers during his Wednesday general audience, held under bright sunny skies in St. Peter's Square.
The pope's birthday fell on the same day that Cuba released American prisoner Alan Gross and the U.S. and Cuba announced they were taking steps to normalize relations for the first time in 50 years. Both President Obama and Cuban President Raul Castro said Wednesday that Pope Francis and the Vatican were instrumental in diplomatic developments.
In recent months, the pope sent Mr. Obama and Castro a letter, urging them to resolve the Gross situation. The Vatican also hosted U.S. and Cuban delegations over the fall to review the final diplomatic terms that were announced Wednesday. When Mr. Obama spoke in person with Pope Francis earlier this year, according to administration officials, they talked about Cuba more than anything else.
As the pope drove around in an open-air car to greet the crowds, children handed up birthday cards they had made for him. Francis asked one: "Did you make this? It's good!"
Others held up signs saying "Feliz Cumpleanos" ("Happy Birthday" in Spanish) and sang to him.
Outside the square, dozens of couples danced the tango, the Argentine pope's favorite. The pope quipped: "It looks like a two-by-four!" -- a reference to tango.
"The tango is a dance that unites all people no matter where they come from," said Patrizia D'Aquino, part of a group from the Abruzzo region of Italy.
Despite the joyous occasion, Francis ended his audience with a sobering prayer for the victims of recent "inhuman terrorist attacks" in Australia, Pakistan and elsewhere.
"May the Lord receive in his peace the dead, comfort the relatives and convert the hearts of the violent who don't even stop in the face of children," Francis said.
Thanks for reading CBS NEWS.
Create your free account or log in
for more features.