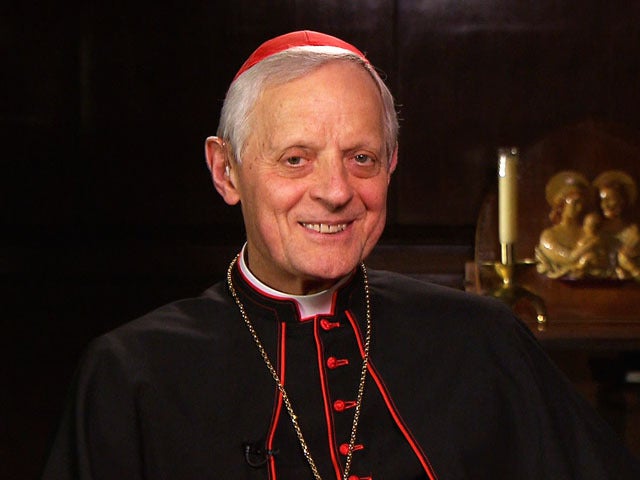 Pope Francis accepts Cardinal Donald Wuerl's resignation as D.C. archbishop
Pope Francis has accepted the resignation of Cardinal Donald Wuerl from his post as the archbishop of Washington, D.C. In a letter released Friday by the Vatican, from the pope to Wuerl, the pontiff confirms he has accepted the archbishop's resignation and lauds Wuerl for putting the church's interests over his own personal defense against claims he protected abusive priests.
Wuerl, who led the Pittsburgh diocese for 18 years, was implicated in a recent Pennsylvania grand jury report and had faced increased calls to step down over allegations he covered up for so-called "predator priests." He also has been accused of failing to act on accusations against his predecessor in Washington, former Cardinal Theodore Edgar McCarrick, who resigned in July over abuse charges.
"You have sufficient elements to 'justify' your actions and distinguish between what it means to cover up crimes or not deal with problems, and to commit some mistakes. However, your nobility has led you not to choose this way of defense. Of this, I am proud and thank you," Francis wrote in the letter.
Francis said he received Wuerl's resignation request on Sept. 21. The pope indicated his full support for the outgoing archbishop, saying Wuerl made his request to stand down -- amid mounting pressure -- based, "on two pillars that have marked and continue to mark your ministry: to seek in all things the greater glory of God, and to procure the good of the people trusted to your care."
The pope went on to extol Wuerl's move as that of a "shepherd" who, "by widening his vision to recognize a greater good that can benefit the whole body, prioritizes actions that support, stimulate and make the unity and mission of the Church grow above every kind of sterile division sown by the father of lies."
Wuerl issued a statement on Friday morning saying he was "deeply touched" by Pope Francis' "gracious words of understanding."
"The Holy Father's decision to provide new leadership to the Archdiocese can allow all of the faithful, clergy, religious and lay, to focus on healing and the future. It permits this local Church to move forward. Once again for any past errors in judgment I apologize and ask for pardon," Wuerl said, adding that leaving his role was, "one way to express my great and abiding love" for Washington's Catholic community.
The pope asked Wuerl to remain an "Apostolic Administrator to the Archdiocese" in Washington until his successor is appointed. Wuerl was in Washington on Friday morning.
In a September letter to priests in his archdiocese, Wuerl shared his intent to meet the pope about his future. An expert told CBS News at the time that the letter was highly unusual, but that a resignation would be even more so. In the letter, Wuerl said a decision on his future was "essential" so that his archdiocese "can move forward."
That letter came the same day Pope Francis drew criticism for comments he made during a Mass in Rome. He said bishops were under attack from the "great accuser," another name for Satan.

"It seems like the great accuser has been unchained," the pope said, adding, "He tries to uncover the sins so they are visible in order to scandalize the people."

The Pennsylvania grand jury report released in August found more than 300 Catholic priests sexually abused more than 1,000 children since 1947. Wuerl presided over 32 accused priests during his time at the Pittsburgh diocese. Among the accusations against him is that he reassigned and reinstated some of them.

"Did you ever move priests quietly?" CBS News correspondent Nikki Battiste asked Wuerl in August.
"That wasn't – that wasn't our process," Wuerl responded the night before the report's release.

"Do you have any plans to resign?"
"What I want to talk about is what effort I made in my 18 years there. And that was to introduce the zero tolerance and… any priest against whom there was a credible, proven accusation, that appropriate action was taken," Wuerl said.
Patrick Hornbeck, chair of the theology department at Fordham University in New York, said in September that many people were "looking to Pope Francis to show a degree of leadership on this matter that he hasn't yet shown."
"I think it's fair to say that the Catholic Church, in the U.S. at least, is in a crisis that it's not seen for a long time," Hornbeck said.
Thanks for reading CBS NEWS.
Create your free account or log in
for more features.