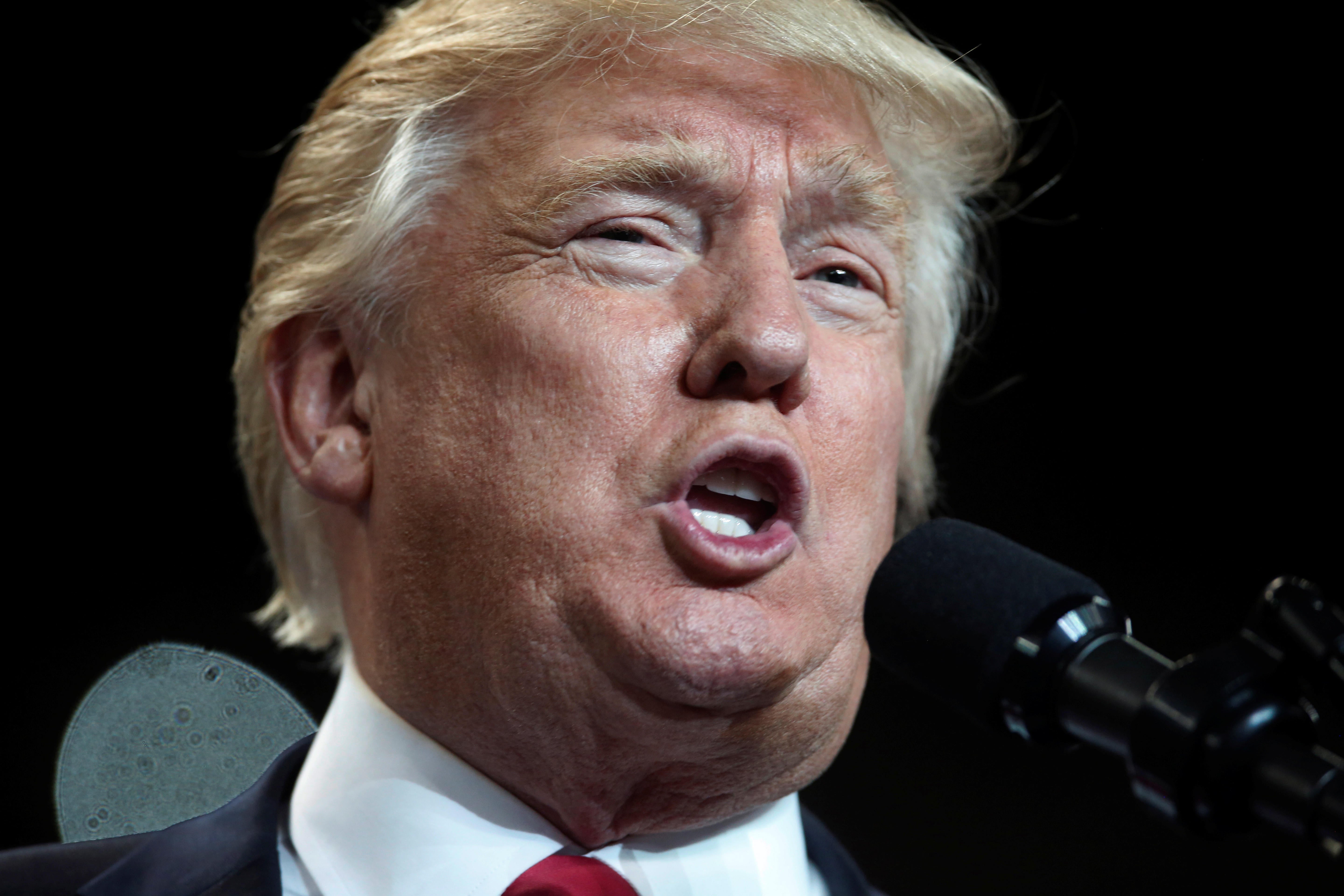 Poll: Trump more unpopular than Obama ever was
Americans' attitudes towards President Trump and Republicans are at a new low, according to a new poll from Quinnipiac University.
Overall, voters give Trump a 35 percent job approval rating, with 57 percent disapproving. That's down from the 37 percent Quinnipiac reported just two weeks ago, and worse than Obama's lowest rating in the poll of 38 percent back in 2013.
Tim Malloy, the assistant director of the Quinnipiac University Poll, points out that President Bush had a lower rating in 2008, but that, "it took eight years, two unpopular wars and a staggering economy to get there." Bush was viewed favorably by 28 percent of Americans at the time.
Fifty-two percent of voters feel embarrassed that Trump is their president. Only 27 percent say they are proud.
Mr. Trump isn't doing well with women (63 percent disapprove), Democrats (91 percent), and non-white voters (77 percent). Even among his base, his numbers continue to slip; only 39 percent of men approve of President Trump's performance, while 51 percent disapprove. White voters now disapprove of him 48 percent to 43 percent, and while a majority of Republicans (79 percent) still approve of him, that's down from 81 percent two weeks ago.
Independents are the only group of voters that hold a slightly improved view of Mr. Trump, with disapproval decreasing by three points to 57 percent and approval rising one point to 32 percent.
Voters' opinions of the president remain mainly negative when it comes to his personal qualities. Mr. Trump receives the worst scores on honesty (61 percent don't think he is), level-headedness (66 percent), and on shared values with voters (61 percent). Fifty-five percent of voters do not believe that the president has good leadership skills, and a similar number of voters, 57 percent, think that he does not care about average Americans.
However, 64 percent of those surveyed believe that President Trump is a strong person, and 60 percent think that he is intelligent.
Fifty-five percent of voters believe that he is keeping his campaign promises, but voters disapprove of Mr. Trump's handling of every issue measured in this survey. Sixty-four percent disapprove of the way he handled healthcare, 61 percent on his environmental stewardship, and 58 percent on his foreign policy.
On issues perceived as strengths for him—terrorism, immigration, and the economy—voters are still disappointed with the president. Almost half -- 49 percent -- disapprove of the way Mr. Trump is dealing with terrorism. On immigration, he receives a 57 percent disapproval rating. Only 41 percent approve of the way he is handling the economy versus the 48 percent who don't, despite the fact that 52 percent of Americans believe the economy is in "excellent" or "good" shape.
That may be due to the fact that a majority of voters -- 66 percent -- believe President Obama deserves more credit than the current president when it comes to the state of the economy. Sixty-four percent of Republicans agree.
"President Donald Trump continues to struggle, even among his most loyal supporters," says Malloy. "Many of them would be hard pressed to see even a sliver of a silver lining in this troubling downward spiral."
Meanwhile, 70 percent of Americans disapprove of how Republicans in Congress are doing, up six points from two weeks ago, and 57 percent disapprove of the Democrats' performance.
The Senate gets the lowest approval among voters. The majority leader, Mitch McConnell, has a 14 percent approval rating, with 47 percent disapproving. Chuck Schumer, the Senate's minority leader, has a 25 percent approval rating and a 36 percent disapproval rating.
In the House, Speaker Paul Ryan garners a 28 percent favorability rating, with 52 percent disapproving of his performance. The House minority leader, Nancy Pelosi, doesn't do much better, boasting a 30 percent favorability rating with 47 percent disapproving.
"As President Trump's approval tanks, Congress, especially Republicans, follow right behind him," said Malloy.
The poll surveyed 1,171 people between March 30th and April 3rd and has a 2.9 percentage point margin of error.
Thanks for reading CBS NEWS.
Create your free account or log in
for more features.