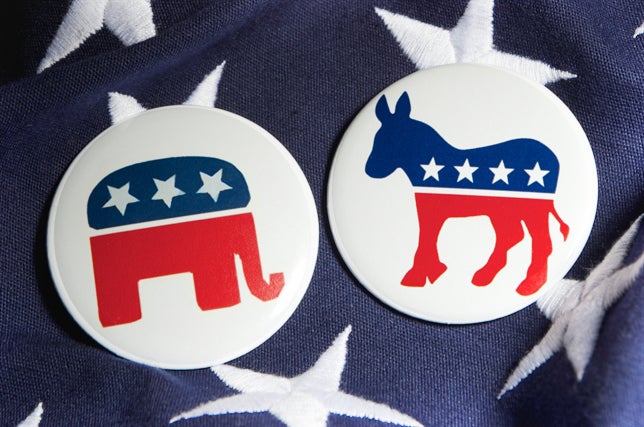 Poll: Hispanics favor Democrats 2-to-1 over GOP
Hispanic-Americans favor Democrats over Republicans by a roughly 2-to-1 margin, according to a new poll from Gallup.
Second generation Hispanic-Americans were actually more likely to identify with either party than Hispanic immigrants. Sixty-four percent of Hispanics who were born in the U.S. to parents who were also born in the U.S. favor Democrats, while only 30 percent lean Republican. Hispanic immigrants favor Democrats over Republicans by a margin of 57 to 25. And among Hispanics born in the U.S. to at least one immigrant parent, 57 percent lean Democratic, while 34 percent lean Republican.
Hispanic immigrants also give the president higher approval ratings than Hispanics born in the U.S. Seventy-nine percent of foreign-born Hispanics approve of the job President Obama is doing, compared to about 60 percent of Hispanics born in the U.S.
The results are sure to provide more fodder for the ongoing political battle over immigration reform. Some Republicans have warned the party that it risks becoming a permanent minority if it doesn't support comprehensive immigration reform, a move that could alienate the fast-growing Hispanic voter bloc.
Others, however, have pointed out that Hispanic voters largely favor Democrats, arguing that Republican support for immigration reform will only welcome more Democrats into the voting pool while doing little to earn the GOP a second look from Hispanic voters.
In the 2012 election, President Obama easily outpaced the GOP nominee, Mitt Romney, among Hispanic voters, winning over 70 percent of that voting bloc, according to exit poll data. That result, however, marked a sizable shift from the 2004 election, when 44 percent of Hispanic voters backed then-President George W. Bush, a Republican.
Gallup's data on Hispanic voters, based on a sample of 1,000 Hispanics surveyed between June 13 and July 5, has a margin of error of plus or minus 6 percent.
Thanks for reading CBS NEWS.
Create your free account or log in
for more features.