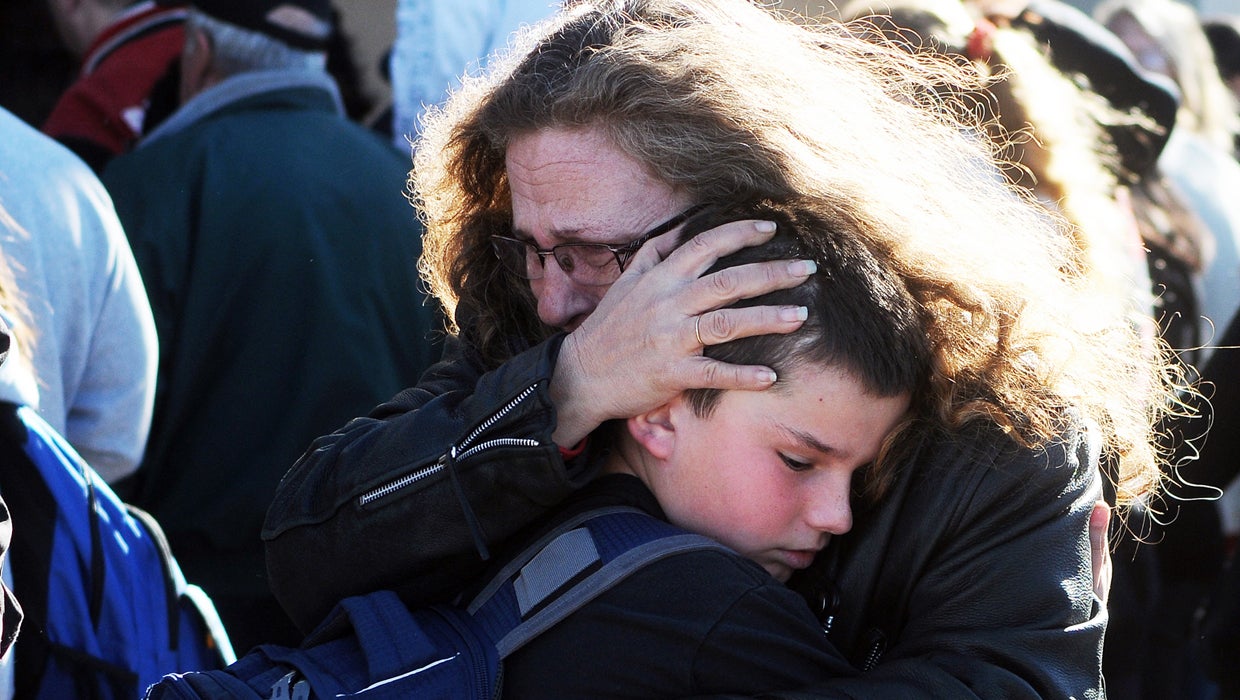 Police: NM school shooter is 12-year-old boy
ROSWELL, N.M. - A 12-year-old boy opened fire Tuesday morning at a Roswell middle school, seriously wounding two students before a teacher persuaded him to put down his gun and surrender, authorities said.

State Police Chief Pete Kassetas said the shooting took place around 7:30 a.m. inside the gymnasium of the Berrendo Middle School. He said the student, a seventh-grader whom he declined to identify, used a 20-gauge, sawed-off shotgun that he had sneaked into school in some sort of bag.


"I believe we have the only individual in custody right now that's responsible for this," Kassetas said.

Gov. Susana Martinez said two students were wounded, an 11-year-old boy and a 13-year-old girl. She praised John Masterson, the teacher who talked the suspect into giving up, and an off-duty state police officer who also assisted.


Kassetas said authorities were in "direct contact" with the suspect's parents. The Albuquerque Journal said the boy was taken to a psychiatric hospital after a briefing hearing Tuesday afternoon, but Kassetas would say only that the boy was in state police custody. Albuquerque lawyer Robert Gorence said he was representing the suspect and that the boy's parents would issue a statement Wednesday.

The two wounded students were airlifted to a hospital in Lubbock, Texas, CBS affiliate KRQE reported. The boy was shot in the face and neck, Martinez said. He underwent a second surgery Tuesday afternoon and was in critical condition. The governor said his parents had asked that his name not be released.


Martinez identified the wounded girl as Kendal Sanders and said she was shot in the right shoulder. Sanders was admitted to the hospital in critical condition but had been upgraded to stable Tuesday night, Martinez said.


She said a school staff member sustained minor injuries in the incident but declined medical attention.


"I ask that all New Mexicans join us in praying for the families, praying for the kids," the governor said at an evening news conference.

Police would not discuss a motive, but information from nurses treating the wounded boy indicated he was the shooter's target, hospital spokesman Eric Finley said. Kassetas said investigators were executing search warrants Tuesday night on the suspect's home, his school locker and a bag.

The shooter was stopped by Masterson, an eighth-grade social studies teacher who was in another section of the gym when the shots rang out, Martinez said. She said Masterson approached the student and began urging him to put down his weapon, even though the youngster pointed the shotgun at him.

"Mr. Masterson then begins to talk to him, 'put it down,' and the young man put the gun down and raised his hands," the governor said.

Martinez said the staff member was assisted by state police Lt. Gary Smith, who was dropping off his own child at the school as the incident unfolded. The principal saw Smith and called on him to help. Kassetas said Smith left his own child and ran to the gym.

"Imagine having to make that decision," Kassetas said.

Masterson, who also coaches track and soccer, and has taught at Berrendo for 10 years, declined to discuss his role in getting the shooter to surrender

"It was a harrowing experience," he told the Albuquerque Journal. "All I can say was the staff there did a great job."


Superintendent Tom Burris said the school's faculty members had taken part in "active shooter" training, and the preparation paid off.

"In the 10 seconds that transpired from the time of this thing starting until the teacher had control of the weapon, there was no cowardice," Burris said. "There was protection for our kids. Everyone acted and did their duties today at Berrendo Middle School."

Kassetas said police had heard rumors that the suspect had warned some students not to go to school that day, but he said investigators had not been able to corroborate that.


Eighth-grader Odiee Carranza said she was walking to the school gym when a boy bumped into her as he rushed past. She told him to be careful, and he apologized and continued on. He ran to the gym, where he pulled a gun out of a bag or band instrument case and fired at the students, she said.

"Then he shot up in the sky, then dropped the gun, and then some teacher grabbed the kid that had the gun," Carranza said.

Carranza described the shooter as a "smart kid and a nice kid."

Sixth-grade student Anyssa Vegara told the Albuquerque Journal she was talking to a security guard when she heard a shot.

"I turned around, and all I saw was someone on the floor with their arm bleeding," Anyssa told the Journal.

She said the security guard ran to assist the injured student, and school officials ordered all the other students to their classrooms.

Eventually, Anyssa was able to text her mother, Monica Vegara.

"From the time hearing about it until the time she texted, it was a nightmare," Monica Vegara said.

Fawna Hendricks, whose son is a seventh-grader at Berrendo Middle School, told the newspaper she heard about the shooting on the radio. "Basically I jumped outta bed, threw on clothes, panicked," Hendricks said.

Another student, Gabby Vasquez, said the boy who was shot "was really nice, got along with everybody."

Two prayer services were held Tuesday night at Roswell's Calvary Baptist and First Baptist churches. Pastor Chris Mullennix said parents were worried and heartbroken, but there was a sense among many he spoke with that the community would be able to come together.

School officials said classes at the school Wednesday would be canceled but counselors would be on hand for students and parents.

Roswell, which is in the southeastern quarter of the state of New Mexico, has a population of about 50,000. The city has been rocked by gang violence in recent years and has asked Homeland Security Investigations to step in and help.
Thanks for reading CBS NEWS.
Create your free account or log in
for more features.