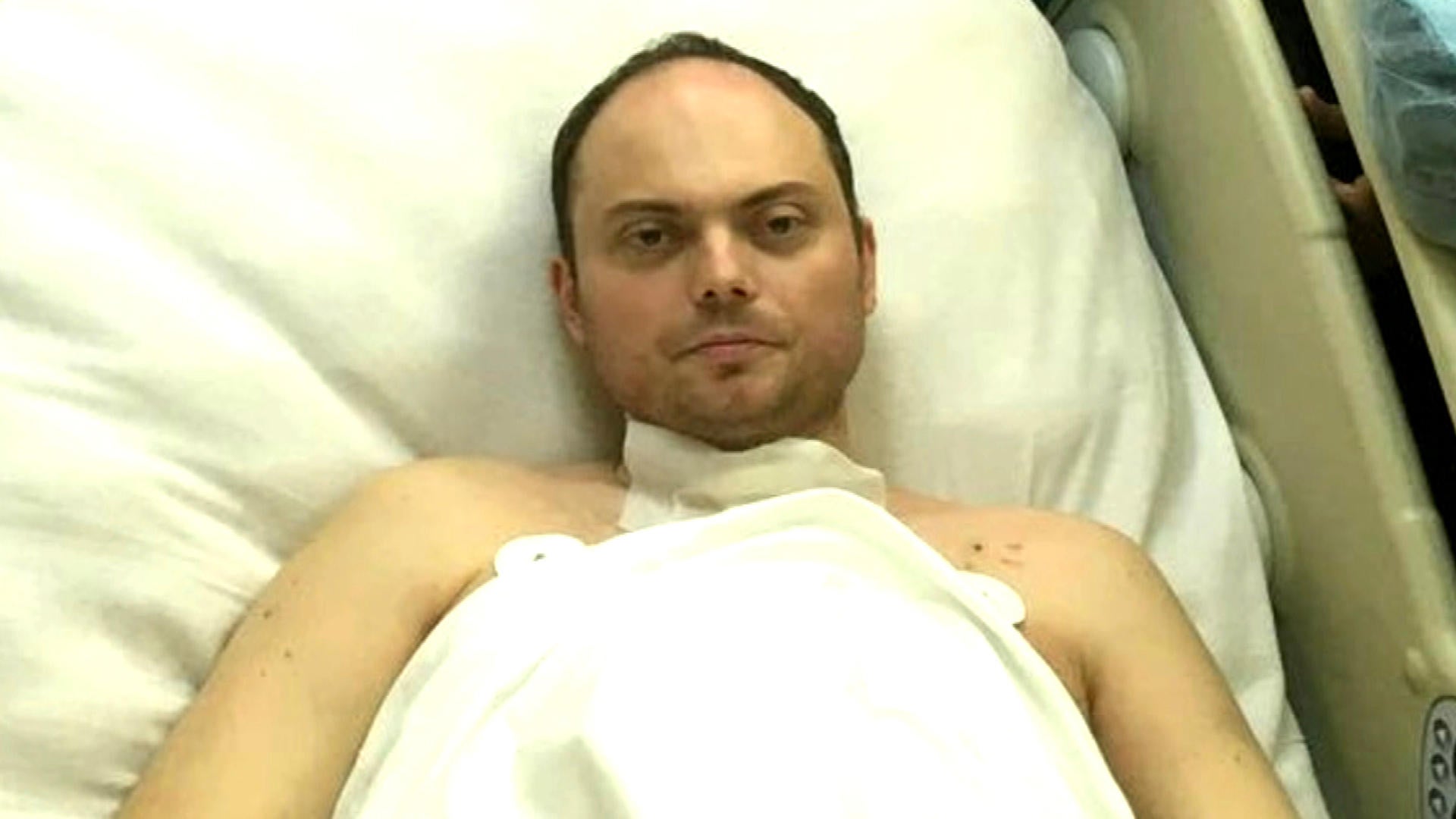 Poisoned again? What 60 Minutes learned about Russia's "love of poison"
When correspondent Lesley Stahl first interviewed Vladimir Kara-Murza last year, he said he was recuperating from a mysterious medical incident that put him at death's door.
"I began to sweat, my blood pressure dropped to basically nonexistent numbers," Kara-Murza told Stahl. "And the worst thing-- I was unable to breathe."
He says his organs shut down, one by one, as doctors frantically tried to diagnose the cause of his collapse. By the time he spoke with 60 Minutes, a limp in his gait was the only sign that something was amiss.
"I have absolutely no doubt that this was a deliberate poisoning, that it was intended to kill," Kara-Murza told Stahl at the time. "The doctors told my wife that it's about a 5% chance of survival. And when it's that kind of percentage, it's not to scare-- it's to kill."
"Poison is a very big part of the Russian psyche. We've got our love of guns in this country. Russia has its love of poison." Producer Shachar Bar-On
60 Minutes hadn't yet aired Stahl's interview with Kara-Murza when the news came: It happened again.
Producer Shachar Bar-On was scrolling through his Twitter feed when he saw the headlines: Kara-Murza poisoned a second time.
"That was a big surprise," Bar-On tells 60 Minutes Overtime's Ann Silvio in the video above.
Bar-On rushed to the offices of 60 Minutes executives, telling them, "There's a development in this story that we didn't expect."
Bar-On and co-producer Alexandra Poolos immediately called Kara-Mura's wife, Evgenia, who was on an airplane in Washington D.C. just about to takeoff for Moscow, where she says her husband was on his deathbed. Remarkably, for a second time, Kara-Murza lived to tell Stahl his story.
Stahl's two interviews with Kara-Murza aired on 60 Minutes in March, in a story called "Poisoned," a medical mystery about Kara-Murza's claim that he was surreptitiously poisoned -- twice -- for speaking out against Russian President Vladimir Putin.
But if some powerful entity was trying to kill Vladimir Kara-Murza with a deadly poison, why didn't it work?
"That was a big question that we wondered ourselves," says Bar-On. "Why can't they get it right the first time or second time?
The 60 Minutes team proceeded with healthy skepticism. It turns out it's not easy to secretly kill a person using poison. The producers cite numerous cases of Russians who were poisoned multiple times before a dose proved fatal.
"What we found is the Russians have been obsessed with poison for centuries, definitely for at least a hundred years," Bar-On says. Russian history and literature is rife with stories of poisonings.
"Poison is a very big part of the Russian psyche," Bar-On says. "We've got our love of guns in this country. Russia has its love of poison."
But Kara-Murza cannot say for certain that he was poisoned.
"I don't know who or when or how," he says. "The only thing I'm pretty sure about is why."
Kara-Murza is a former Washington-based reporter for a Russian TV station who speaks out against the Russian government on the international stage.
"There seems to be a very high mortality rate among people who oppose Mr. Putin or people who engage in independent journalism in Russia," Kara-Murza says. "Why should that be, I wonder?"
Since he appeared on 60 Minutes in March, Kara-Murza testified before the U.S. Congress and says he plans to return to Russia and continue his activism once his health improves. He told 60 Minutes that he is undeterred by any attempt on his life.
"If we give up and if we run away, what future and what prospects does our country have?" he says. "And what kind of signal, what kind of message does that send to millions of people around Russia who reject this regime and who want Russia to be a normal, modern, democratic, European country?"
"We have no right to run away—and we're not going to."
The video above was originally published on March 12, 2017, and produced by Lisa Orlando, Ann Silvio, and Will Croxton. It was edited by Lisa Orlando and Will Croxton.
Thanks for reading CBS NEWS.
Create your free account or log in
for more features.