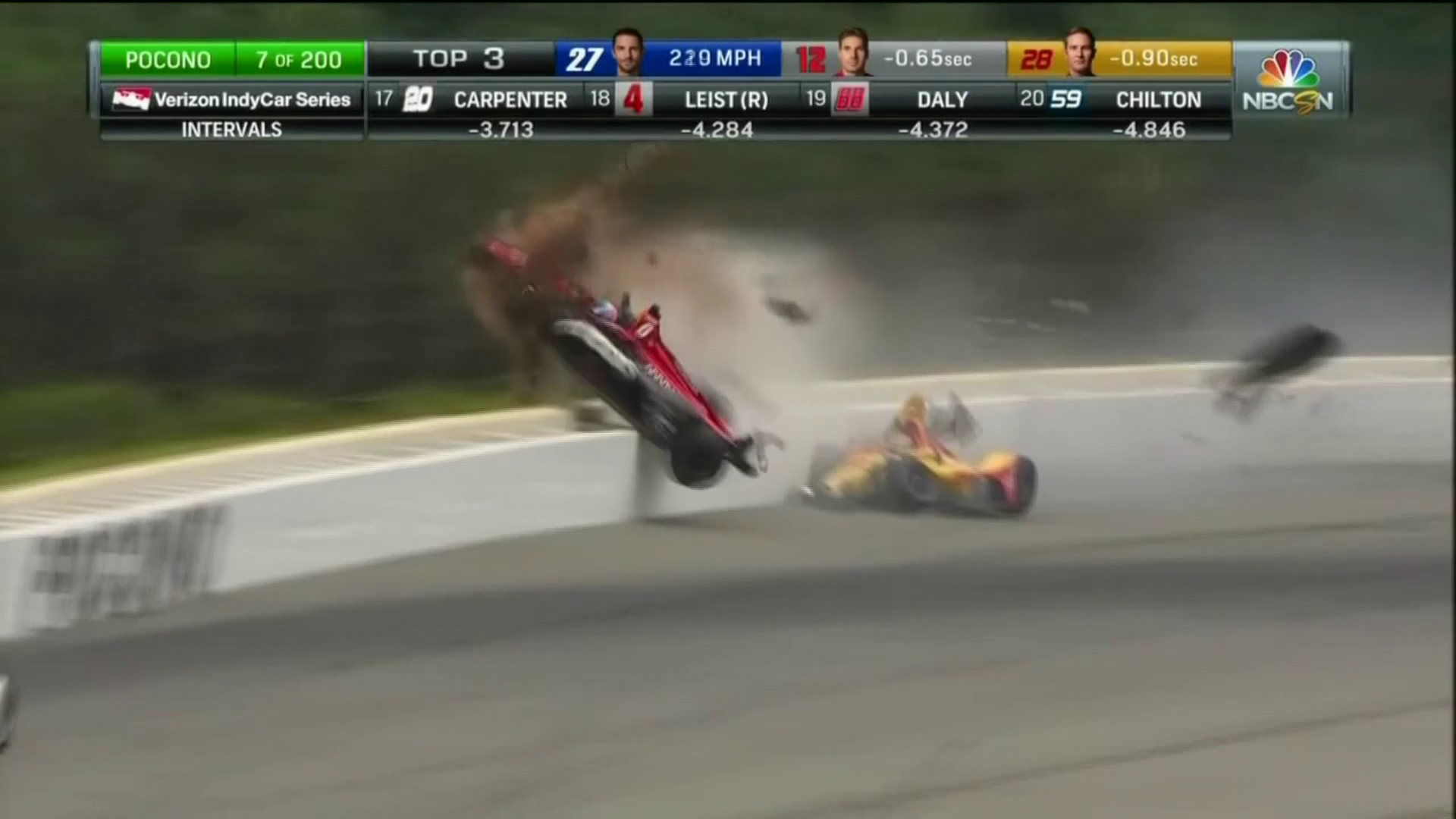 "At least he's alive": IndyCar driver Robert Wickens involved in violent wreck
LONG POND, Pa. -- IndyCar driver Robert Wickens has been admitted to a hospital in nearby Allentown and is being treated for injuries to his lower extremities, right arm and spine after he was involved in a violent wreck during Sunday's race. IndyCar adds that Wickens was awake and alert as he was airlifted from the track to the hospital and was still being evaluated Sunday night.
IndyCar said the 29-year-old Canadian driver sustained a pulmonary contusion and will undergo an MRI and probably surgery at Lehigh Valley Hospital Cedar Crest.
Wickens was attempting to pass Ryan Hunter-Reay when the two cars slightly touched. That caused Hunter-Reay's car to careen into the wall and Wickens' car was pulled along for the ride. Once Wickens' car soared over Hunter-Reay's and hit the fence, it spun round and round like a top. The fencing was shredded and Wickens' car was reduced to just the tub, which came to a rest on the track along an interior wall.
The drivers appeared to be traveling more than 200 mph when the accident occurred.
Medical workers calmly attended to Wickens, who was taken to an ambulance before he was transported to the helicopter. The impact of the wreck tore out a large section of fencing. The race was red flagged and drivers were allowed out of their cars.
Pocono Raceway president Ben May says that about 80 feet of fence and a few posts were damaged. Staff needed about two hours to repair the track and make it safe for the rest of the race.
"It may not be the prettiest job but it's going to be safe," May said.
Alexander Rossi won the race and said it was "tough to celebrate" with Wickens in the hospital.
Justin Wilson died from a head injury in 2015 when a piece of debris from a crashed car bounced off the track at Pocono Raceway and hit his helmet.
Hunter-Reay, James Hinchcliffe, Pietro Fittipaldi and Takuma Sato were among the drivers collected in Sunday's wreck. Hinchcliffe seemed to be in pain, grabbing his wrists as he slowly left his car. Hinchcliffe was cleared and released from the medical center. He declined to comment to reporters out of respect for Wickens.
"That's the worst thing you can see. He's hurt. He's awake and alert and at least he's alive," driver Sebastien Bourdais said.
Fittipaldi later tweeted : "Thank god I am fine and walking away from that accident. Praying for you @robertwickens, I hope you're ok."
The race was delayed nearly two hours and only eight laps in the 500-mile race had been completed because of Wickens' crash and another accident right before green. Graham Rahal got into the back of Spencer Pigot before the race even got to green. Pigot spun and hit the wall.
"We can only hope one thing, that Robbie, Hinch and everyone involved is ok," Rahal tweeted during the delay. "These are the dangers we face, but we always hate to see it. The start can be debated for years, but doesn't matter right now, focus on the well being of our friends and competitors."
Hinchcliffe is a team teammate of Wickens on the all-Canadian Schmidt Peterson Motorsports. The two raced each other as youngsters in Toronto and Hinchcliffe, runner-up on ABC's "Dancing With The Stars" in 2017, helped lure Wickens to IndyCar this season after a successful career in Europe.
The crash was a grim reminder how drivers in open-wheel racing put their lives on the line.
Hinchcliffe survived his own life-threatening injury when a broken part from his car pierced an artery during a 2015 crash at Indianapolis Motor Speedway. Hinchcliffe would have bled to death if not for the medical team holding the artery together as it raced him from the track directly to a hospital.
A year earlier, Hinchcliffe suffered a concussion when he was hit in the helmet by a piece of debris on the road course at Indianapolis.
Wickens had reeled off five straight top-five finishes and matched a career-best second in the last race at Mid-Ohio.
Fittipaldi had just returned from a lengthy layoff because of two broken legs suffered in Europe. Team owner Dale Coyne said Fittipaldi had a sore ankle and did not believe it was broken again.
Thanks for reading CBS NEWS.
Create your free account or log in
for more features.