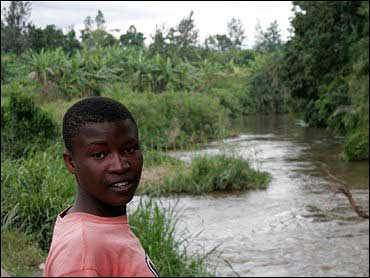 Poaching Devastates Congo's Hippos
In his poaching days in the Congo forests, Guillaume Kasereka used a rusty Russian-made rocket launcher to kill hippos for meat. These days, he says, they're too scarce and the competition too fierce — rebels and militiamen machine-gun the animals and even dynamite lakes to bring dead hippo to the surface.
Congo's hippopotamus population, the world's largest, is being devastated by poaching, conservation officials say. Only about 800 remain in Virunga National Park, in the northeast of the country, down from 29,000 in the mid-1970s, according to Walter Dzeidzic of the World Wildlife Fund in Congo. Dzeidzic says the hippo may soon be extinct in the Central African nation.
The poachers are believed to be veterans of Congolese bush wars and former Hutu rebels who fled to eastern Congo in 1994 after killing Tutsis in the genocide in neighboring Rwanda. They hunt because they are hungry, but also for profit — the meat, though tough, is a pricey delicacy and a three-ton hippo fetches thousands of dollars in village markets across northeastern Congo.
A stocky Congolese ex-militiaman told a reporter he and his comrades had killed 40 hippos in the past three years.
He said they were hungry and needed money, but acknowledged they may have killed too many. He asked that his name not be used, saying he feared retribution for abandoning his militia.
Villagers say hippo meat usually comes to markets unannounced. Its sale is illegal and it sells fast.
"Sometimes we hear of hippopotamus meat in the village market," said Agustin Ndimu, a wildlife officer with the WWF who tracks the hippo meat trade. "But even an hour later, the meat is all sold and there is no trace to follow."
A restaurant owner in the river town of Rutshuru, about 45 miles north of the city of Goma, told a reporter she was out of hippo meat. Knowing the trade is illegal, she refused to give her name.
Mashuri Mazakongo, a 44-year-old bean farmer in ragged clothes, held up a worn and heavily lined palm and said: "That much meat is $5" — enough to feed him for three to four days.
"I like eating hippos, even though the meat is tough," he said. "But I don't go near them now. They belong to the enemies."
"The enemies" is the villagers' term for the estimated 5,000 Hutu rebels in Virunga National Park who are notorious for looting Congolese villages and raping their women.
Not all the villagers see a link between their appetites and the dwindling hippo population.
"I know killing a hippo is illegal, but I don't know why," said Kiyana Zirimagawabo, 55, wearing green flip-flops and a cowboy hat over his graying hair. "Animals are for us to eat."
By Anjan Sundaram
Thanks for reading CBS NEWS.
Create your free account or log in
for more features.