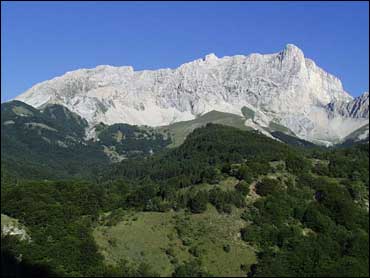 Plants Migrate North As Temperatures Rise
Faced with global warming, plants are heading for the hills.
A study of 171 forest species in Western Europe shows that most of them are shifting their favored locations to higher, cooler spots.
For the first time, research can show the "fingerprints of climate change" in the distribution of plants by altitude, and not only in sensitive ecosystems, said Jonathan Lenoir of AgroParisTech in Nancy, France.
His team found "a significant upward shift of species optimum elevation, the altitude where species are the most likely to be found over their whole elevation range."
Indeed, comparing the distribution of species between 1905 and 1985 with their distribution between 1986 and 2005 showed a shift upward of 95 feet per decade, researchers led by Lenoir report in Friday's edition of the journal Science.
The team studied the preferred location of plants from sea level up to more than 8,500 feet in six regions in France. AgroParisTech is the agricultural branch of the Paris Institute of Technology.
This shows that the effects of climate change are being felt in all areas, not just mountain summits and polar regions, explained co-author Pablo Marquet of the Pontifical Catholic University of Chile.
Unlike animals, of course, plants can't just pick up and move in search of a better home.
But plant species do move, as seeds that are spread tend to grow better in one place than another - in this case at higher elevations in preference to lower ones.
Quickest to relocate, not surprisingly, were plants such as herbs, ferns and mosses with shorter life spans and faster reproduction cycles, the researchers said. Not so fleet were large woody plants that reproduce more slowly.
In fact, long-lived plants like trees that reproduce slowly are more threatened by climate change because they can't quickly relocate, Lenoir said.
Herbs, by having a short life cycle, have had several generations while trees have had just one, noted co-author Jean-Claude Gegout of AgroParisTech.
The plants studied tended to be the most common ones in the mountain forests of France, Lenoir said, allowing the researchers to collect the largest possible amount of information.
Of the 171 species studied, 118 moved uphill and 53 edged downward, the researchers said.
"Individual species behave differently, but as a whole the set of species we studied shows a clear and significant response associated to a shift in their distribution upwards," Lenoir said in an interview via e-mail.
There are a number of possible local reasons for some plants to shift downhill, he said, but the aim of the study was to look at large-scale change and not specific plant species.
"The most important result of our study is that among our 171 species, most are shifting upward," Lenoir said.
To calculate the upward advance of 95 feet per decade the team compared optimum plant locations in 1993 and 1971. The average location of plants from 1905 to 1985 occurred in 1971, while 1993 marked the average locations between 1986 and 2005.
Linda Mearns, a senior scientist at the U.S. National Center for Atmospheric Research, called the study "an important contribution to the growing literature documenting the effects of climate change."
"The fact that the authors are looking at the shift in the spatial core of the range, and not only the shifts at the boundaries of the ranges, makes the research particularly valuable," said Mearns, who was not part of the research team.
In a separate paper, Jeremy Collie of the University of Rhode Island reports that there has been a shift over nearly 50 years in the fish present in Narragansett Bay and Rhode Island Sound.
"While we're catching more fish now, we're also catching smaller fish," said Collie, "and that corresponds with how the preferred temperatures of the fish here have changed. The fish community now is dominated by warm-water adapted species compared with what we started with."
Water temperature in the bay is up about three degrees Fahrenheit since 1959, and the preferred temperature of the fish caught in the trawls has also increased by that amount, he said.
"That seems to be direct evidence of global warming," he said. "It's hard to explain any other way."
His findings appear in the July issue of the Canadian Journal of Fisheries and Aquatic Sciences.

Thanks for reading CBS NEWS.
Create your free account or log in
for more features.