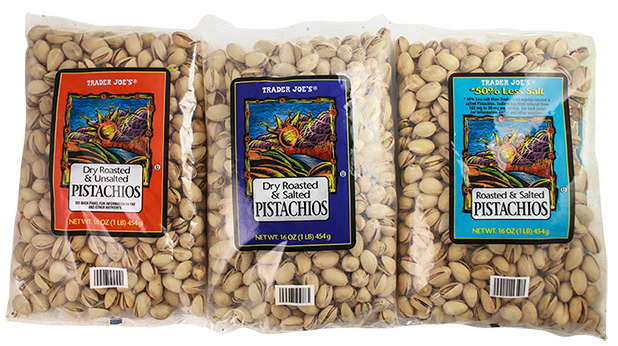 Pistachios sold at Trader Joe's recalled over salmonella
At least 11 people have been sickened and two hospitalized resulting from a multi-state salmonella outbreak linked to pistachios.
The Centers for Disease Control and Prevention reports that the California-based company Wonderful Pistachios issued the recall voluntarily due to concerns of contamination.
The pistachios were sold under the brand names Trader Joe's, Wonderful, and Paramount Farms and were distributed across the U.S. and in Canada.
"Wonderful Pistachios takes food safety matters very seriously and is working closely with health officials to identify the source of the problem," the company said in a statement.
The affected states include Alabama, Arizona, Connecticut, Georgia, Michigan, Minnesota, North Dakota, Virginia, and Washington. The CDC says the investigation is ongoing.
Trader Joe's says the recall affects products it sold with "Best If Used By" dates between 2016 OCT 27 and 2016 NOV 04, along with the following code numbers:
Trader Joe's Dry Roasted & Unsalted Pistachios (UPC 0007 9990)
Trader Joe's Dry Roasted & Salted Pistachios (UPC 0007 9983)
Trader Joe's 50% Less Salt Roasted & Salted Pistachios (UPC 0011 1348)
Trader Joe's says it has not received any reports of illness related to these products.
Pistachios sold under the other brand names can be identified by a lot code number found on the lower back or bottom panel of the package. A complete list of the codes can be found on the FDA's website.
People began getting sick in December, the CDC reports, and those infected range in age from 9 to 69.
Officials say the products have a long shelf life and may still be in people's homes. Consumers are urged not to eat the pistachios and to either throw them away or return the nuts to the store at which they bought them for a refund.
Each year, salmonella is estimated to cause one million cases of foodborne illness in the United States, with 19,000 hospitalizations and 380 deaths.
Symptoms include diarrhea, fever, and abdominal cramps, which typically appear between 12 to 72 hours after the infection. Though the illness usually lasts four to seven days, sometimes the diarrhea may be so severe that patients need to be hospitalized, and it can lead to further complications and even death.
Children younger than five, the elderly, and people with weakened immune systems are more likely to have severe infections.
People who think they may be infected with salmonella should contact their health care provider.
Thanks for reading CBS NEWS.
Create your free account or log in
for more features.