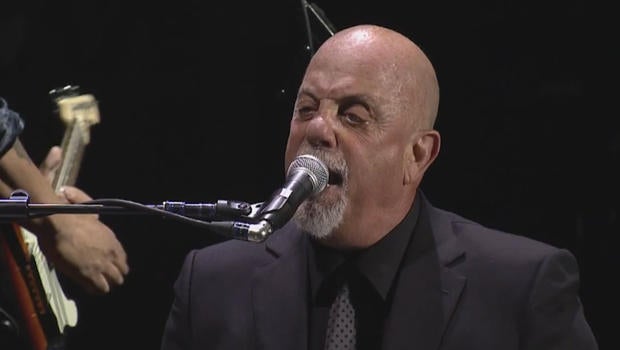 "Piano Man" Billy Joel on hitting the 100 mark at Madison Square Garden
The 1978 hit "My Life" is a summer song from Billy Joel, who's been entertaining us for more than 40 summers now. It turns out that, for Joel, getting to his gig on a world-famous stage is half the fun, as he demonstrates for Anthony Mason:
On the back lawn of his estate on Oyster Bay, Long Island, Billy Joel saw a chance to solve a transportation problem:
"It used to be a tennis court. I didn't play tennis. And there was an H in the middle of the tennis court. And I said, 'Helipad!'"
For four-and-a-half years now, it's how he's shuttled every month to his residency at Madison Square Garden, arriving this past Wednesday with his wife, Alexis, for a landmark 100th concert at the legendary arena.
Watch the full story here:
Every show has been a sellout. That's more than two million tickets.
Mason asked, "What does it say to you personally that you're playing your 100th show here?"
"It's a crazy life!" Joel replied. "'Cause I remember the first night I played here in 1978. This was like the pinnacle of my career. My God! I'm headlining Madison Square Garden!"
Forty years ago, in December of 1978, Joel played his first gigs at the Garden. He'd broken out the year before with his fifth album, "The Stranger."
"For a kid from Long Island, what did it mean you be here in 1978?" Mason asked.
"Well, this is the Arc of the Covenant. This is the high holy of holies!"
"Mr. Joel's concert," The New York Times wrote, "reaffirmed his stature as a talented, craftsmanlike pop composer … But he falls short of the … committed passion … of great rock."
"Off and on, over the years you've been beaten up by some critics," Mason noted.
"A lot of that beating up was self-induced!" Joel laughed. "Because I went to war with these guys. If I didn't agree with something they wrote, I would call 'em out on stage. And that doesn't help things."
"Why did you go to war with them?"
"'Cause they were wrong!"
His Garden gigs have proven him right. Even some of his songs that weren't big hits in the beginning have become standards, like "Piano Man." "We do [that] every night. You can't do a show without doing 'Piano Man.' But the audience is singing along."
"They're doing a lot of the work!" Mason said.
"Yeah. So, when I'm doing the song I'm not actually thinking about what I'm doing. I'm listening to the audience singing. You know, I'm going, 'All right, not bad!'"
Joel began playing the Garden monthly in January 2014 – and didn't think it would last this long: "They presented it like, 'Okay, you're gonna do a residency.' But what they really meant [was], you're gonna be a franchise, like a sports team."
"How did you feel about that?"
"Flattered. Flabbergasted!"
He's sold out 54 straight shows, joined almost every month by special guests, including Sting, Paul Simon, Miley Cyrus, Tony Bennett, and for his 100th show, Bruce Springsteen.
Mason asked, "Of the shows you've played at the Garden, are there any particularly memorable moments for you? I mean, particularly in this residency?"
"I remember the nights that my daughter Della was there," he replied. "She was dancing around. This past year or so, there was the night I wore the Star of David, after the Charlottesville incident."
"You don't usually get political in shows."
"No, I don't think it's right for me to get up on a soapbox because that's not why people are there."
"But you had to do something that night?"
"I had to do something that night. The President said, you know, 'There's some good people on that side …' No, Nazis aren't good people. It really enraged me, actually. My old man, his family got wiped out. They were slaughtered in Auschwitz. Him and his parents were able to get out. But then he was in the U.S. Army during the war and fought with Patton and was shot at by Nazis.
"My family suffered. And I think I actually have a right to do that."
At 69, Joel is playing songs he wrote seemingly a lifetime ago. He said, "Some of 'em have aged better than others. They're like my kids. Some of 'em grew up to be doctors and lawyers and Indian chiefs. Some of 'em a couple of bums, you know?"
His first huge hit, the Grammy-winning "Just the Way You Are," is not one of the singer's favorites: "It's a song I wrote for my first ex-wife!" he laughed. "It was a gift. And when I showed it to her, she said, 'Does that mean I get the publishing, too?' And it kind of took the shine off the thing!"
Joel was also annoyed when the sheet music was first published, that the wrong chords were printed.
He wrote 33 Top 40 hits. But then, after his "River of Dreams" album in 1993, Joel suddenly stopped.
Mason asked, "What was the main reason you stopped writing songs?"
"I couldn't be as good as I wanted to be," Joel replied. "It was driving me crazy. And it was wrecking my personal life, too, just not being able to be satisfied. And drinking became a problem because of that, to try to drown my frustration a little bit."
"If you look at what you'd written, you've written some great songs!"
"I could look at 25 percent of what I wrote and throw it out and not miss it at all," Joel said.
"Most artists would say the same thing."
"Probably. But that's what drives good art."
"In the end, that kind of wore you down?"
"Well, I wanted a personal life. You know, I've been married and divorced a couple of times; when are you going to be content with yourself? There's a quote from Neil Diamond that I related to a great deal. He said, 'I've forgiven myself for not being Beethoven.' And I read that quote and I said, 'That's my problem. I have not forgiven myself for not being Beethoven.'
"And I still to this day haven't."
But Beethoven never sold out the Garden 100 times.
"After 100 shows, does this kind of feel like your living room?" Mason asked, gesturing to the stage,
"Yeah. Yeah. This is our office! I see everybody, we're all in our little cubicles. That's our office!"
And when Billy Joel's name was hoisted on a banner into the Garden rafters Wednesday with those three imposing digits, even the Piano Man was impressed
"Is it a big deal for you?" Mason asked,
"Yeah! A hundred! I'm still trying to get my head around it. So, it looks like there's no end to this thing."
"Does that concern you?"
"I may be doing it for the rest of my natural life!"

For more info:

Story produced by Gabriel Falcon.
Thanks for reading CBS NEWS.
Create your free account or log in
for more features.