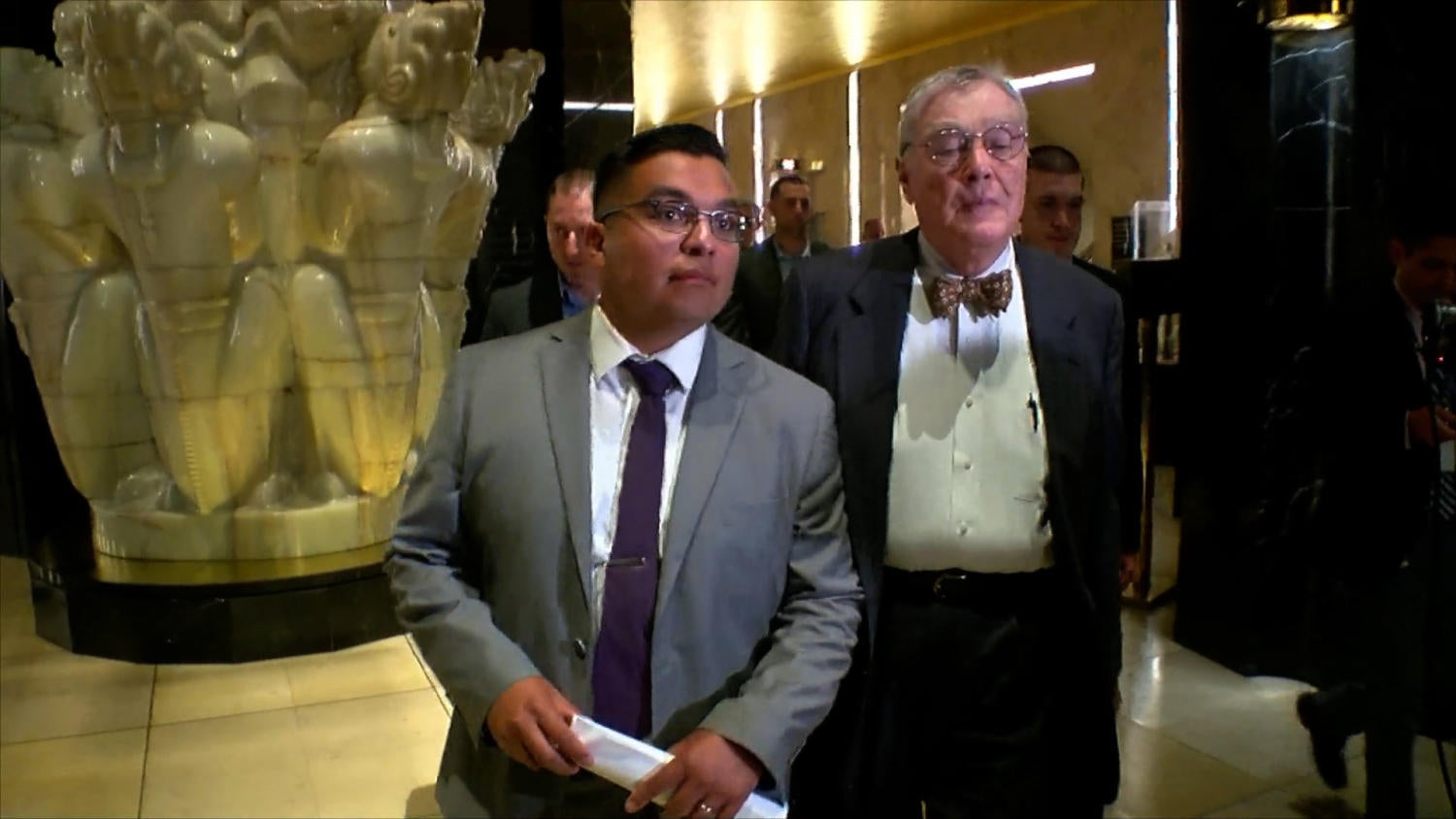 Philando Castile case verdict: Jeronimo Yanez not guilty
ST. PAUL, Minn. - A jury on Friday found a Minnesota police officer not guilty of manslaughter in the death of a black motorist.
Defense attorneys contended the 29-year-old Latino officer was scared for his life and was justified in shooting 32-year-old Philando Castile. Jeronimo Yanez shot Castile five times last July during a traffic stop in a St. Paul suburb, just seconds after Castile informed him he was carrying a gun.
Prosecutors insisted Yanez never saw a gun and had plenty of options short of shooting Castile, an elementary school cafeteria worker they say was never a threat.
Philando Castile's girlfriend livestreamed the gruesome aftermath of the shooting on Facebook. The video was shared widely, and included Diamond Reynolds' statements that Castile hadn't been reaching for his gun. Castile had a permit for the weapon.
Speaking after the verdict was announced, Philando Castile's mother expressed outrage.
"My son loved this city, and this city killed my son," Valerie Castile said. "And a murderer gets away? Are you kidding me right now?"
Castile said she was disappointed in the judicial system in Minnesota.
"The system continues to fail black people, and it will continue to fail you all," she said.
Castile and her spokeswoman, Judge Glenda Hatchett, both thanked Ramsey County Attorney John Choi for bringing the charges and the prosecution for their work in the courtroom.
Hatchett called Castile's death "tragic and needless" and said Castile was compliant with the officer's orders, "as his mother taught him."
"This time, there should have been, in our opinion, a very different outcome," Hatchett said of the verdict. "Because if Philando Castile can die under these circumstances, let's be clear, each of you could die under these circumstances."
Castile's sister Allysza Castile, 24, spoke tearfully of her brother as a "good man -- you never heard him raise his voice."
"For those jurors to not have enough human empathy and conscience to just do the right thing, that just baffles me," she said.
A member of the jury called deliberations "very, very hard" and said he thinks the panel delivered the right verdict.
Dennis Ploussard said the jury was split 10-2 early this week in favor of acquittal for Yanez. Ploussard said jurors spent a lot of time dissecting the "culpable negligence" requirement for conviction. He said the last two holdouts eventually agreed on acquittal.
Ploussard wouldn't identify the two holdouts, but says they were not the jury's only two black members. The rest were white, and none were Latino.
Ploussard declined to say whether he thought Yanez acted appropriately. He said the jury sympathizes with the Castile family.
The jury was handed the case on Monday. On Tuesday, jurors requested another look at dashcam video captured by Yanez's squad car that shows the shooting of Castile. On Wednesday, the judge told jurors to continue deliberating Wednesday afternoon, indicating they may have been struggling to reach a verdict.
The squad-car video shows a wide view of the traffic stop and the shooting, with the camera pointed toward Castile's car. While it captures what was said between the two men and shows Yanez firing into the vehicle, it does not show what happened inside the car or what Yanez might have seen.
The squad-car video shows Yanez approaching Castile's car and asking for a driver's license and proof of insurance. Castile appears to give something to Yanez through the driver's side window. Castile is then heard saying, "Sir, I have to tell you, I do have a firearm on me." Before Castile finishes that sentence, Yanez has his hand on his own gun and is pulling it out of the holster. There is shouting, and Yanez screams "Don't pull it out!" before he fires seven shots into the car.
The jury also watched a replay of the video that Castile's girlfriend, Diamond Reynolds, livestreamed on Facebook beginning seconds after Castile had been shot.
Defense attorneys highlighted inconsistencies in Reynolds' statements to investigators to try to raise doubts about her honesty.
The city of St. Anthony announced Friday it would dismiss Yanez from its police force, despite the acquittal.
The city says it concluded the public "will be best served" if Yanez no longer works for the city. The statement says the city plans to offer Yanez a "voluntary separation" so he can find another job.
The city says Yanez will not return to active duty.
Thanks for reading CBS NEWS.
Create your free account or log in
for more features.