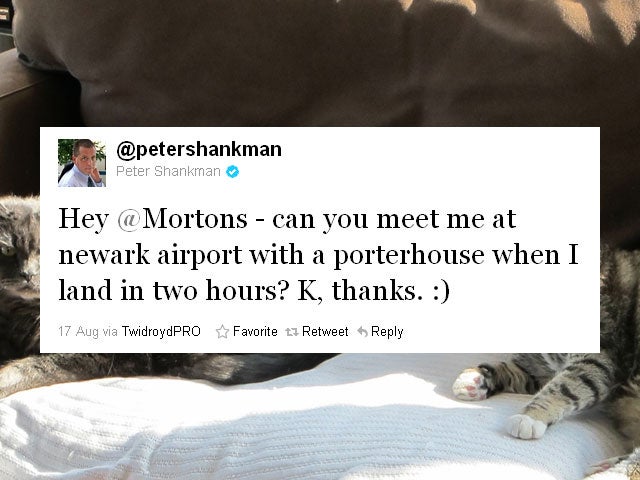 Peter Shankman tweets at Morton's Steakhouse to bring him a porterhouse, wish granted
(CBS) - Who knew Twitter could grant wishes? On August 17, Peter Shankman tweeted at Morton's Steakhouse and got what he (jokingly) asked for.
Shankman, who's a CEO and entrepreneur, writes about the dream-come-true surprise on his blog and says, "The following story is entirely true. More importantly, I swear on my entire professional reputation and all I hold dear to me that the story below was in no way staged, planned in advance, or in any way faked. This is real. And most importantly: This is AMAZING."
Shankman has always loved steak. In fact, he has tweeted about his affinity for the meat before. (I know - I follow him.) "I go out of my way to try steakhouses all around the world when I can, and it's one of the reasons, no doubt, that my trainer at my gym is kept in business," he adds.
One of his favorite steak joints: Morton's Steakhouse. In fact, as Shankman travels, he often dines there - and Morton's knows it.
"Hey @Mortons - can you meet me at Newark airport with a porterhouse when I land in two hours? K, thanks. :)," Shankman tweeted.
Although he was kidding, Morton's took note. (We should probably also mention that Shankman has over 109,000 followers on Twitter alone.) Someone from Morton's met Shankman at the airport after his flight carrying a Morton's bag. "[The man] proceeds to tell me that he'd heard I was hungry, and inside is a 24 oz. Porterhouse steak, an order of Colossal Shrimp, a side of potatoes, one of Morton's famous round things of bread, two napkins, and silverware," Shankman explains.
Shankman was floored. He snapped a photo with the steak genie to prove he wasn't joshin' us - you can see it here.
Shankman then tweets, "Oh. My. God. I don't believe it. @mortons showed up at EWR WITH A PORTERHOUSE!"
Now how's that for customer service?! Maybe, I'll try tweeting at Morton's also. I, too, love steak. (Morton's, are you reading this?)
Thanks for reading CBS NEWS.
Create your free account or log in
for more features.