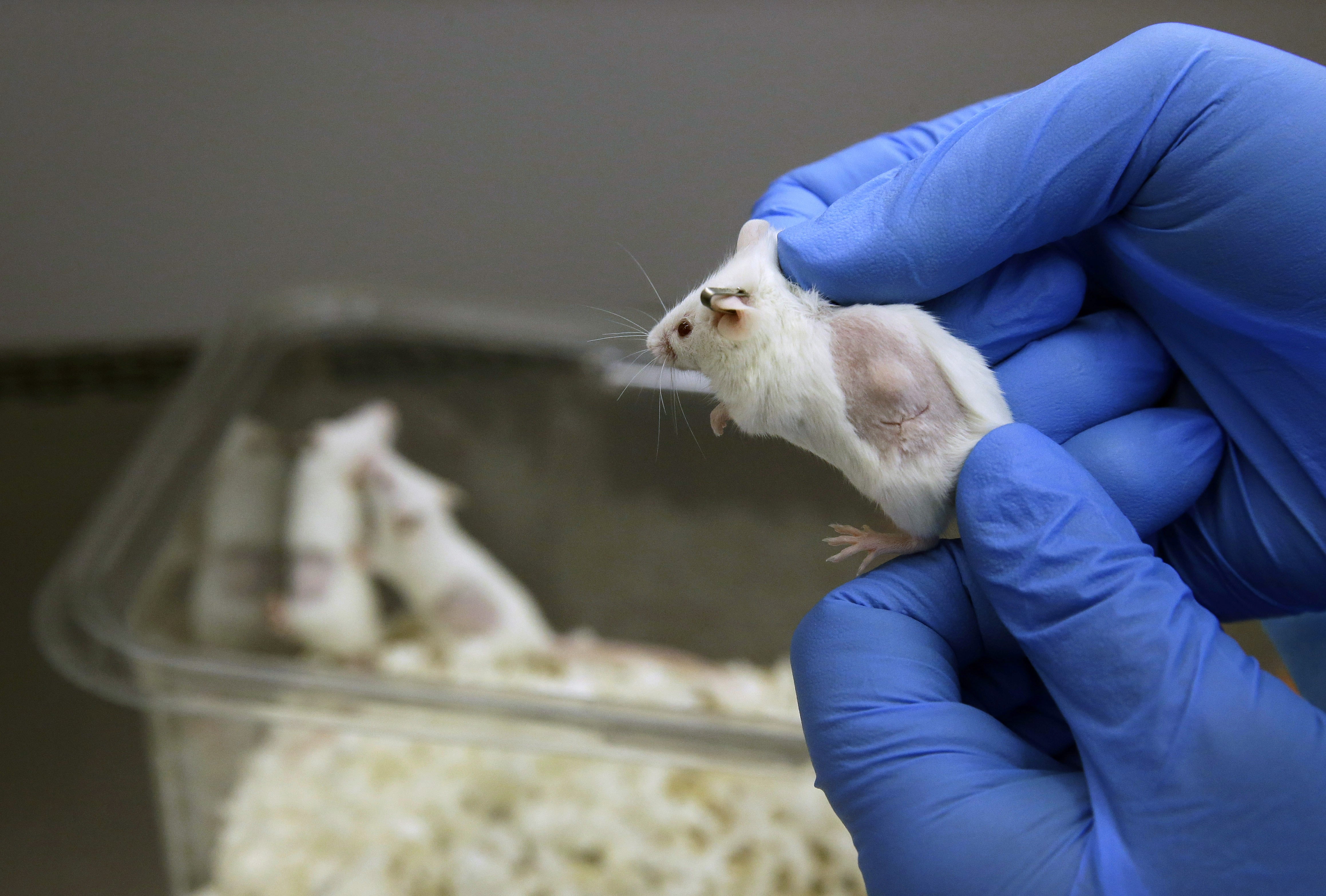 Animal experimentation up 73 percent, study says
The use of animals in experiments at leading federally-funded labs has increased nearly 73 percent in the past 15 years, according to a new study conducted by People for the Ethical Treatment of Animals (PETA).
The study, in the Journal of Medical Ethics, found the number of animals tested rose from 1,566,994 in 1997 to 2,705,772 in 2012 in testing by the top 25 institutional recipients of National Institute of Health grants.
Mice represented the largest increase in research with their numbers going from 1.2 million to nearly 1.9 million in that period. Other animals also saw increases. Nonhuman primates, for example, increased from 7,292 to 11,167, though the change was not statistically significant. Cats and dogs saw their numbers decline slightly.
PETA has long campaigned for a reduction in animals used experiments and there has been a shift way from using them for such things as chemical toxicity testing and medical education. Europe, for example, has banned the sale of cosmetics with ingredients tested on animals.
The study estimated that 17 million to 100 million animals are still used in laboratories.
"Despite new research technology, evidence that animal experiments often don't faithfully translate to humans, and the fact that a growing majority of the public opposes experiments on animals, laboratories are abusing more animals than ever before," said PETA Director of Laboratory Investigations Justin Goodman, who was a co-author on the study.
He and the other authors said the sharp increase in mice used in experiments that their study revealed could be driven by federal restrictions on the use of chimpanzees, dogs and cats due to growing public pressure, and the fact that mice and other smaller animals are not included in the Animal Welfare Act.
The use of mice "reflects scientists' and laypersons' greater moral concern for animals in laboratories who are typical viewed as companion animals or as being human-like or having higher mental abilities," the authors wrote. "This bias persists despite extensive evidence that - like dogs, cats and primates - animals such as mice, rats and fish experience pain, stress and distress."
A spokesman for the National Institute of Health dismissed the study, saying the methods could not be used to quantify the numbers of animals being used in research.
"It is data from reports gathered every four years regarding an average daily inventory to get a snapshot of the numbers of animals in a facility at a given time," Megan Columbus, the communications director for the NIH Office of Extramural Research, told CBS News. "It is inappropriate to use the data in the way the authors suggest."
Columbus also said the increased numbers of animals could simply be due to the fact that "research grant awards has increased over the time period reported in the paper."
"Thus, while the numbers of some species reported in the Animal Welfare Assurances have risen, this may reflect the overall increase in research and not that a larger proportion of the funded research involves animals," she said.
The study accused the federally-funded labs of breeding mice to carry genes that "predispose them to crippling diseases and other maladies."
"Because 95 percent of mice bred for these cruel experiments don't carry the desired gene, they're typically killed right after birth," PETA said in a statement accompanying the study. "The spread of this inefficient and inhumane practice has caused animal use to skyrocket."
PETA also alleged that individuals on testing oversight committees are often involved in animal research themselves, which creates a potential conflict of interest.
In an article accompanying the study, Lisa Hara Levin of the animal welfare group Animal Care and Control of New York and William Reppy of Duke University said the study illustrated the need to reform policies related to animal research.
They called for avoiding the use of animals in experiments when a non-animal alternative is available, increased transparency regarding animal experiments and a greater willingness to negotiate with responsible representatives of the animal rights and welfare community about problems they have concerning animals in institutions.
"Inviting collaboration with people having broad intellectual backgrounds could result in sensible dialogue regarding the use of animals in research," they wrote. "Ideally, this would replace poorly informed debate, minimize invective and balance the world's drive for scientific advance with the need to ensure animal protections."
Thanks for reading CBS NEWS.
Create your free account or log in
for more features.