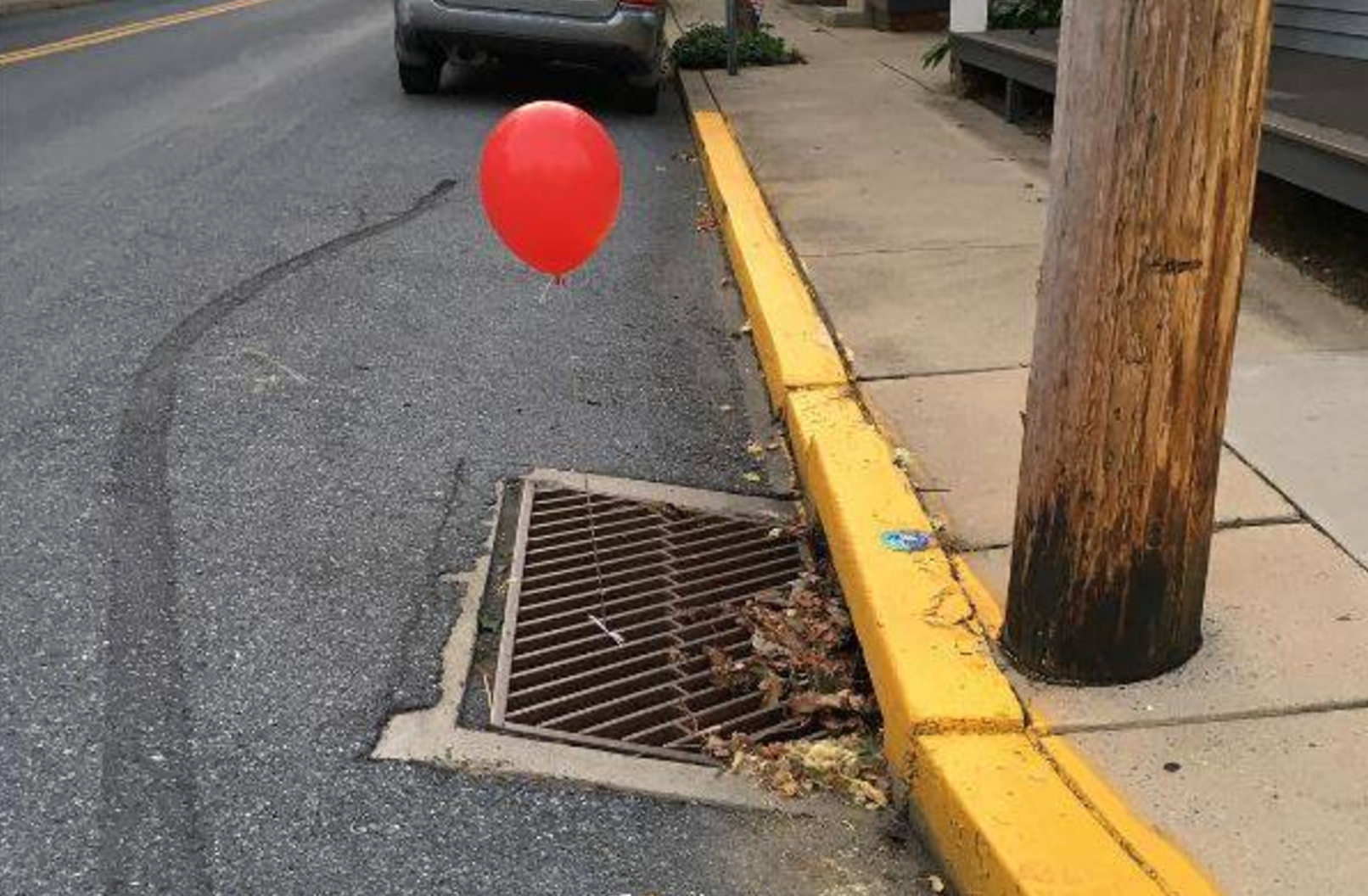 Pennsylvania police respond to red balloons tied to sewer grates
Several red balloons popped up overnight in a small Pennsylvania borough, causing a mix of amusement and concern for residents and horror film enthusiasts alike.
The Lititz Borough Police Department said officers "want the local prankster to know that we were completely terrified as we removed these balloons" tied to sewer grates across town — a practice similarly seen in the movie "It," which opens in theaters on Friday.
The horror movie, which is adapted from a Stephen King novel, portrays an evil demon who takes on the guise of a killer clown named Pennywise who stalks children from within sewers, luring them with red balloons.
"I don't think we have an accurate balloon count, but it's definitely above 20," Sgt. Stephen Detz with the Lititz Borough Police Department told CBS News. "They pretty much hit the entire town and the area around the town."
Detz says there are some "It" fans within the department, so when officers saw the balloons they immediately caught the reference.
On Tuesday, the police department posted about the "creative" prank on Facebook. Nearly 4,000 people shared the message.
"Search 'It' and watch the preview, but we suggest watching it with a friend or coworker with all the lights on and the sound down low," the department wrote.
For some locals, the department's post solved something of a mystery.
"I was wondering what those balloons were for! I had no idea," one woman wrote.
"Lititz is now officially the creepiest little town in America," another commented.
While Detz admits the prank was "clever" and good promotion for the upcoming film, he kindly asks those involved to stop.
"I mean, somebody eventually has to clean it up, obviously," he said. "We've removed several, but there are still a lot more out there."
With the movie's upcoming release and Halloween right around the corner, Pennsylvania State Police also warned about possible clown sightings.
In 2016, a wave of disturbing clown sightings were reported in Alabama, Colorado, Florida, Georgia, Maryland, Mississippi, Missouri, North Carolina, Ohio, Oregon, Pennsylvania, South Carolina, Tennessee, Texas, Virginia and Wisconsin.
"The creepy clown craze in September 2016 resulted in at least a dozen [arrests] in Georgia, Alabama and Virginia for either taking part in the menacing stunt or for making false reports," Pennsylvania State Police said in a recent bulletin. "With the fall of 2017 upon us, it is anticipated that similar 'creepy clown' sightings could be reported starting as soon as September, in part due to the fact that the movie 'It' will be released."
The Lititz police department also believes clown sightings may be just around the corner.
"There's always that possibility, especially with the popularity of this movie," Detz said.
Wearing a clown costume is not a crime, Detz reminds residents, but the person wearing the outfit should remember to act responsibly.
"They should respect others boundaries. Simply wearing a clown mask or dressing up as a clown isn't a crime — that's when they begin harassing or assaulting people or things like that," Detz said. "If they are showing support for a movie that's not a problem. It's when they start trying to harass or annoy people with their presence."
Thanks for reading CBS NEWS.
Create your free account or log in
for more features.