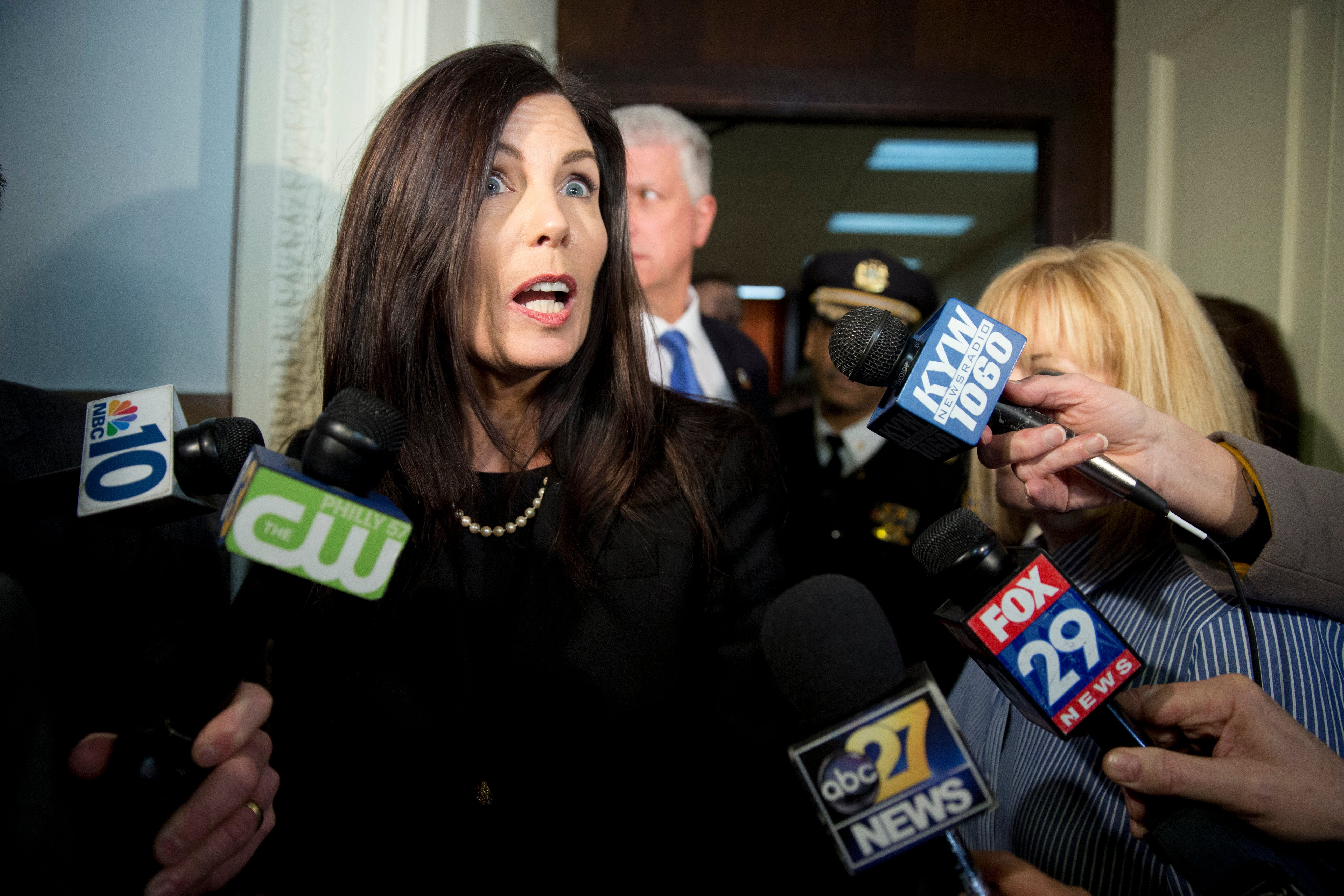 Pennsylvania attorney general charged in grand jury leak
UPDATE:A lawyer for Pennsylvania Attorney General Kathleen Kane says she intends to plead not guilty to criminal charges filed against her, including conspiracy and perjury.
---
NORRISTOWN, Pa. -- Pennsylvania's attorney general was charged Thursday with leaking secret grand jury information to punish her critics, then lying about it under oath, in a case that could spell the downfall of the state's highest-ranking female politician.
Kathleen Kane leaked the material to a political operative to pass on to the media "in hopes of embarrassing and harming former state prosecutors she believed, without evidence, made her look bad," Montgomery County District Attorney Risa Vetri Ferman said.
Kane, the first woman elected attorney general in Pennsylvania, was charged with perjury, obstruction, conspiracy and other offenses. The 49-year-old Democrat is expected to surrender within two days.
"No one is above the law, not even the chief law enforcement officer of the state of Pennsylvania," Ferman said. She called it "a sad day for the citizens of Pennsylvania and a sad day for all of us in law enforcement."
According to CBS Philadelphia, Ferman has been conducting an investigation into Kane since April.
Kane has portrayed herself as a victim of payback for taking on a corrupt, old-boy law enforcement network and exposing the exchange of pornographic emails among state employees. She vowed to stay in office and fight the charges, CBS Philadelphia reports.
"A resignation would be an admission of guilt," she said, "and I'm not guilty."
The charges mark a new low in Kane's tumultuous three-year tenure, further weakening her shaky hold on an office that has seen an exodus of top aides, fumbled corruption cases and feuds with former prosecutors who served under her Republican predecessors.
Kane had come under fire from some former prosecutors for declining to pursue charges against several lawmakers accused of taking illegal gifts.
The charges against her allege she struck back against them by leaking information to the Philadelphia Daily News last year that made it look as if they botched a 2009 probe into whether a Philadelphia NAACP official misused state job-training grants. The official was never charged.
The NAACP probe was headed by Frank Fina, who was a top prosecutor in the attorney general's office before Kane got elected.
In court papers, Kane was accused of leaking the information to discredit Fina. "This is war," she wrote in an email cited by Vetri.
Democratic Gov. Tom Wolf called on Kane to resign, echoing newspaper editorial pages across the state in recent months.
Kane is the second state attorney general in the U.S. to face criminal charges this week. She is also the second Pennsylvania attorney general charged in the last 20 years.
An indictment unsealed Monday charged Texas Attorney General Ken Paxton with securities fraud. Ernest Preate resigned as Pennsylvania's attorney general in 1995 and served a year in federal prison after pleading guilty to fraud related to a campaign contribution.
Kane's driver and confidant, Patrick Reese, was also charged with indirect criminal contempt in the case Thursday. Ferman said he had searched for subpoenas and other sensitive information involving the grand jury that was investigating his boss.
Ferman said authorities are still investigating allegations that Kane fired a prosecutor whose testimony was used to build the leak case against her.
Kane has acknowledged giving information to the Daily News but denied it was bound by secrecy laws. She also contended the prosecutor was fired for job-related performance, not revenge.
In September, she exposed eight former employees of her office as having received or sent pornography on their state computers. Those named included several former top supervisors. Kane fired four officials, and a state Supreme Court justice also resigned in the scandal.
Relying heavily on her trucking magnate husband's wealth, the Scranton native campaigned as a disrupter of the status quo and pledged to investigate whether politics played a role in the three years it took to investigate and charge former Penn State assistant football coach Jerry Sandusky with child sex abuse crimes.
At first, Democrats lauded the former Lackawanna County prosecutor as a rising political star. They cheered her for refusing to defend Pennsylvania's ban on recognizing gay marriage and rejecting then-Gov. Tom Corbett's contract with a private firm to run the Pennsylvania lottery.
Thanks for reading CBS NEWS.
Create your free account or log in
for more features.