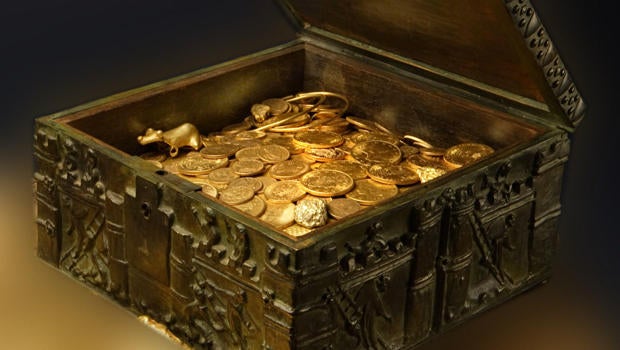 Pastor dies in search for famous hidden treasure
Police in northern New Mexico say they've recovered the body of a Colorado pastor who disappeared last week while searching for buried treasure.
The fortune, hidden somewhere in the Rocky Mountains, has lured many treasure hunters. And Paris Wallace, of Grand Junction, may be the second person to die in the search.
Police say Wallace told family members he was searching for a buried treasure nearly 50 miles north of Santa Fe, New Mexico. But when he reportedly failed to show up for a meeting last Wednesday, they grew concerned.
Millionaire Forrest Fenn hid that treasure in 2010. Two years ago, on CBS' "Sunday Morning," he read the poem that he says holds clues to the location of a chest containing treasure fit for a pirate -- gold coins, precious metals and other artifacts. Its exact dollar value is not known -- some say millions.
It was hidden somewhere in the Rocky Mountains.
Fenn told Petersen that he hoped his treasure would spark a spirit of adventure for those seeking it. "I made it hard [to find] deliberately," he said. "If it was easy, anyone could do it."
But Fenn voiced concern for the safety of those looking for the treasure he buried, giving Petersen an important clue: the treasure is not hidden in a mine. "A lot of these old mines are dangerous," he said.
But fortune-hunters have apparently put themselves in harm's way nonetheless. The remains of 54-year-old Randy Bilyeu were found in July of last year after he went looking for the treasure along the Rio Grande.
In this latest case, Wallace's car was reportedly found near the Taos Junction Bridge in New Mexico. Police tell "CBS This Morning" they found receipts in his vehicle indicating he'd purchased a rope and supplies at a local store.
A torn rope was located a short distance from that vehicle. It had been stretched across a tributary of the Rio Grande. A body was recovered five to seven miles downstream from Wallace's car.
On Sunday, Fenn gave a statement to "CBS This Morning": "My heart and my prayers go out to his family and his church.... It is such a tragedy."

Fenn's poem:
As I have gone alone in there
And with my treasures bold,
I can keep my secret where,
And hint of riches new and old.
Begin it where warm waters halt
And take it in the canyon down,
Not far, but too far to walk.
Put in below the home of Brown.
From there it's no place for the meek,
The end is ever drawing nigh;
There'll be no paddle up your creek,
Just heavy loads and water high.
If you've been wise and found the blaze,
Look quickly down, your quest to cease,
But tarry scant with marvel gaze,
Just take the chest and go in peace.
So why is it that I must go
And leave my trove for all to seek?
The answers I already know,
I've done it tired, and now I'm weak.
So hear me all and listen good,
Your effort will be worth the cold.
If you are brave and in the wood
I give you title to the gold.
Thanks for reading CBS NEWS.
Create your free account or log in
for more features.