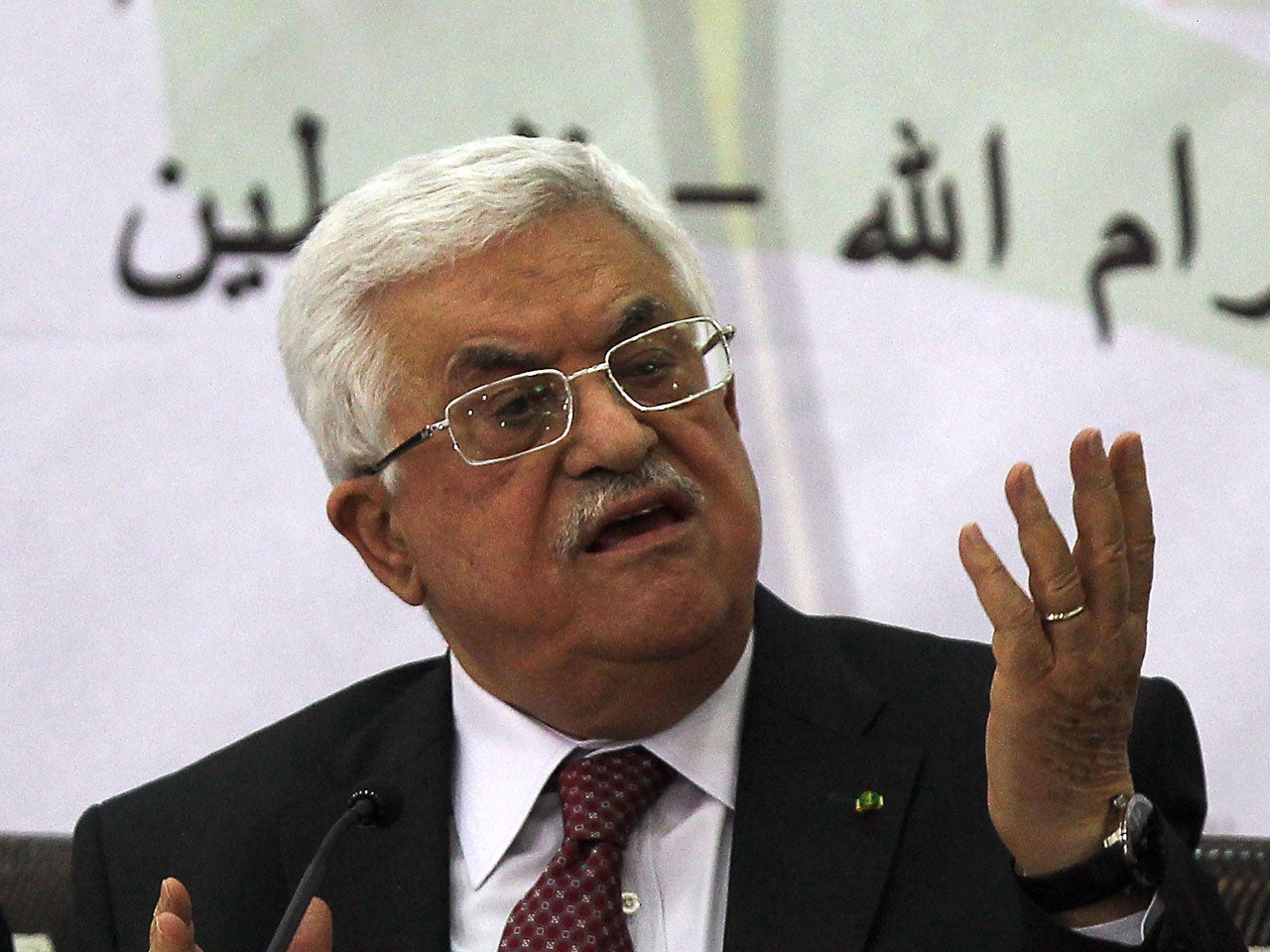 Palestinian President Mahmoud Abbas calls Holocaust "the most heinous crime" of modern history
RAMALLAH, West Bank - Palestinian President Mahmoud Abbas on Sunday called the Holocaust "the most heinous crime" of modern history and expressed his sympathy for the victims, a rare acknowledgment by an Arab leader of Jewish suffering during the Nazi genocide.
Abbas' comments appeared, in part, aimed at reaching out to Israeli public opinion at a time of deep crisis in Israeli-Palestinian peace efforts. The remarks were published by the Palestinian official news agency WAFA just hours before the start of Israel's annual Holocaust commemoration.
The decades-old Israeli-Palestinian conflict has been accompanied by mutual mistrust.
Many Israelis fear that the Palestinians aren't truly ready to accept a Jewish presence in the Holy Land, and that ignorance or even denial of the Holocaust among Palestinians is an expression of that attitude. Denials or attempts to minimize the Holocaust, which saw the systematic killing of 6 million Jews by Nazi Germany in World War II, are widespread in the Arab world.
Many Palestinians fear that if they acknowledge the Holocaust, they will diminish their own claims based on years of suffering, including their uprooting during Israel's 1948 creation and decades under Israeli occupation.
Abbas' office said he discussed the Holocaust in a meeting with an American rabbi, Marc Schneier, who visited Abbas' headquarters in Ramallah last week.
Abbas told Schneier that "what happened to the Jews in the Holocaust is the most heinous crime to have occurred against humanity in the modern era," according to comments carried by WAFA on Sunday.
The agency quoted Abbas as expressing his "sympathy with the families of the victims and many other innocent people who were killed."
Abbas said the Holocaust was an expression of the idea of ethnic discrimination and racism, and connected it to the Palestinian suffering of today.
"The Palestinian people, who suffer from injustice, oppression and (are) denied freedom and peace, are the first to demand to lift the injustice and racism that befell other peoples subjected to such crimes," he said.
Abbas' statement came as the latest U.S. attempt to broker an Israeli-Palestinian peace deal was on the verge of collapse. At the start of negotiations in late July, U.S. Secretary of State John Kerry had set an end-of-April target date for a peace deal. He later lowered expectations, calling for the outlines of an agreement and, in a last attempt, for a deal on extending the talks.
However, none of Kerry's objectives appear within reach, since no progress has been made. Instead, the two sides have been bogged down in mutual accusations.
Last week, Israel suspended negotiations in response to a reconciliation deal between Abbas and his political rival, the Islamic militant Hamas. At the time, Israeli leaders alleged Abbas preferred peace with the militants, who have called for Israel's destruction, to peace with Israel.
Hamas has traditionally refrained from acknowledging the Holocaust and in 2009 protested against the subject being taught in United Nations-run schools in Gaza. Hamas and Israel are bitter enemies. Hamas has killed hundreds of Israelis in militant attacks and Israel routinely targets it in airstrikes and military operations.
Abbas himself has been accused of minimizing the scope of the Holocaust in a doctoral dissertation in the 1970s, though in recent years he's edged toward acknowledging Jewish suffering. In 2003, he said that "we do not ignore the sufferings of the Jews throughout history," but that "in exchange, we hope that the Israelis will not turn their backs on the sufferings of the Palestinians."
Speaking Sunday before a Cabinet meeting, Israeli Prime Minister Benjamin Netanyahu appeared to play down the importance of Abbas' latest comments.
"Instead of issuing statements designed to placate global public opinion, (Abbas) needs to choose between the alliance with Hamas, a terrorist organization that calls for the destruction of Israel and denies the Holocaust, and a true peace with Israel," Netanyahu said.
Abbas has said he is ready to extend negotiations beyond Tuesday's deadline, provided Israel halts settlement construction and keeps a promise to release a group of veteran Palestinian prisoners. Those are steps Israel has refused to take and which initially imperiled the talks.
Abbas said Saturday that any interim unity government with Hamas would be based on his political platform, not that of Hamas.
On Sunday, he said Israel must not walk away.
"On the incredibly sad commemoration of Holocaust Day, we call on the Israeli government to seize the current opportunity to conclude a just and comprehensive peace in the region, based on the two states vision, Israel and Palestine living side by side in peace and security," Abbas said.
Thanks for reading CBS NEWS.
Create your free account or log in
for more features.