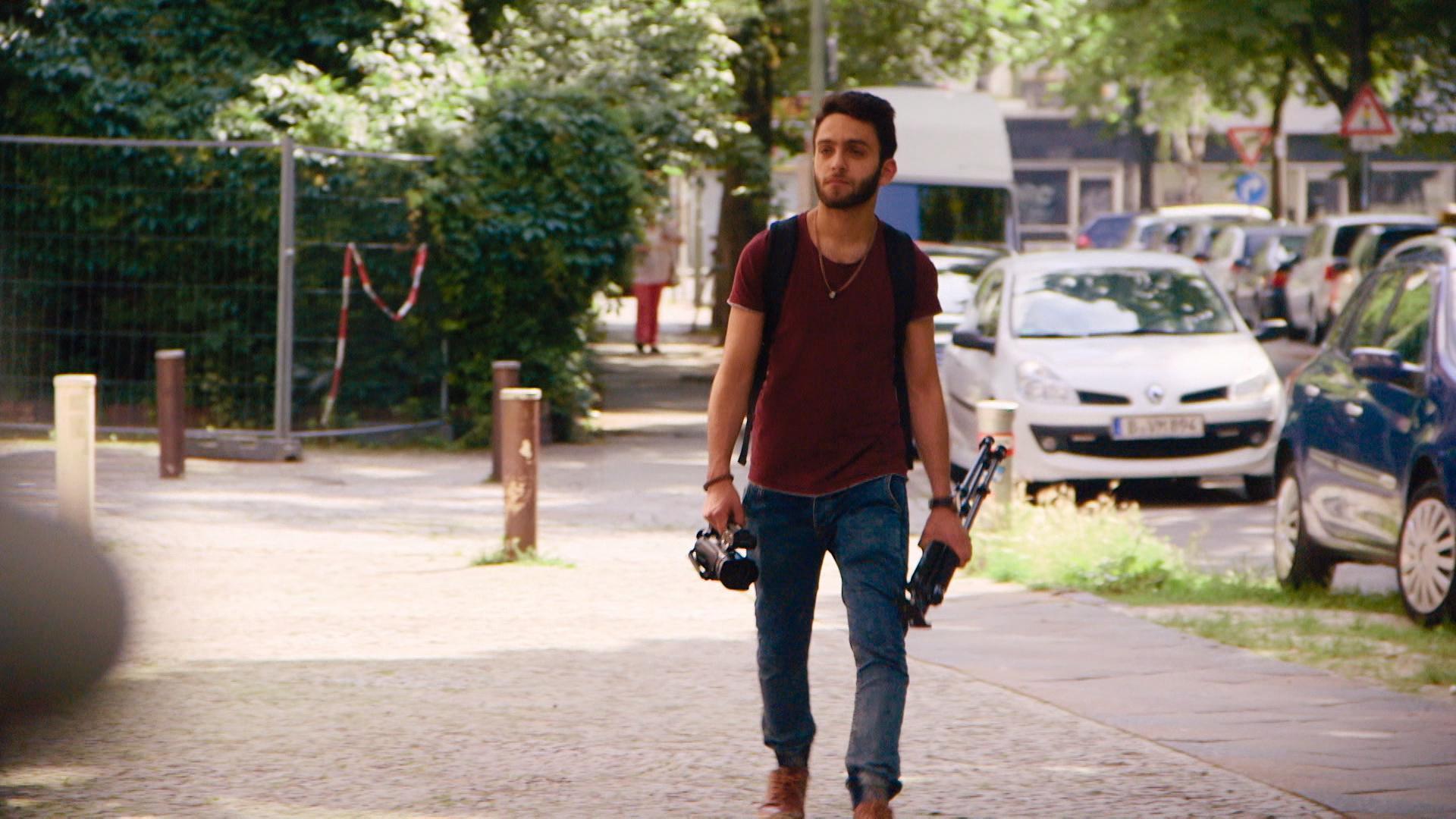 "Out of Aleppo": A teen refugee tells his story
"Leaving your homeland feels like leaving part of your soul," says Mohammad Shasho, a teen who speaks of life as a refugee with wisdom beyond his years.
Mohammad and his family fled their home in Aleppo, Syria, in 2013 as civil war consumed the country. He tells their story and gives voice to fellow refugees in a new documentary created as part of the BYkids program, which mentors young filmmakers.
Five years ago, he packed his belongings for a month-long "holiday" that became a life-changing journey with no end in sight. His father, a surgeon in Aleppo, had been watching the situation in Syria get worse and worse. One bombing struck just blocks from their home.
"Every day when I went to my hospital, I saw many dead bodies that had just been thrown to the curb," Dr. Shasho recalls. "During the anti-government demonstrations, many people were injured. And the police would come to the hospital and arrest injured patients or shoot them."
He began treating the injured in secret at an apartment turned makeshift clinic. With no blood supply or anesthesia machine, many patients died. Finally the family joined the flood of some 11 million Syrians displaced from their homes in the largest humanitarian crisis of our time. Since 2011, more than 5.6 million have fled the country.
"Our first stop was Turkey," Mohammad says. "From there, my father went to Greece by a boat, and then on to Germany. He knew that the trip was too dangerous for the whole family, so he went ahead by himself." They didn't know when they'd see him again.
"I saw my mom praying in tears. I remember that when my dad turned around he started crying, but he turned away so we couldn't see it."
Now, safe at their new home in Berlin, it's still difficult for Mohammad's mother to think about the life they left behind.
"To this day, when someone mentions Syria or Aleppo, I can't help but get emotional," she says, struggling to hold back tears. "I just tell myself: I have a new life. But when someone mentions Syria or Aleppo or reminds me of the past, the memories return automatically."
She brightens when the family's youngest children come bounding into the room.
"I certainly hope that my children continue their education in Germany and always finish at the top of their class, and that they are a good example for Syrians with their manners and their good behavior. I mean, we represent our people, so my children have to represent them well," she says.
In his video diary, Mohammad reflects on the importance of having "such a good family."
"My parents sacrificed a lot of things for us," he says. "My mom had to be strong to keep the family together while we were separated from my father. And right now a big challenge for my father is he's not yet allowed to work until he passes his German language test."
The family practices their German language skills together, playing word games at the dinner table. They live in a small apartment in a bright modern building that houses refugee families.
"This is one of the reasons I want to do this movie, is to show you the story of us, those refugees that are living here," Mohammad explains.
The center is home to 300 residents from different countries, according to its manager, Sean Corleone. Many started out in short-term emergency shelters as Germany scrambled to accommodate almost 1 million people who arrived at the height of Europe's refugee crisis in 2015.
"In emergency shelters you don't have a private environment, and this is difficult for many people," Corleone says, but at this facility, with its separate family units, residents "get this feeling like they are at home again."
Mohammad interviews a neighbor, Reeham Yousef, in her small, tidy unit at the shelter. She fled Syria with her three young children, including a son who has autism.
"I [didn't] feel safe at home, outside, in the streets. It was a really horrible life," she recalled. "The bombs coming here and here. It's, it's to be or not to be — to live or to die. And maybe you will come back to your children or maybe not."
Eventually the family's home was destroyed. Her husband made his way to Germany first and she followed with the children, risking a dangerous journey by boat across the Mediterranean, where thousands of desperate migrants have drowned.
"It was horrible for me, really, because I don't know how to swim and I have three children with me," she says. But they all made it.
Gesturing to the family's two sparsely furnished rooms and tiny kitchenette, she says, "It's a simple home but it's OK for us."
A sense of home and belonging
"It's different here. Completely different," Mohammad recites from a poem he wrote, reflecting on his new life. "It's not like in our home. Our traditions, our culture, our language are all gone. Everything's foreign, and only loneliness is your friend. There is only the hole that strangeness leaves in my heart. Every day, it gets bigger and bigger."
He finds an outlet for his creative expression -- a place "to be who I want to be" -- at the Theater Morgenstern, a children's theater in Berlin that works with refugees.
"What is really important to us at the theater is that it represents a space without borders -- in contrast to the rest of the world, where there are more and more walls and borders," says Pascale Senn Koch, co-director of Theater Morgenstern. "We do away with those completely. It's a place of encounter, no matter the cultural background. It's a sense of togetherness based on equality."
The friends Mohammad has made here include some who came without their families, part of a wave of nearly 100,000 unaccompanied children and teens, mostly from Syria and Afghanistan, who arrived in Europe in recent years.
One young man who fled Syria after his father, a policeman, was imprisoned for having anti-government views, told his story for Mohammad's camera. He did not want his identity revealed because of safety concerns.
"I spent two days in the back of a truck without food or a bathroom break because I was afraid of the police," he says. He made it across the border to Turkey and eventually on to Germany.
He admits to feeling homesick sometimes. "But to me, home is where I live, where I am content. That to me constitutes a sense of home and belonging," he says. "I am a refugee. I came here to live in peace, and I'm not ashamed of it. What Germany offers is the opportunity to further my education, to learn, and to live the life of a regular human being."
Another teen, Mohammad A., echoes those words. "A refugee is a human being, just like any other human being. He has rights like everyone else, and that is how it should be."
He was 16 when he made the solo journey from Syria to Libya and then across the Mediterranean to Italy and finally Germany.
"We were 340 people on a small boat," he says, describing the dangerous crossing. "With us were women and children, and pregnant women, too. When I was on the boat, I felt like I was going to die and that I would never see my family again."
Now, his dream is to become a dentist. His even bigger dream? "I dream all people live in peace and all religions love each other, all people love each other. And nobody says you're black or you're white. And nobody says you're Muslim or you're Jewish."
"The war is still inside"
On December 19, 2016, a truck driver slammed into the crowd at an outdoor Christmas market in Berlin, killing 12 people and injuring 56. ISIS claimed responsibility for the attack.
In the aftermath, viewing the flowers, cards, candles and mementos piled up at a makeshift memorial at the site, Mohammad seems shaken. "I felt guilty and ashamed because it's obvious this happened to destroy our image," he says. The incident has given him nightmares.
"Even if it's safe here, the war is still inside. ... Syria is the definition of danger right now. And then coming here and seeing this happen means that danger is everywhere."
Praising Berlin residents for their strength, he adds, "You always want something to stop this, you know? You gotta be strong in life to go on. You can't always hide."
As Mohammad takes in the sights of his adopted city, he notes the strange twists of history that brought him to Berlin of all places -- a city that in 1945 lay in bombed-out ruins, much as his hometown of Aleppo does today.
"It's ironic that the city that was so destroyed during World War II, and the people once fled from and lost their homes, is now the city that welcomes people that also fled war and lost their homes. The irony -- it strikes you every day."
A new beginning, a new life
"Germany is the new start, the new beginning, my new life," Mohammad says. "Coming here, it's true that it's a new country, it's true that its culture is totally different. I didn't fight the change, I accepted it."
His biggest challenge after arriving was to learn the language "as fast and as good as possible," so he could integrate into German society and succeed in his new home.
At an age when teenagers elsewhere are frequently rebelling, Mohammad and his fellow refugee classmates are working hard to fit in. They sat down with school principal Simone Vogler to talk about their experiences adapting to life in Germany.
"Going to a new country, and integrating to a new society … it's like a wave, either you ride it or you fight it," Mohammad says. "So the secret is to know how to ride the waves, so you can like use it to get to your own way."
"It's always good to learn about other cultures and learn other languages," another boy in the group says.
Vogler asks, what do they miss most? A girl is quick to answer, "I miss my home." Another adds, "I miss my family, my friends, my school, my home. Everything."
Mohammad misses it all, too. "I lost my home. I lost my country… a very good life."
But he is determined to look forward. His goal is to study at Harvard, become a doctor, and someday go back to help rebuild his homeland.
"That's my dream: to have a free, new and very developed Syria."
Thanks for reading CBS NEWS.
Create your free account or log in
for more features.