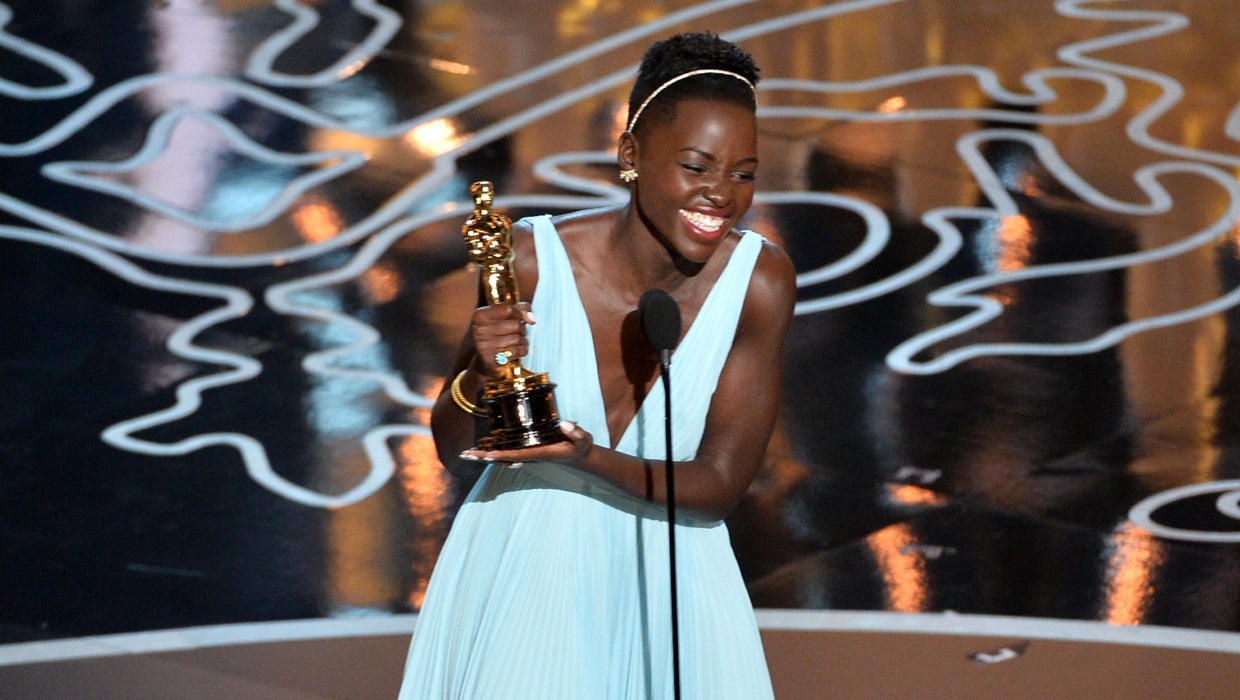 Oscars 2014: Lupita Nyong'o gives emotional acceptance speech
Lupita Nyong'o's whirlwind awards season (and emergence as a red carpet fashion fixture) ended Sunday with a best supporting actress Oscar for her role in "12 Years a Slave."
The 31-year-old actress, who made an indelible impression with her harrowing performance as a tortured slave, gave an emotional acceptance speech as she picked up the award for the breakout role in what was her feature film debut.
"Thank you to the Academy for this incredible recognition. It doesn't escape me for one moment that so much joy in my life is due to so much pain in someone else's," she said, referring to Patsey, the character she played in director Steve McQueen's wrenching 19th-century drama.

"Thank you so much for putting me in this position," she told the director, tearfully. "It has been the joy of my life."

She credited McQueen for bringing attention to a dark chapter in American history and the victims of slavery.

"I'm certain the dead are standing about you and watching," she said, a sentiment she expanded on backstage.

"I think he's really honored a people that really have been unsung for a really long time in doing this film," she said.

Nyong'o, who has talked about learning as a child to accept her dark-skinned beauty, said she hoped her success would inspire other youngsters.

"When I look down at this golden statue, may it remind me and every child, no matter where you're from, your dreams are valid," she said.

Nyong'o had been considered a frontrunner in a category that included Sally Hawkins ("Blue Jasmine"), Jennifer Lawrence ("American Hustle"), Julia Roberts ("August: Osage County") and June Squibb ("Nebraska"). Among other awards -- including SAG and Critics' Choice honors -- Nyong'o claimed a Spirit Award on Saturday, the day she turned 31.

But she appeared shocked when her name was called Sunday at the Academy Awards. She bent over in her seat, then rose, still looking stunned, as the audience erupted with cheers and a standing ovation.

"No, no, no," she said backstage, when asked if she could have imagined receiving the honor. "I'm a little dazed. I can't believe this is in my hands. I can't believe this is real life."
Unlike supporting actor winner Jared Leto, who passed his Oscar for "Dallas Buyers Club" around to a roomful of reporters, Nyong'o cradled her trophy close to her elegant, ice-blue Prada gown. She referred to it as her "young man" at one point.

Nyong'o, who was born in Mexico and is of Kenyan descent. Her parents are prominent in their own right: Her father, Peter Anyang' Nyong'o, was an advocate for democratic reform in 20th-century Kenya and is now a senator, while her mother, Dorothy Nyong'o, is the director of the Africa Cancer Foundation.

She has said her parents are taking her fame in stride, but acknowledged a special moment with her father Sunday.

"I saw him after I got this young man, and he hugged me and he said, 'Thank you,'" she said.
Thanks for reading CBS NEWS.
Create your free account or log in
for more features.