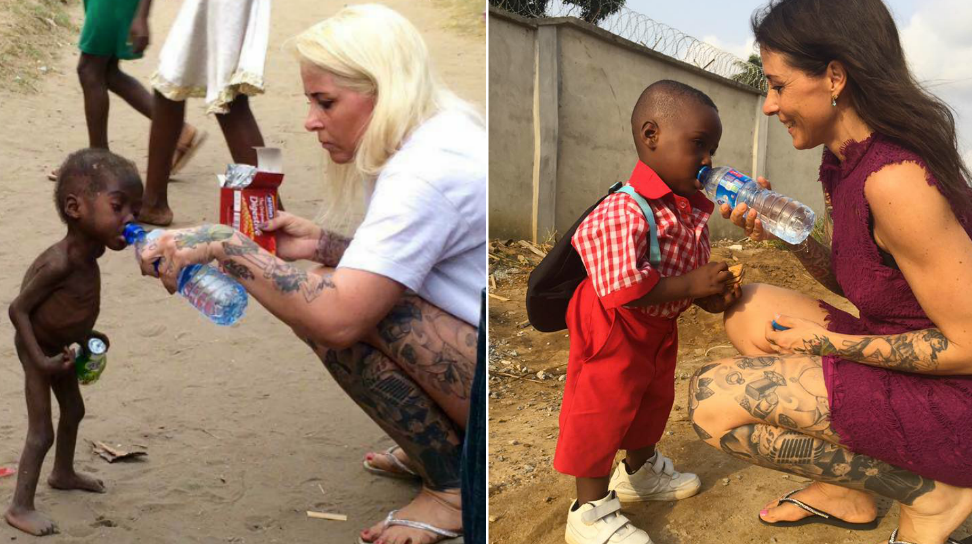 One year later, Nigerian "witch boy" healthy, heading to school
A year ago, Danish aid worker Anja Ringgren Lovén was on a mission with her husband in Nigeria to rescue some of the thousands of children abandoned each year after being accused of being a witch.
"We've seen both frightened, tortured and even dead children," Lovén, co-founder of the African Children's Aid Education and Development Foundation (ACAEDF), described in a 2016 blog post.
That's when she first met a little boy who she now calls Hope. The toddler, who was skin and bones at the time, was left for dead by his parents in a small village.
"I chose to call him Hope, because right now, we're all hoping that he survives," Lovén wrote two days after she rescued the boy. "[He was] in a village, naked, alone and almost dead."
Lovén shared a photo of herself giving water to little Hope to raise awareness about the serious problem plaguing the country, and to raise money for the boy's ongoing medical needs. The photo went viral, and Hope's story quickly spread throughout the world.
Now, more than a year after the famous photo was taken, the 3-year-old boy is unrecognizable.
"Today it's exactly 1 year ago the world came to know a young little boy called Hope," Lovén wrote in a Facebook post on Jan. 30. "This week Hope will start school."
In the updated photo, a heftier Hope was wearing a red jumper, white velcro sneakers and a black backpack, taking a sip of water from a bottle — just like he did in the original. The boy's healthy appearance was a welcome surprise to those who heard his story a year ago.
"Glad to see Hope (and all the children) growing up loved, well fed, happy, having fun, and going to school!" one Facebook user wrote.
"The change is amazing and he is a wonderful little boy with so much character in him," another commented.
Hope lives with 35 other children in an orphanage run by Lovén and her husband, David Emmanuel Umem, in Eket, Nigeria — and his story is continuing to help dozens of other children just like him.
In 2009, campaigners against the practice reported around 15,000 children were accused of witchcraft in two of Nigeria's 36 states over a decade and around 1,000 had been murdered. It's a growing problem in the country.
But thanks to the thousands of people from around the world who donated money to the ACAEDF on Hope's behalf, Lovén said she was able to help open a doctor's clinic to help more accused children. The organization also bought a piece of land, called Land of Hope, which will be home to a new orphanage that protects other abandoned boys and girls.
Hope is proof that these kids' lives can be turned around, Lovén said.
"As you can see Hope is growing with speed and he is such a handsome, healthy and very happy young boy because of the tremendous love and care he receives everyday from our staff and all our children," Lovén said. "Where there is love there is hope."
Thanks for reading CBS NEWS.
Create your free account or log in
for more features.