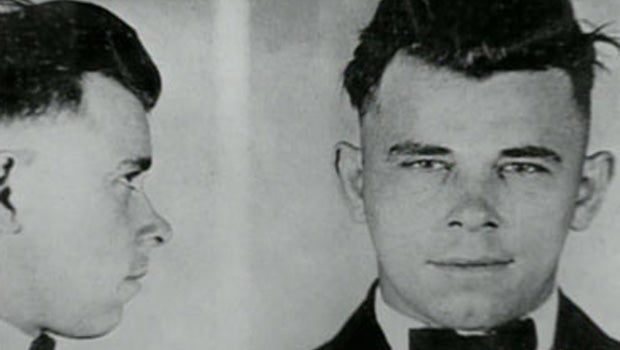 On the trail of John Dillinger
Few of America's "most wanted" criminals have been more notorious than John Dillinger - the PUBLIC ENEMY NUMBER ONE who met his end 75 years ago. He's back in the headlines with a bestselling book and a Johnny Depp movie about to open. Dean Reynolds follows his twisted trail from the post office wall of yesteryear to the box office of today.

---
Back in the 1930s, with the nation in the desperate depths of the Great Depression, there arose in the Midwestern United States a unique group of gangsters who captivated a country down on its luck: Bonnie and Clyde, Baby-Faced Nelson, Pretty Boy Floyd and others.

But one was bigger than all of them - a handsome, charming, self-assured bank robber from Indiana named John Dillinger.

"Dillinger, in his notoriety and the amount of people who knew what he was doing, dwarfed everyone else," said author Bryan Burrough.

This Fourth of July weekend, Dillinger returns in movie theaters nationwide, with Johnny Depp playing the outlaw in "Public Enemies."

"To me, he was kind of a man of the people, you know?" said Depp. "There is a Robin Hood edge to John Dillinger."

Dillinger's nemesis, FBI agent Melvin Purvis, is played by Christian Bale.

"Purvis was the most successful agent ever in taking down public enemies," Bale said.

The Mooresville, Indiana where Dillinger grew up was quiet and boring. And he was neither.

One day at a baseball game he decided to break the tedium by hatching a plot to mug the local grocer. He did - and got almost ten years in prison.

But inside he learned a trade - robbing banks.

And upon his parole in 1933, Dillinger went right to work with an uncommon flair, including what became a signature move: vaulting over the teller cages.

"He was a smart guy, he was charismatic. And above all he was keenly attuned to the public perception of what he was doing," said Burrough, who wrote the book on which the movie "Public Enemies" is based. "He became renowned for doing little things, like when he'd take women hostages, he'd put a coat over their shoulders and say, 'Here honey, don't be cold.'"

Dillinger's robberies netted more than $300,000 (equal to $4 million today). To many, though, he was more Robin Hood than robber.

"Middle Americans were so angry at the bankers and businessmen who had taken their money, their home, their jobs, hundreds of thousands of Middle Americans especially were cheering on Dillinger," said Burrough.

When the heavily-guarded Dillinger landed at Midway Airport in Chicago on his way to Crown Point, Ind., after his arrest in January 1934, two thousand people showed up to catch a glimpse of him.

"He was brought back in handcuffs to the jail in Crown Point," said Burrough, "and there ensued the moment that made him. When, in the course of the evening, reporters were allowed in, mobbed around him, fired questions at him, Dillinger performed."

The local prosecutor was photographed with his arm around Dillinger - a bit of collegiality that did not go down so well when, five weeks later, Dillinger escaped.

Today the main street of Crown Point looks much as it did 75 years ago when Dillinger put it on the map.

"I don't feel any of this stuff really happened here, it's hard to grasp really," said one girl attending a tour of the old jail.

Why? "'Cuz nothing ever happens in Crown Point!"

Indeed . . . the biggest thing since then may have been the arrival of Johnny Depp, who occupied a prison cell during filming, now part of the Crown Point tour.

"We're going to shut you in Johnny Depp's cell," the tour guide said to the girls.

"This is cool!" they said.

The real Dillinger was in a cell one floor below the one Depp filmed in. It's from there that Dillinger escaped, bounding through a door opened slightly by a jail worker making his daily rounds.

Heading down a tunnel, with the use of nothing more than a carved wooden gun, he took captive 13 jailers, including the warden. Then he stole the sheriff's car and beat it out of town.

When Dillinger was at large he was helped immeasurably by one characteristic of the Midwest - long, straight roads. In his fast cars, he could get a head start that would put him 150 miles away before anyone knew he'd left.

He was helped as well by the fact that the FBI was not very good.

"I think I counted six times in the span of 20 days during the spring of 1934 when FBI agents came within a baseball toss of him, and he got away," said Burrough.

For the last 30 years, former mailman Tom Smusyn has followed Dillinger's trail. Reynolds asked if Dillinger had a sixth sense about cops?

"He was lucky," said Smusyn. "He was absolutely lucky. He never tried to hide too much."

How is that possible? In Chicago, as a very wanted man, Dillinger would go to amusement parks, nightclubs, even daytime ball games.

There was one trip to the doctor's that the cops heard about and sent a squadron of police cars to block his path. Dillinger changed direction, and the police gave chase, putting 27 bullet holes in his car. But didn't catch him.

And they didn't catch him at a place called Little Bohemia in Wisconsin's North Woods, either. The FBI thought they had him cornered, but he slipped out the back. That spelled big trouble for agent Melvin Purvis, who led the FBI siege.

"Little Bohemia was the Waco or Ruby Ridge of its day," said Burrough. "It was the greatest law enforcement debacle, as far as federal law enforcement was concerned."

Melvin Purvis' son Alston says his father faced a public uproar at the FBI's bumbling: "When the entire gang got away, that almost ended my father's career."

He sent a letter of resignation to J. Edgar Hoover, but "Hoover turned it down," said Alston.

But Hoover, then the young and ambitious FBI chief, offered some advice: "Get Dillinger for me and the world is yours."

And eventually . . . he did.

On July 22, 1934, as Dillinger left Chicago's Biograph Theater (where he attended a gangster movie), the law was waiting, tipped off by Anna Sage, one of his dates.

Tom Smusyn laid out the scene: "You had ten lawmen on this side of the street, you had six or seven on that side of the street, and then you had six in the alley. There were 26 all together. Dillinger didn't have a chance. Four bullets hit him as he walked, including one to the head that killed him.

"And then word spread like wildfire, and down the street, in five minutes, it was jammed."

Women dipped their skirts in his blood. Crowds gathered for one last look, perhaps sensing the end of the gangster era.

It was.

And by 1935, J. Edgar Hoover was a household name. Melvin Purvis had a board game named after him. Cartoons hailed the G-Men over the gangsters.

And John Dillinger was resting beneath the Indiana grass . . .

For more info:

"Public Enemies" (Official Movie Web Site)
"Public Enemies" by Bryan Burrough (Penguin Press)
"The Vendetta: FBI Hero Melvin Purvis's War Against Crime, and J. Edgar Hoover's War Against Him" by Alston Purvis with Alex Tresniowski (Public Affairs)
Thanks for reading CBS NEWS.
Create your free account or log in
for more features.