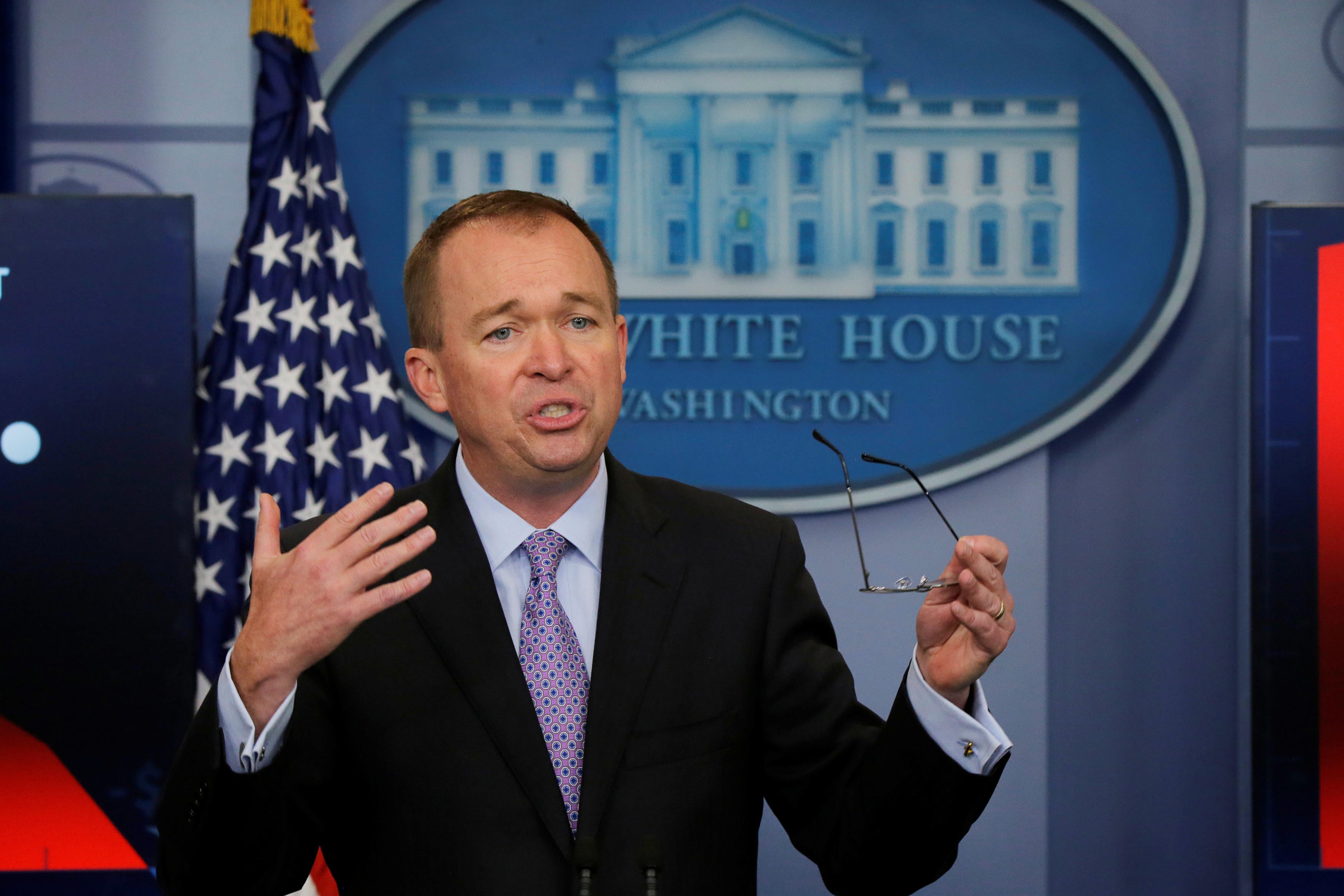 White House budget director: "We are absolutely dead serious about the wall"
Mick Mulvaney, director of the White House Office of Management and Budget, emphasized Tuesday that President Donald Trump and the White House aren't messing around when it comes to border wall funding -- even though the president's budget only allows for a fraction of the wall's required resources.
"We are absolutely dead serious about the wall," Mulvaney told reporters at a briefing Tuesday, saying he knows "for a fact" that the border wall is in the president's top three priorities.
The proposed $4.1 trillion 2018 budget released Tuesday has a line item for "a physical wall" along the southern border but includes $2.6 billion for border security -- a fraction of the wall's projected costs -- to cover land acquisition, wall replacement and new wall costs. Earlier, this year, the Department of Homeland Security reportedly estimated a border wall will cost about $21.6 billion. Some estimates are much higher, such as the $67 billion estimate offered by Democratic Sen. Claire McCaskill, the ranking member on the Senate Homeland Security and Governmental Affairs Committee.
As the months of Mr. Trump's presidency roll on, even some of his fiercest supporters -- like conservative pundit Ann Coulter -- have grown skeptical that the president may not fulfill his campaign promise to build a wall between the U.S. and Mexico. During his campaign, Mr. Trump said Mexico would pay for the wall, and as recently as three weeks ago, he told CBS News' "Face the Nation" that Mexico "will be very happy to pay" for the wall. The White House has also suggested Mexico might pay for the wall through things like better trade agreements.
Mulvaney also defended other aspects of the president's budget, addressing criticism that it slashes welfare programs. Mulvaney pushed back against that characterization and said the president's plan just slows the rate of growth of welfare programs.
Under the president's plan, per the White House budget, Medicaid spending will increase from $378 billion in 2017 to $404 billion in 2018, reaching $524 billion by 2027.
"We're no longer going to measure compassion by the number of programs or the number of people on those programs, but by the number of people we get off those programs," Mulvaney said.
The White House budget doesn't touch Medicare or Social Security, Mulvaney said, but it does make cuts to Social Security disability payments, something Mulvaney said people don't typically think of as Social Security.
"We have plenty of money in this country to take care of the people who need help," Mulvaney said -- just not enough to take care of people who don't need help, he added.
Maya MacGuineas, the President of the Committee for a Responsible Federal Budget (CRFB), however, criticized the administration's budget in an interview with CBS News' Jacqueline Alemany.
"Analytically, you do have to make hard choices," MacGuineas said. "I think this is a huge illustration about why being unwilling to talk about the real issues -- Social Security and Medicare and taxes -- means you then you end up gutting all these programs for low income people."
The White House budget also introduces funding for paid parental leave -- something that's traditionally a Democratic proposal, not a Republican one -- costing $25 billion over a decade. The budget also calls for more funding for veterans and funding to entice school districts to adopt school choice programs.
"People don't mind paying their taxes, as long as they know that money is not being wasted and frittered away," Mulvaney said.
Thanks for reading CBS NEWS.
Create your free account or log in
for more features.