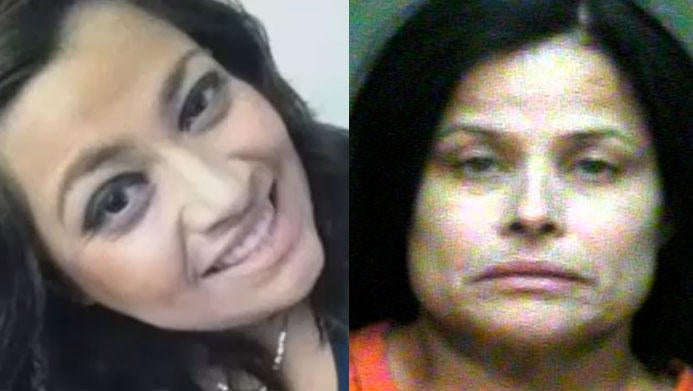 Oklahoma woman guilty of killing daughter with crucifix
OKLAHOMA CITY -- A jury in Oklahoma has convicted a woman of killing her 33-year-old daughter by forcing a crucifix and medallion down her throat because she believed the daughter was possessed by the devil.
Juanita Gomez, 51, was found guilty of first-degree murder Thursday in the 2016 death of Geneva Gomez.
Geneva Gomez's boyfriend found her lying on the ground inside her mother's Oklahoma City home with her arms spread out as if she had been crucified. She was bloody and nearly unrecognizable, with a large crucifix placed on her chest and severe trauma to her face and head, police said.
Juanita Gomez allegedly admitted to punching her daughter repeatedly and forcing the religious symbols down the victim's throat until blood came out of the woman's mouth.
Gomez allegedly told police that she watched her daughter die and then placed her body in the shape of a cross. She then tried to clean her daughter and other items in the home, according to police.
Police noted that Juanita Gomez had very swollen hands and several bruises on her arms. She allegedly told police they were from her daughter fighting, during the attempt to "rid Satan from her daughter's body."
A psychologist found her competent to stand trial and said she was feigning memory problems to appear incompetent.
Gomez's murder trial began this month, reports CBS affiliate KWTV. Jurors saw gruesome images of the victim's body as her mother reportedly cried. Jurors also heard emotional testimony from Francisco Merlos, the boyfriend who found the victim's body, and heard his frantic 911 call.
Jurors recommended a sentence of life in prison without parole.
Thanks for reading CBS NEWS.
Create your free account or log in
for more features.