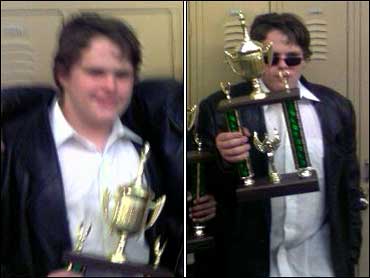 Ohio School Shooter Had Mental Problems
The brother of a high school student who shot and wounded four people before killing himself was led out of his home in handcuffs by police officers on Thursday, as family members looked on and called his name.
Officers placed Stephen Coon, 19, in the back of an unmarked car, then several officers went into the house. It was unclear why Coon was being taken into custody.
"Please have respect, I just lost my brother," Coon said as he was being escorted from the house.
Asa Coon, wearing a Marilyn Manson shirt, black jeans and black nail polish, opened fire with two revolvers on Wednesday, wounding two students and two teachers at SuccessTech Academy in downtown Cleveland. Coon, 14, had a history of mental problems and was known for cursing at teachers and bickering with students.
A fight with another student caught on a cell phone camera on Monday may have sent Coon over the edge, reports CBS News correspondent Bianca Solorzano.
He was suspended for it and came back shooting two days later.
Students at the school had expressed their concerns about Coon. Rasheem Smith told CBS Early Show anchor Hannah Storm that the shooting may have been prevented, and that it was known Coon had a gun. "He was talking about doing it last week," he said.
"We talked to the principal. She would try to get us all in the office, but it would always be too busy for it to happen," Smith said.
Eugene Sanders, CEO of the Cleveland Metropolitan School District, told Storm, "There is a record of the student in terms of certain challenges that he had and a record of certain support and help that he has received."
CBS affiliate WOIO investigative correspondent Carl Monday reports that official records detail a history of problems for the teenager, who doctors said exhibited bipolar tendencies.
In February 2006, Coon's own mother called the police after he slapped and swore at her when she tried to break up a fight between Coon and his sister. A juvenile court magistrate placed Coon on probation and ordered anger management sessions. But a probation officer reported that Coon remained "very abusive" to his mother, and during a meeting with his P.O., he refused to read the probation rules, ran his body into his mother's head, became threatening and stormed out of the office.
In March 2006, Coon was rushed to Metro Hospital following a suicide attempt.
Court records described his behavior at school as "poor." In late April 2006, Coon was suspended for 10 days for "intentionally trying to injure another student."
The Department of Children and Family Services was called to Coon's home in 2000 because he had burns on his arms and scratches on his forehead.

All classes in the city school district were canceled Thursday, and counseling was to be available for students.

Coon, who was suspended Monday for fighting with a classmate and was under suspension at the time of the shootings, had warned classmates of an attack, but none took him seriously.

"When he got suspended, he was like `I got something for you all,'" said student Frances Henderson, who said she often got into arguments with Coon. "I guess this is what he had."

Coon, who was white, stood out in the predominantly black school for dressing in a goth style, wearing a black trench coat, black boots, a dog collar and chains, she said.

Henderson, who is black, she said she didn't believe race played a role in the shootings.

"He's crazy. He threatened to blow up our school. He threatened to stab everybody," said Doneisha LeVert, 14. "We didn't think nothing of it."

On Thursday, a spokeswoman said Sanders will give the Mayor Frank Jackson a plan by Friday at noon to address whether additional security measures are needed at the school and how the school identifies potential problems among students.

Police Chief Michael McGrath said Thursday that the preliminary investigation found that Coon entered the school and went to a fourth-floor bathroom, where he changed clothes and took items out of a duffel bag, possibly the weapons, and put them on his body. There was an armed security guard at the school's entrance, McGrath said, though it was not known how Coon got inside.

McGrath said Coon went to a specific classroom and shot the teacher and then, while looking for a second teacher, he fired some other shots, wounding another teacher who was trying to help students go to another floor, he said.

After the shootings, police found the guns: a .22- and a .38-caliber revolver, McGrath said. He also had a box of ammunition for each and three tactical folding knives.

McGrath said the guns are older, meaning it will take some time to trace them. He said officials would be talking to Coon's older brother and mother about the weapons.

Coon's troubles seemed to come to a breaking point this week. Students said Monday's fight was over God - Coon told his classmates he didn't believe in God and instead worshipped rocker Marilyn Manson.

McGrath said that since 2006, police had gone to Coon's home five times: for calls about domestic violence, an assault call, a property crime and a hit-and-run accident.

Coon had spent time in two juvenile facilities and threatened to commit suicide while in a mental health facility, according to juvenile court records obtained by The Plain Dealer newspaper.

When he was 12, Coon was charged in juvenile court with domestic violence. His mother, Lori, had called police and told them her son slapped her and called her a vulgar name. She had been trying to intervene in a fight between Coon and his twin sister, The Plain Dealer reported.

He was also suspended from school last year for attempting to hurt a student, the newspaper said. "He used to cuss all the teachers out," said Henderson, 14.

The first person shot, 14-year-old Michael Peek, had punched Coon in the face right before the shootings began, Smith said.

Coon "came out of the bathroom and bumped Mike and he (Mike) punched him in his face. Mike started walking. He shot Mike in the side," said Smith.

Darnell Rodgers, 18, said he realized he had been shot when he felt his arm burning.

Rodgers was treated for a graze wound to his right elbow. He told NBC's "Today" on Thursday he didn't believe he was targeted.

"He just fired the gun," Rodgers said. "He didn't say anything."

Michael Grassie, a 42-year-old history teacher, underwent surgery Wednesday and remained in the hospital Thursday, and an official said his prognosis was very good.

Math teacher David Kachadourian, who was treated for a minor wound to the back of one shoulder, knew of no reason why Coon would target him.

"I never felt personally threatened or personally at risk," said Kachadourian, who had Coon is his beginning algebra class.

SuccessTech Academy, with about 240 students, is an alternative high school in the public school district that stresses technology and entrepreneurship.

Thanks for reading CBS NEWS.
Create your free account or log in
for more features.