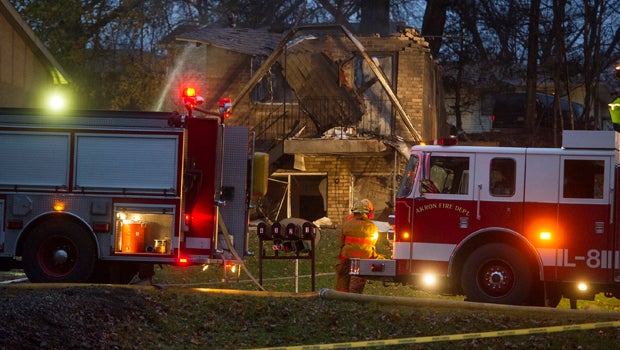 Ohio man: Hot Pockets errand saved me from plane crash
AKRON, Ohio -- A man who lived at the Ohio apartment building destroyed in a fiery plane crash says an errand to buy Hot Pockets saved his life.
Jason Bartley tells the Akron Beacon Journal he feels lucky but also in shock over the crash and heartbroken about losing treasured possessions.
He left home to run errands Tuesday and took slightly longer than planned because he stopped to buy the microwavable turnovers for dinner and breakfast. The 38-year-old factory worker says he saw flames as he drove toward home, and a bystander explained that a plane had just crashed.
Seven associates of a Florida real estate investment company were on the second day of a multicity Midwestern trip to look at property for potential shopping centers when their small jet crashed into the apartment building, killing all nine people onboard.
Bartley said it's a tough situation to comprehend. He says thinking about it has made him feel nauseated and want to cry, but he's also very grateful.
The Tuesday afternoon crash in Akron - 2 miles from the small airport where the plane was to land - killed two executives and five employees at Pebb Enterprises, a Boca Raton-based company that specializes in shopping centers. The two pilots also were killed.
"Our hearts are broken this morning with the news of the tragic accident that took the lives of two principals and five employees of Pebb Enterprises," said a statement on the company website Wednesday. "We are shocked and deeply saddened for the families, colleagues and friends of those who perished."
Officials haven't released names of the victims, but Jeannie Ferraia said that her sister, Diane Smoot, 50, was killed in the crash, CBS News correspondent Don Dahler reports.
"She was very excited because it was the first trip that she'd ever made with the executives," Ferraia said.
The chartered plane left Fort Lauderdale, Florida, on Monday and stopped in St. Paul, Minnesota; Moline, Illinois; and St. Louis before arriving in Cincinnati, according to the flight-tracking website FlightAware.
The plane departed from Cincinnati on Tuesday morning and stopped in Dayton before crashing on its approach to Akron Fulton International just before 3 p.m.
The 10-seat Hawker H25 business jet clipped utility wires and crashed into the four-unit apartment building, sparking a fire that destroyed the building, Ohio State Highway Patrol Lt. Bill Haymaker said. Nobody was home at any of the apartments, and there were no other injuries.
The National Transportation Safety Board said that it has reviewed surveillance video that shows the plane seconds before it hit the building. The vice chairman from the NTSB said the video shows the plane flying at a low altitude and banking to left before it exploded into flames and a cloud of black smoke.
Investigators have recovered the cockpit voice recorder from the crash and will review what's on it at a lab in Washington.
They are trying to determine what caused the crash, which shook furniture in homes several blocks away and left behind fiery debris.
It could take days to recover and identify the victims, Haymaker said.
"It's going to be extensive," he said.
The Summit County coroner on Wednesday sought the expertise of a forensics team from Mercyhurst University in Erie, Pennsylvania, to help local officials at the site of the crash. The team specializes in crime scene and airplane crash recoveries of human remains.
Witnesses, including Carrie Willis, who lives several blocks away, said they heard explosions when the plane hit.
"I heard a big bang, and my couch shook twice," Willis said.
Roberta Porter, who lives about a block from the site, said she was driving home when she saw the plane crash and burst into flames.
"This plane just dropped out of the sky, veered and crashed into the apartment building," Porter said.
She said it's scary to think that if she had been driving faster the plane might have clipped her car.
Thanks for reading CBS NEWS.
Create your free account or log in
for more features.