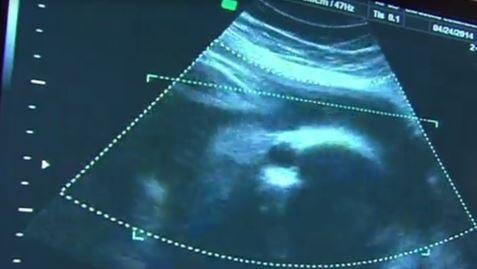 Ohio Republican lawmakers pass 20-week abortion ban proposal
COLUMBUS, Ohio -- Abortions would be banned after 20 weeks under a bill Republican lawmakers passed Thursday, adding to legislation already on its way to Republican Gov. John Kasich that would prohibit abortions once a fetal heartbeat is detected.
The House voted 64-29 to pass the bill already approved by the Senate.
During early debate the House rejected a Democratic proposal to add rape and incest to exceptions in the bill.
Rep. Greta Johnson, an Akron Democrat, asked the House to add the amendment, saying it would honor women who show the courage to go on after sexual assaults. Rep. Ron Hood, a Republican from Ashville, opposed the amendment, saying children conceived in assaults shouldn't be punished.
The House Community and Family Advancement Committee voted Wednesday to pass the 20-week ban. That followed House approval Tuesday of the so-called Heartbeat Bill, clearing the way for what would be one of the nation's most stringent abortion restrictions.
That legislation would prohibit most abortions as early as six weeks into pregnancy after the first detectable fetal heartbeat.
Kasich, who opposes abortion rights, has voiced concerns about whether such a move would be constitutional, but he has not said whether he plans to sign either measure.
Similar 20-week bans are on the books in 17 states, including South Dakota, whose governor signed it into law in March, and South Carolina, whose governor signed it in June. Arizona and Idaho's bans are blocked from enforcement by the federal courts, according to the Guttmacher Institute, a research group that supports abortion rights.
Earlier this week, Republican lawmakers in New Jersey introduced a similar 20-week ban, with its outcome uncertain in that state's Democrat-led Legislature.
Ohio's proposed 20-week ban would allow for abortion in some cases to protect a woman's life and health.
State Senate President Keith Faber, a Republican from Celina, said the twice-defeated Heartbeat Bill came back up because of Republican Donald Trump's presidential victory and the expectation he will fill Supreme Court vacancies with justices who are more likely to uphold stricter abortion bans.
Faber, asked if he expects the Ohio proposal to survive a legal challenge, said Tuesday: "I think it has a better chance than it did before."
The ban would make an exception if the mother's life is in danger but not in cases of rape or incest, he said.
NARAL Pro-Choice Ohio said the move would block access to abortion before most women even know they're pregnant.
Federal courts have rejected similar Heartbeat Bills in Arkansas and North Dakota.
Under the U.S. Supreme Court's 1973 Roe v. Wade ruling establishing a nationwide right to abortion, states were permitted to restrict abortion after viability, the point when the fetus has a reasonable chance of surviving under normal conditions outside the uterus.
The ruling offered no legal definition of viability, saying it could range from 24 to 28 weeks into a pregnancy.
Thanks for reading CBS NEWS.
Create your free account or log in
for more features.