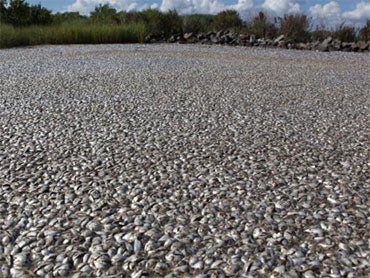 Officials propose $134 billion in gulf recovery projects
JACKSON, Miss. -- State and federal officials overseeing $1 billion provided by BP PLC to spur recovery from the 2010 Gulf of Mexico oil spill said Monday that they're proposing another 10 projects totaling $134 million.
About $700 million to repair environmental damage and enhance recreational access has been allocated previously, although some of that work has yet to begin.
The latest projects announced on the fifth anniversary of the spill are preliminary, with officials planning to reach a final agreement with the oil company later this year. If approved, they would bring total spending so far to $832 million.
More projects will be announced later to spend the remainder of the $1 billion in early restoration money, which is a down payment on the much larger amount in fines that BP is expected to eventually pay. Trustees of the restoration program plan to take public comment on the latest projects given tentative approval.
The most expensive would be the $45 million to fund protection of sea turtles in the Gulf of Mexico. All sea turtles found in U.S. waters are endangered or threatened, and the wide-ranging sea turtle allocation would cover 10 years and numerous kinds of work.
Some of the money would pay observers to go out on shrimp boats and tally the number of turtles hauled up in nets. Shrimpers say that rarely happens, while scientists say as many as 53,000 may drown in nets each year. Staffers and equipment also would be added to Texas and Mexico nesting grounds of Kemp's ridley sea turtles, the smallest and most endangered species.
Another $30 million would go to restore shorelines and reefs in four Mississippi bays. Like earlier projects, breakwaters would be built to protect marsh grasses. Other money would build submerged reefs, as well as some reefs that would surface at low tide, creating habitat for shellfish, fish and birds.
"Your breakwaters will hopefully create new marsh and stop the erosion that's going on," said Marc Wyatt of the Mississippi Department of Environmental Quality.
Alabama would get $10 million for similar "living shoreline" projects.
About $20.6 million would increase water bird nesting areas in Texas. The project would restore and protect three islands in Galveston Bay and one in East Matagorda Bay to provide more nesting habitat for brown pelicans, gulls, great blue herons, roseate spoonbills and other birds.
Another $20 million would pay fishermen to set aside long lines during the six-month bluefin tuna spawning season and use other gear. Longline boats use up to 20 miles of baited hooks to fish for yellowfin tuna and swordfish, but also haul up sharks, bluefin tuna and marlin. Bluefin tuna, which can weigh a quarter-ton and sell for thousands of dollars, have been severely overfished, particularly to feed a worldwide market for sushi.
Environmental advocates applauded the projects aimed at turtles and deep water fishermen.
"It is past time to begin restoring our impacted deep-water resources and habitats," said Bethany Kraft, director of the Gulf Restoration Program at Ocean Conservancy. "Only by addressing restoration in an integrated and comprehensive way - from the coast to the deep water - can our impacted habitats, wildlife and coastal communities fully recover."
Thanks for reading CBS NEWS.
Create your free account or log in
for more features.