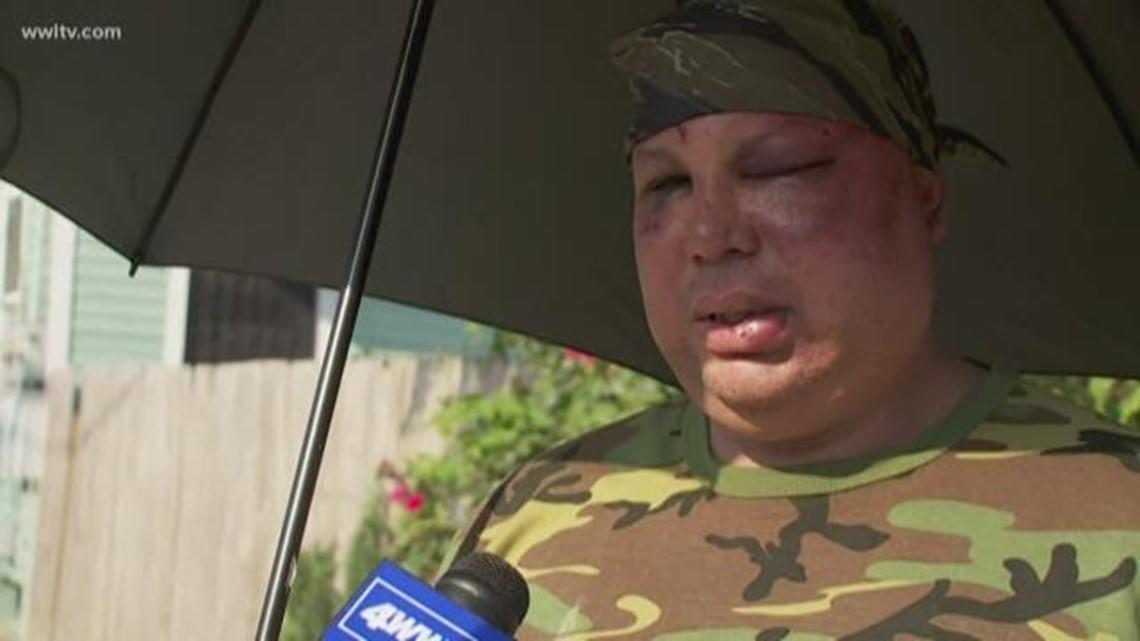 Officers fired, charged after allegedly beating man and calling him "fake American"
NEW ORLEANS -- Two rookie New Orleans police officers were fired and charged with battery in the beating of a man they allegedly called a "fake American" following a confrontation at a bar. Spencer Sutton and John Galman were booked on one count each of simple battery in connection with the beating of Jorge Alberto "George" Gomez early Tuesday, reports CBS affiliate WWL-TV.
Gomez said the two off-duty officers, who are white, began harassing him inside Mid-City Yacht Club, saying they didn't like his camouflage clothing and asking him whether he had served in the military, reports the New Orleans Advocate. Gomez said he told the men he was born in the U.S. but was raised in Honduras before he returned to live in New Orleans and served in the National Guard, but the men wouldn't accept his answer.
WWL-TV confirmed that Gomez, who is Hispanic, served with the Louisiana National Guard.
Gomez told The New Orleans Advocate that officers asked him whether he was an American.
"They kept telling me I wasn't an American citizen, that I was a fake American," Gomez told the Advocate.
Shortly after the confrontation at South Murat and Baudin streets, Gomez was beaten a few blocks away from the bar. Court records obtained by the Advocate said Galman struck Gomez with "an opened hand and fist," and Sutton also struck Gomez.
He was reportedly treated at a hospital, where he required stitches and was later released. During an interview with WWL-TV, Gomez's face was swollen, scratched and bruised.
Sources told WWL-TV that the officers initially claimed that Gomez was the aggressor and that they were defending themselves, but witness accounts and surveillance video "clearly" showed their version of events was false, police said.
"We took very decisive and strong action against them with the evidence that was brought to us," Police Superintendent Michael Harrison told WWL-TV. "What we learned and what I was briefed on and what we saw supported they were the aggressors, not only inside but outside and it continued to escalate."
Harrison said in a statement obtained by the paper that New Orleans officers "are expected to comply with the law and adhere to the highest standards of professional conduct, whether on- or off-duty."
Gomez said he wanted an apology from the two now-former officers, who appeared in court on Wednesday and pleaded not guilty to misdemeanor counts. They had no apparent injuries.
According to the Advocate, the two had graduated from the police training academy in December and had not yet completed a required probationary period.
In announcing that 24-year-old Sutton and 26-year-old Galman had been fired, police said they and the FBI are investigating whether they violated Gomez' civil rights, and a district attorney is reportedly weighing whether to enhance the charges.
Sutton also told investigators he had no memory of the fight, according to court documents. The two officers were initially released on their own recognizance, but their bails were raised to $1,500 following a hearing Wednesday, reports the Advocate.
Thanks for reading CBS NEWS.
Create your free account or log in
for more features.