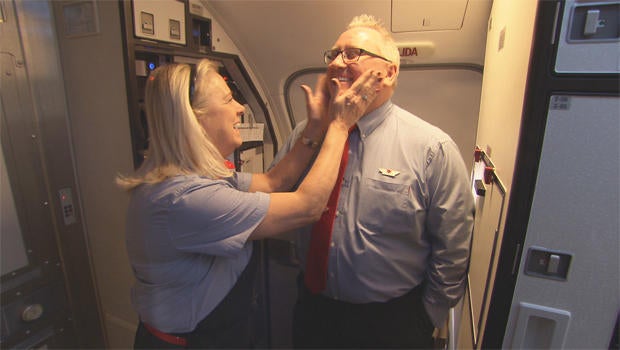 Office romance: Love is still in the air
WORKING IT OUT on the job is a day-to-day reality for any couple involved in a workplace romance, particularly these days. Tony Dokoupil has been talking to some of the couples who've been making it work:
In Hershey, Pennsylvania, the rush is on … a blur of Hershey's Kisses. Close to a billion will be made just for this Valentine's Day.
And if you need an even bigger dose of something sweet, just watch Kay and Rob Wagner flash "love" signs on their way to work.
"When we walk into work together and he goes to go out the door, we just kinda both go like that to each other," said Kay.
She and Rob met on their first day at work. "We were sitting in orientation, and I'd look back every now and then, and thought, 'Oh, pretty girl back there!'" he laughed. "And the rest is history!"
They fell in love on the factory floor.
"He would make me laugh," Kay said.
They've been co-workers now for 22 years. For 21 of those years, they've also been husband and wife.
And they're not alone at Hershey's, where love and work mix about as well as milk and cocoa.
The modern workplace is one of America's most reliable matchmakers.
It brought together Michelle and Barack Obama; Bill and Melinda Gates; and Dokoupil met his wife, MSNBC anchor Katy Tur, at work, in the makeup room at NBC.
Dokoupil asked the Wagners, "Do you think it's still possible in this day and age to have a romance like yours at work?"
"I do," Rob replied.
"If you believe in it, yes," Kay agreed.
But love on the clock has soured recently.
"In the climate today, especially, things are more gray than ever," said Rosemary Haefner, the chief human resources officer for Career Builder -- a match-maker for employers and employees.
According to their latest survey, only about a third of people (36%) have dated a co-worker, or will admit to it … the lowest in ten years.
In response to the #MeToo movement, of women with stories of sexual harassment and worse, companies are revamping their dating policies. "Each organization is going to decide what's best for them," said Haefner. "Some say no dating. Some say identify yourself to HR and fill out a love contract."
Yes, a love contract, otherwise known as a "Consensual Romance in the Workplace Agreement."
In response to the #MeToo movement of people with stories of sexual harassment (and worse), companies are looking for new ways to protect their workers. "It's very difficult to control the outcome when it is two human beings coming together, whether it's in an office setting or outside," Haefner said.
Dokoupil pointed out to Elizabeth Bryant, vice president at Southwest Airlines University, "Your stock ticker symbol is LUV. 'Love is in the air'?"
"Love is in the air! LUV is our stock symbol and it's also our headquarters -- we fly out of Love Field!" Bryant said.
She said Southwest prides itself on one emotion: "If we have an environment where people care for each other and can be themselves coming to work every day, that naturally leads to friendships, relationships, sometimes marriages!"
Bryant's husband, Torry, also works at the airline, which makes one of about 1,500 "LUV couples."
There are rules about workplace relationships, such as a ban on supervisors dating subordinates.
Dokoupil asked, "At any point, did you find yourself thinking, 'Maybe we need to reign in our culture to protect ourselves and our employees'?"
"If there's misbehavior, then you manage the misbehavior," Bryant replied. "The culture that we have here is one that is authentic. It's transparent. It really is founded in taking care of one another. It's worked for us for 45 years."
To hear Southwest Airlines tell it, whenever love takes flight, so does business.
Dokoupil asked, "So, the culture that you think is best for the business also happens to create relationships?"
"Absolutely."
"You can't get one without the other?"
"Well, I think we have always believed that if we take care of our employees first, they will naturally take care of their customers," Bryant said. "And if we take care of our customers, our customers will come back."
Customers might notice flight attendants Dean and Terri Hanson -- a team both up in the air, and on the ground, too.
"It's very important for us to keep our work relationship professional," Dean said. "We don't ever want to bring any of our problems to work."
Is it difficult to work with her husband? "No," laughed Terri. "I mean, I'm his best audience, first of all."
The two met on a training flight 18 years ago. Now they're a team on the ground, too. The married couple just bought a home -- in Loveland, Colorado.
"This is our career," Terri said. "We're not going anywhere for a long time."
Dean added, "We're in love with this company. We're in love with each other. And we love working together. This is a true Valentine's Day for us."
Back at Hershey's, Rob and Kay Wagner are making sure those kisses get out on time -- and saving a few for each other (just not the chocolate kind).
"Buy me a bag of potato chips," Kay laughed." "I would much rather have that."
No chocolate? "No. No. No," she said.

For more info:
Thanks for reading CBS NEWS.
Create your free account or log in
for more features.