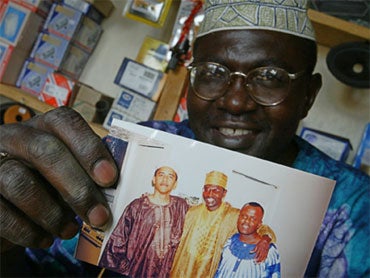 Obama's half brother to attend presidential debate as Trump's guest
Donald Trump's campaign said Tuesday that Malik Obama, the Kenyan half-brother of President Barack Obama, will be their guest at Wednesday night's presidential debate.
Malik Obama, an American citizen and the son of Barack Obama Sr.'s first wife, said in July that he would be voting for Donald Trump.
"I like Donald Trump because he speaks from the heart," he told The New York Post. "Make America Great Again is a great slogan. I would like to meet him."
Malik Obama said he was voting for Trump in part because he blamed the death of Libyan dictator Moammar Qaddafi on Hillary Clinton. Malik Obama claims that Qaddafi was a friend of his.
On Twitter, Trump thanked Malik Obama for his support.
"I'm excited to be at the debate," Malik Obama told the New York Post in an interview published Tuesday. "Trump can make America great again."
Obama also told the Post that he did not believe the numerous women who have come forward in recent days to accuse Trump of assaulting them.
"I don't believe them," Malik Obama said. "Why didn't they come forward before?"
The two Obamas are not close, although they both served as best man at each other's weddings. According to President Obama who, in his bestselling memoir "Dreams of My Father," wrote that Malik was "prone to make lengthy pronouncements on the need for the black man to liberate himself from the poisoning influence of European culture."
Malik Obama, who also wrote a book about their father, has been critical of President Obama before.
"He says one thing and then does another," Malik Obama told a conservative documentarian in 2015. "He's not an honest man, as far as I'm concerned, in who he is and what he says and how he treats people."
Thanks for reading CBS NEWS.
Create your free account or log in
for more features.