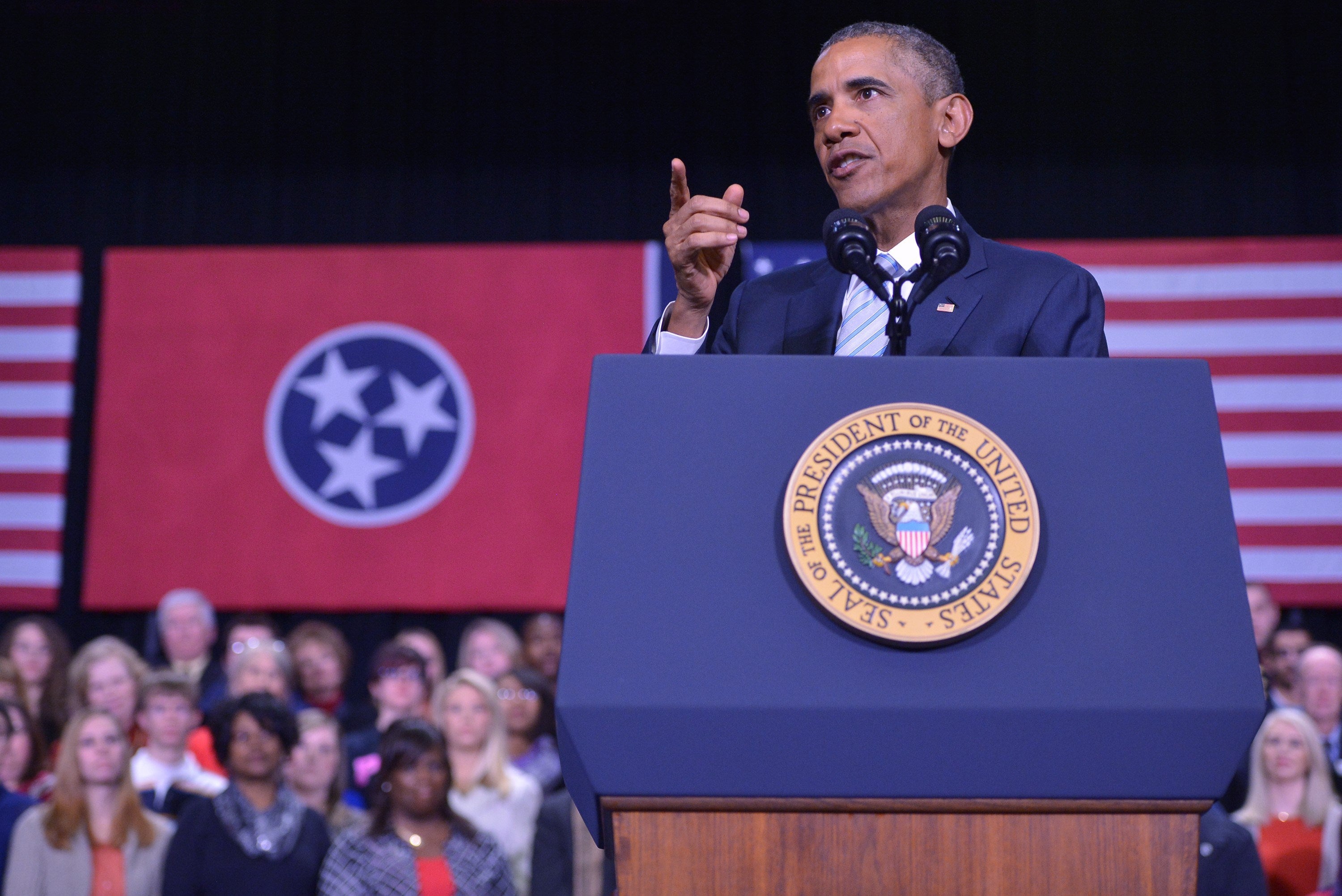 Obama: "We have to lead the world in education again"
President Obama on Friday rolled out his plan to make two years of community college free, declaring that a college education "cannot be a privilege that is reserved for the few."
In the 21st century economy, "the single most important way to get ahead is not just a high school education, you've got to get some higher education," Mr. Obama said from Pellissippi State Community College in Knoxville, Tennessee. "A college degree is the surest ticket to the middle class."
By waiving the first two years of tuition for full-time and half-time students who maintain at least a 2.5 grade point average, the White House says it could ease the financial burden for as many as 9 million students. The proposal would have to get congressional approval -- which would be a challenge with the current GOP leadership -- and would cost $60 billion over 10 years, the White House says.
Mr. Obama unveiled the proposal in Tennessee because the proposal is modeled after the state's new program, Tennessee's Promise. Backed by both Democrats and Republicans in the state, the program will cover the cost of tuition at community or tech colleges for students who meet certain requirements. Nearly 90 percent of Tennessee high school seniors this year have applied for it.
Tennessee's Republican Gov. Bill Haslam helped secure a $300 million endowment for the state program paid for by the state lottery fund. The program is expected to cost the state about $35 million a year.

Mr. Obama said Friday that his administration reviewed the Tennessee program, and "we thought, why not just build on what works?" Mr. Obama's proposal is called America's College Promise.
"Two years of college will become as free and universal as high school is today," Mr. Obama said.
America thrived in the 20th century in large part because a high school education became the norm, he said. However, he added, "eventually the world caught on, and the world caught up. That's why we have to lead the world in education again."
While Mr. Obama called the plan "one of my most important State of the Union proposals," some Republican lawmakers on Capitol Hill were dismissive of the idea.
"Everyone is for making college opportunities more available, but with no details or information on the cost, this seems more like a talking point than a plan," Cory Fritz, a spokesman for House Speaker John Boehner said, before the White House said the plan would cost $60 billion.
"The president has a lot of plans, but he also says he wants to balance the budget," Rep. Darrell Issa, R-California, said. "The president has no bucks for that Buck Rogers proposal."
Rep. Mick Mulvaney, R-South Carolina, said he "thought it was a joke" at first. "They're going to borrow money from you to pay for it?" he added. "Giving stuff to people to buy votes - that's what's important to them."
Mr. Obama stressed that making college more accessible should have bipartisan support and highlighted some plans that both Democrats and Republicans in Congress are already backing. For instance, Sen. Lamar Alexander, R-Tennessee, and Sen. Michael Bennet, D-Colorado, recently introduced a bill to make financial aid forms simpler.
"It just shouldn't be that hard to apply for aid for college," Mr. Obama said. "And so I've committed to working with Senator Alexander. Let's shrink it down. Let's make life a little easier for millions of families."
The president also touted other steps his administration has taken to make college more accessible, such as building a college ratings system, increasing scholarships and letting students cap their federal student loan payments at 10 percent of income.
Thanks for reading CBS NEWS.
Create your free account or log in
for more features.