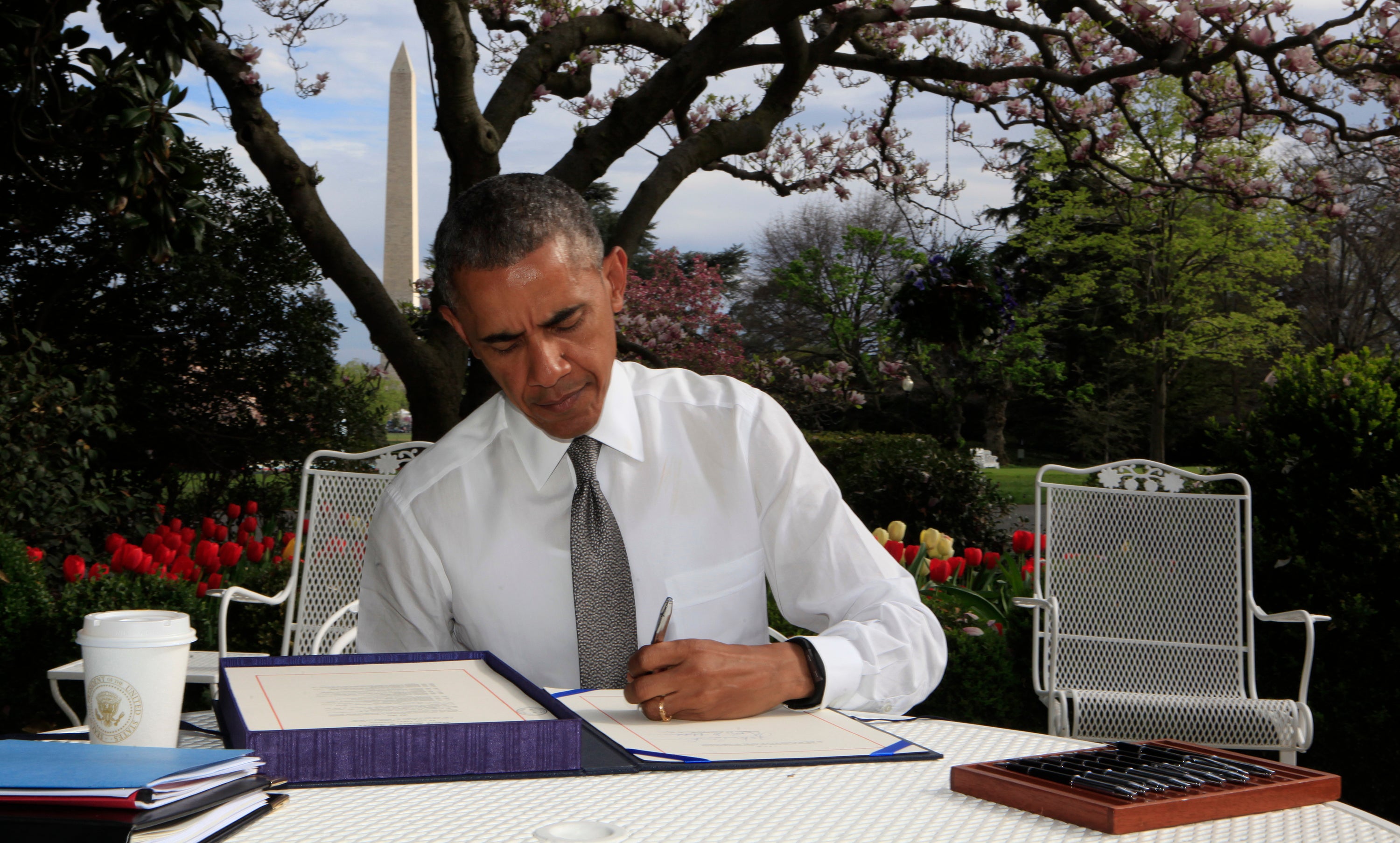 Obama signs "doc fix" bill, changing Medicare payments to doctors
President Obama signed legislation Thursday that will permanently change how Medicare pays doctors, a rare bipartisan achievement by Democrats and Republicans that will end years of short-term fixes.
The bill, known as the "doc fix," overhauls a 1997 law that aimed to slow Medicare's growth by limiting reimbursements to doctors. It resulted in a wave of doctors threatening to stop accepting Medicare, so Congress repeatedly blocked the payment reductions.
"It encourages us to continue to make the health care system smarter without denying service. As a consequence, it's going to be good for people who use Medicare. It's going to be good for our seniors. Ultimately it's going to be good for all of us," Mr. Obama said.
The president signed the legislation Thursday in front of reporters and photographers, sitting alone and coatless in balmy spring weather on the patio of the White House Rose Garden. The Senate passed the bill two days ago; the House approved it in March.
Mr. praised Republican House Speaker John Boehner, R-Ohio and House Democratic Leader Nancy Pelosi, D-California, for negotiating the legislation.
He said the new law helps Medicare by giving assurance to doctors about their payments.
The law "starts encouraging payments based on quality, not the number of tests that are provided or the number of procedures that are applied but whether or not people actually start feeling better," the president said. "It encourages us to continue to make the system better without denying service."
The bill blocked a 21 percent cut in Medicare payments that was due to take effect this month. It also alters the program that dictates how physicians will be paid in the future, by providing financial incentives for physicians to bill Medicare patients for their overall care, not individual office visits.
In a nod to how rare it is to see bipartisan legislation from Congress, the president said, "I hope this becomes a habit."
Earlier Thursday, Boehner praised Pelosi for "her indispensable leadership in helping tackle these challenging issues."
"It was achieved by working together to find common ground," Boehner said Thursday at a ceremonial appearance with Pelosi, who's more typically his legislative antagonist.
Mr. Obama said he planned to hold a reception for lawmakers next week to salute them for their work. He said he wanted to sign the bill promptly to avoid reduced reimbursements to doctors.
As the measure neared passage, the federal Centers for Medicare and Medicaid Services said that without action, it would start making payments at the lower rates on Wednesday.
But the agency said Thursday it was already making most payments at the new full rates, even ahead of the president's signature.
That's not what federal officials and lawmakers predicted earlier this week, when Senate and House leaders were fending off 11th-hour objections and shepherding the legislation to final congressional approval.
Congressional leaders warned lawmakers to act quickly to prevent those cuts from taking effect. The Centers process about 4 million claims daily - enough to potentially trigger a flood of complaints from doctors and Medicare's elderly beneficiaries that legislators wanted to avoid.
In a written statement to health care providers, the agency said only "a small volume of claims" are being processed at the lower levels. Those payments will later be reprocessed so providers receive their full fees, the agency said.
Thanks for reading CBS NEWS.
Create your free account or log in
for more features.