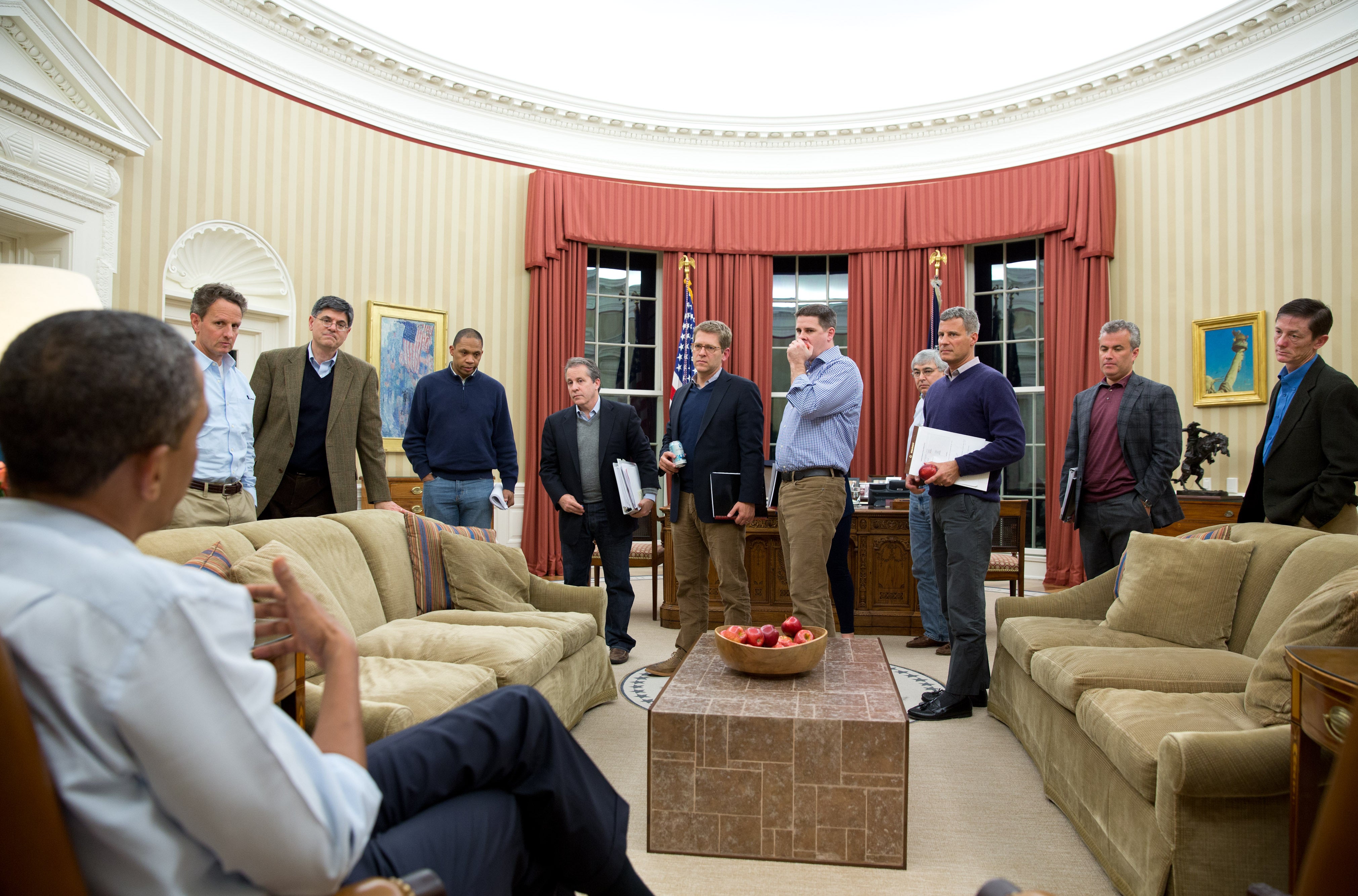 Obama shuffles cabinet but with no female nominees
Labor Secretary Hilda Solis informed President Obama yesterday that she's stepping down, leaving Mr. Obama with one less woman on his cabinet at a moment when he's coming under scrutiny for assembling a second-term team dominated by white men.
Solis' departure follows the news of several other high-level changes in the Obama administration: Mr. Obama is nominating White House Chief of Staff Jack Lew to replace Treasury Secretary Timothy Geithner; Sen. John Kerry, D-Mass., was nominated to replace Secretary of State Hillary Clinton; former Sen. Chuck Hagel was nominated to replace Defense Secretary Leon Panetta; and National Security Adviser John Brennan was nominated to serve as CIA director.
After making those nominations, the New York Times reviewed personnel data in the Obama administration, finding that 43 percent of Mr. Obama's appointees have been women -- about the same percentage as in the Clinton administration and a larger percentage than in President George W. Bush's administration. Nevertheless, the Times ran the story with an official White House photograph that seemed to underscore the problem: In the Dec. 29 photograph, Mr. Obama is seen in the Oval Office with 11 of his top advisers, 10 of whom were men. The one woman -- adviser Valerie Jarrett -- was barely visible in the picture. (See the picture above)
The lack of female appointments so far has come as a disappointment to some, particularly after Mr. Obama emphasized his commitment to women's issues in the 2012 election. The president won 55 percent of the female vote, while Republican Mitt Romney won just 44 percent. On the campaign trail, Mr. Obama ridiculed Romney for saying he turned to "binders full of women" to find qualified women government officials.
That phrase was used against the president this week after he announced his cabinet nominations: One conservative blog taunted, "Where are those binders full of women when you need them?"
Bloomberg View columnist Margaret Carlson, meanwhile, penned a column titled, "Obama to Romney: Send me your Binders Full of Women." Carlson wrote, "At the rate he is going, Obama is going to have a Cabinet that looks more like the Augusta National Golf Club than America."
Mr. Obama was seemingly ready to nominate an African-American female -- current U.N. Ambassador Susan Rice -- to serve as secretary of state, but Rice withdrew her name from consideration after coming under harsh Republican scrutiny for her remarks on the attacks on the U.S. consulate in Benghazi.
White House spokesman Jay Carney this week repeatedly defended the president's personnel choices.
"The president believes that diversity is important because having diversity increases the excellence of the pool of advisers around you, pool of the staff that you have here," he said Wednesday. "And I think that's been demonstrated by the... degree of talent that he has around him now and has had him -- around him in the first term. And I think it will be true in the second term."
Carney noted the number of senior administration officials who are women, including Jarrett, Rice, Health and Human Services Secretary Kathleen Sebelius, Homeland Security Security Janet Napolitano and Director of Domestic Policy Cecilia Munoz (the White House announced Wednesday that Sebelius would stay on in the president's second term).
Other women that Mr. Obama recruited for his team in his first term have already left, such as former economic adviser Christina Romer and Carol Browner of the Office of Energy and Climate Change Policy. Environmental Protection Agency Administrator Lisa Jackson also announced last month that she is stepping down.
Carney said Wednesday that it's too early to criticize the lack of diversity in the president's second-term cabinet: "I think it would be useful to wait and make judgments about this issue after the president has made the totality of appointments that he will make in the transition to a second term," he said.
While Mr. Obama may be able to put this issue to rest, the president's nominations are already facing opposition for reasons other than the lack of diversity they bring to the table.
Thanks for reading CBS NEWS.
Create your free account or log in
for more features.