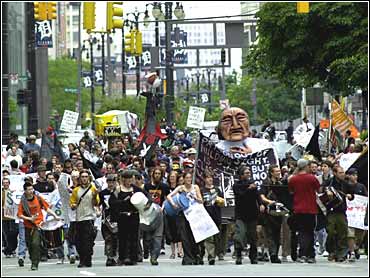 OAS Meets With Its Critics
A day after protests by rock-throwing anti-free trade activists led to 41 arrests, the Organization of American States met Monday with rights groups and other organizations that said it must promote equality and justice in the face of globalization.
The meeting with non-government groups was part of host Canada's goal of opening the OAS annual general assembly to segments of society that believe globalization widens the gap between the industrial wealthy and marginalized workers.
It followed a day of chanting, singing protests that erupted into minor unrest when demonstrators tried to penetrate a security zone around the conference created by 10-foot fencing and scores of riot police.

AP Photo
Police in Windsor douse
protesters with pepper
spray before putting them
under arrest.

---
No protesters were visible Monday morning, with police clad in protective vests and helmets patrolling in downtown Windsor and across the river border in Detroit.

The protesters, who say organizations like the OAS widen the gap between the world's rich and poor, chanted "Shame! Shame! Shame!" during Sunday's protests in Windsor, a city of about 262,000 across the river from Detroit. Police rapped nightsticks on riot shields to move the crowd back.

Some demonstrators tried to force their way into the area where the meeting was being held before police shut the gate, inciting the demonstrators to throw bottles and debris.

"Officers were being pelted by rocks as well as noxious substances being tossed over the gate," provincial police Sgt. Dave Rektor said. Still, he said, "this has been a fairly successful, peaceful protest, with the exception of a small ... group."

The crowd three rocks and a homemade smoke bomb at one point when police ordered an anti-free trade banner taken down because it blocked the officers' view, said Constable Michele Paradis of the Royal Canadian Mounted Police.

AP Photo
This protester was ready
with her gas mask.

---
Police doused two people with pepper spray when a group tried to climb the fence. Two officers were receiving treatment after being hit by projectiles, Paradis said. A third officer was injured in a motorcycle crash during a disturbance, police said.

Of the 41 people arrested Sunday, 35 were among 200 who mobbed a bus containing three OAS delegates and a driver. Some protesters sat in front of the bus while others painted slogans on it, police said.

Sunday's protests overshadowed the start of a three-day OAS meeting that will fous on human security issues in the Americas while taking care of normal business, such as approving a budget.

The 52-year-old OAS is also scheduled to consider last month's presidential run-off in Peru. Peruvian President Alberto Fujimori was the only candidate on the ballot after challenger Alejandro Toledo boycotted what he said was an unfair election process.

A human rights report accused the South American country of failing to meet democratic election standards. If the foreign ministers agree, they could subject Peru to OAS sanctions.

At the first general session of the meeting on Monday, Canadian Foreign Minister Lloyd Axworthy said the OAS must consider the complaints of the protest movement that disrupted the World Trade Organization meeting in Seattle in December before targeting the Windsor assembly.

Globalization caused "new concern and new risks for the security and welfare of people," he said. "There's a clear gap in understanding ... that demands our attention."

AP Photo
A man hit by pepper spray
soothes his eyes with water.

---
Earlier, representatives of civil organizations urged the OAS to fulfill its intention to make human issues a priority as free trade expands.

Echoing the complaints of the street protesters, Hassan Yussuff of the Canadian Labor Congress spoke of a "fundamental contradiction" between the reality of the proposed Free Trade of the Americas Agreement that would expand the North American trade pact to South America and its goal of improving workers' rights and protecting the environment.

The OAS represents more than 30 Western Hemisphere nations. The Windsor protest represented a milder outpouring of the same anti-free trade movement that obstructed December's World Trade Organization meeting in Seattle and April's International Monetary Fund and World Bank meetings in Washington, D.C.

Some OAS delegates complain that the organization is being wrongly targeted, noting there are no clear trade issues on the assembly's agenda.

Protest speakers refute that by arguing that as part of an international power structure including the WTO and IMF, the OAS had helped erode workers' rights and exacerbate poverty through free-trade agreements and other deals.

"I don't advocate violent action. I'm not here to bash anyone's head in," said Margaret Lawrence, an adult literary teacher from Windsor. "But I think people have a responsibility to be more conscious of what free trade is doing to the poor of Central and South America."

Another protester, activist author Noam Chomsky, denounced what he calls the "childish nonsense" of free-trade advocates who believe globalization is an unstoppable tidal wave engulfing the planet. B>"Free trade agreements are nothing of the sort, and they're certainly not agreements," said Chomsky to a cheering crowd.

29-year-old demonstrator Craig Regester was clear on his own reasons for protesting. He calls the OAS "an organization that essentially wants to make decisions about my life and about other workers' lives without me having any say about it."

CBS Worldwide Inc. All Rights Reserved. This material may not be published, broadcast, rewritten, or redistributed. The Associated Press contributed to this report
Thanks for reading CBS NEWS.
Create your free account or log in
for more features.