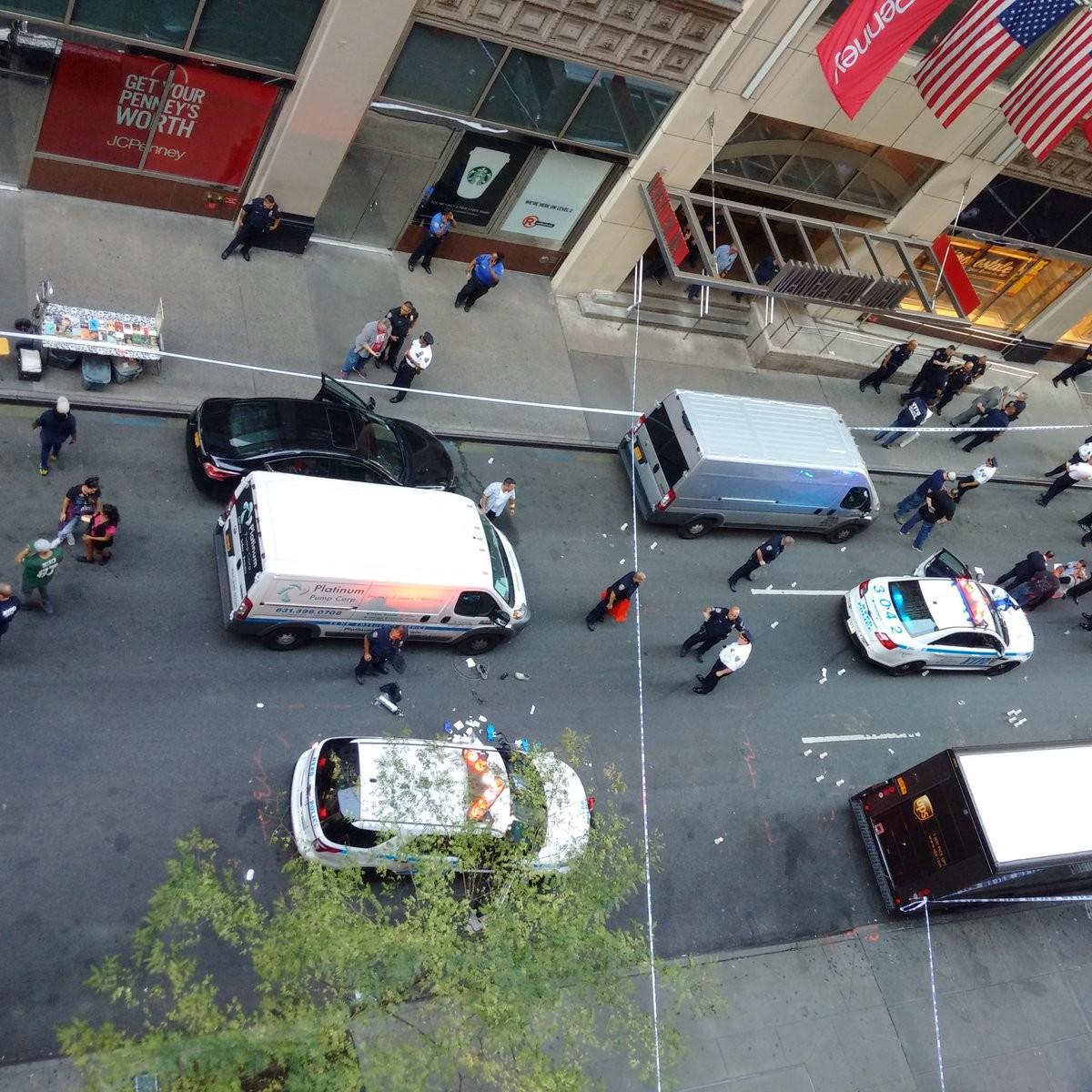 NYPD officer attacked with meat cleaver in midtown Manhattan
NEW YORK A man was shot in midtown Manhattan after attacking an NYPD officer with a meat cleaver during rush hour Thursday, CBS New York reported.
The man with the knife was shot at least twice and was hospitalized in critical but stable condition, police said. The detective, who had been heading home in street clothes when he intervened in the chase, was being treated at the hospital for a six-inch gash from his temple to his jaw.
Thursday evening, the NYPD released a photo of the cleaver.
The NYPD identified the suspect as Akram Joudeh, 32. He is in critical condition at Bellevue Hospital, the NYPD said.
The incident happened just after 5 p.m. on 32nd Street and Seventh Avenue after the officer and his partner were called to the scene for a report of a man with a meat cleaver.
Police tried to corral the suspect, and said they used a Taser that had no effect on him. When the off-duty cop intervened and tried to grab him, he was struck in the head with the meat cleaver.
Officers then opened fire, firing about 18 shots.
Another uniformed officer suffered a graze wound to the back as a result of friendly fire.
A witness said he heard multiple gunshots.
"I was headed to an event down in Union Square and when I was on the corner I heard a series of gunshots go off and then a flood of people running toward Seventh Avenue. I grabbed my camera and ran in the other direction," the witness said.
J. Peter Donald, assistant commissioner of communication and public information for the NYPD, said "officers discharged several rounds striking the suspect."
Tourists are being told to stay off the sidewalk and everyone is being told to stay away from the scene.
Mayor Bill de Blasio and Police Commissioner Bill Bratton both tweeted about the incident Thursday evening.
The confrontation started, police said, when two uniformed officers encountered the man trying to remove an immobilizing boot from a parked vehicle.
Police said the suspect, Joudeh, had a previous address in Queens but appeared to have been living in the car.
After the officers approached, Joudeh pulled an 11-inch knife and ran, police said. A growing group of officers chased him, and at one point shot him with a Taser, with no apparent effect.
A bystander, Jonathan Schneier, said when he left work to get coffee he saw a balding man holding a cleaver, surrounded by a small group of officers yelling at him to drop the knife.
"I give credit to the police officers. They gave him many opportunities," Schneier said. He said the man with the knife "did not look very stable."
The man turned and ran, Schneier said.
Officers chased him down the street. An off-duty police detective tried to tackle the man, who lashed out with the knife, said the department's top chief, James O'Neill. That's when officers opened fire, he said.
"They shot until the threat was stopped," said O'Neill, who is succeeding Bratton as commissioner.
Corey Melton, a photographer, was checking his phone on the street corner when he heard "a series of gunshots go off."
Photos he took show a gray, four-door sedan with bullet holes in the windshield. His photos also show a man sitting on the ground handcuffed behind the car.
Officials said Joudeh has been arrested more than a dozen times in recent years, mostly for minor crimes, but didn't provide details.
Attempts to locate any relatives Joudeh might have in New York were not immediately successful. It is likely to be many hours, if not days, before a lawyer is appointed to represent him.
Thanks for reading CBS NEWS.
Create your free account or log in
for more features.