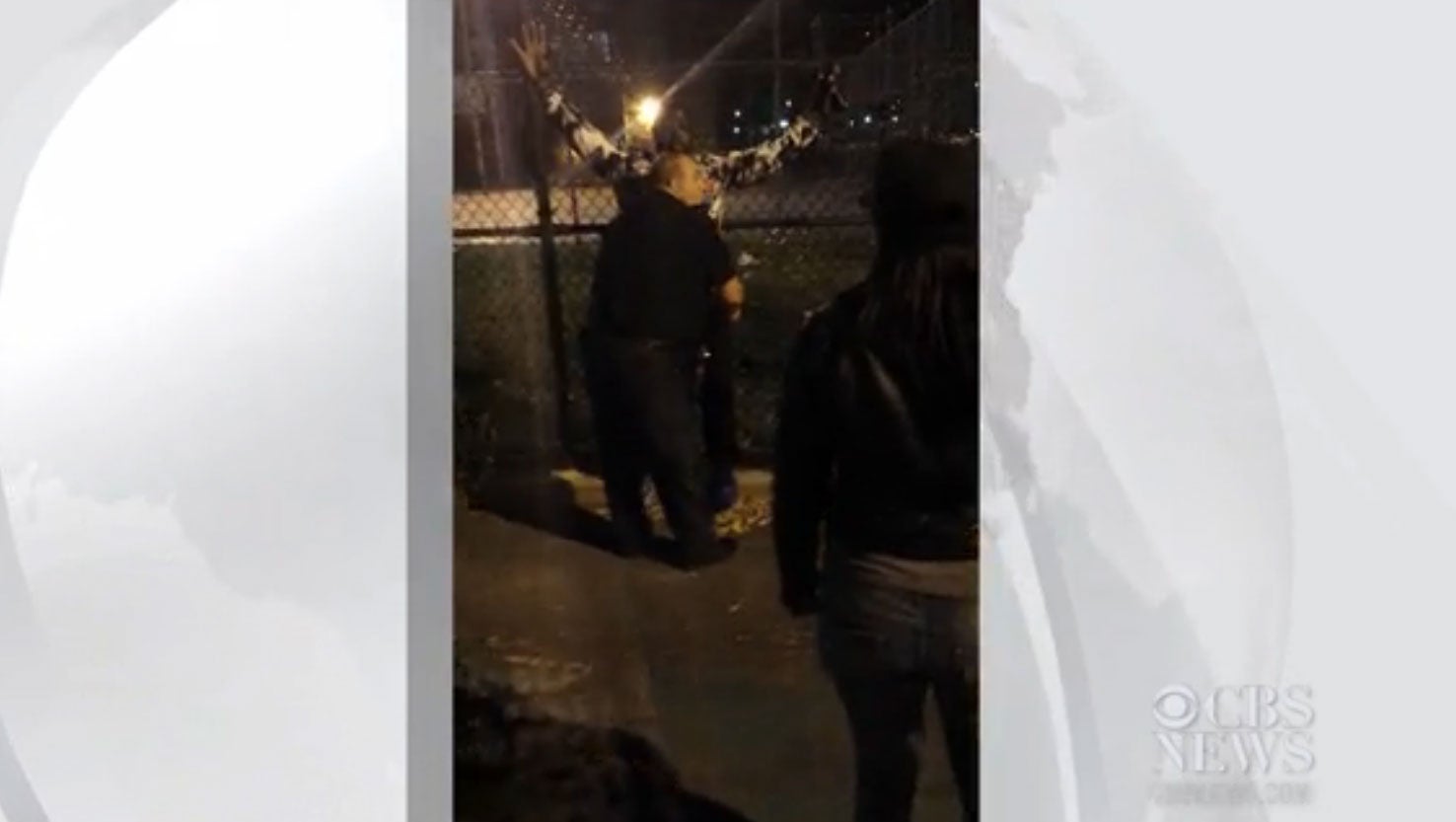 NYPD cop allegedly steals $1,300 during stop-and-frisk
The Brooklyn District Attorney's office is investigating after an NYPD officer allegedly stole about $1,300 from a man and pepper sprayed him and his sister in an encounter captured on cell video.
The incident was first reported by the New York Daily News. The police department's Internal Affairs unit is also investigating, according to the NYPD.
The incident began in the early morning hours of Sept. 16 when Lamard Joye and his sister Lateefah Joye came across another man who they said was being "roughed up" by police in Brooklyn's Coney Island neighborhood, lawyer Robert Marinelli told CBS News' Crimesider.
Marinelli represents the Joyes and the third man, Terrell Haskins. Marinelli said the Joyes yelled out, "Is this necessary?"
A friend began recording on his cell phone as an officer approached Lamard Joye. On the video, which doesn't picture Haskins, the officer is seen pushing Joye against a fence in an apparent stop-and-frisk before reaching into his pocket, allegedly taking about $1,300.
The officer then apparently uses pepper spray on Joye. His sister Lateefah Joye can be heard asking for the officer's badge number before the officer allegedly pepper sprays her as well.
Marinelli told Crimesider that Joye had a large amount of cash with him because it was his birthday and he was planning on celebrating with an evening out with his wife.
"It was unprovoked," Marinelli told Crimesider. "They [the officers] were in a bad mood and maybe they didn't want to be questioned. They robbed and maced him."
The officers had initially responded to the report of a man with a gun, an NYPD spokeswoman wrote in an e-mail to Crimesider.
"When officers arrived at the scene, they encountered numerous people at the location. As a result of the allegations, the matter is under investigation by the Internal Affairs Bureau and [Civilian Complaint Review Board.]"
Marinelli said he has turned over the video to the Brooklyn District Attorney's office, which is also investigating.
"We are aware of the incident and it is being actively and thoroughly investigated," said Brooklyn District Attorney Ken Thompson in an e-mailed statement.
The incident is the latest in a string of unnecessary force allegations against the NYPD. The July 17 death of Eric Garner, who died after being placed in a chokehold by NYPD officer on Staten Island, sparked community outrage and a $75 million lawsuit by Garner's family.
In a statement to the New York Daily News, Patrolmen's Benevolent Association President Patrick Lynch urged against a "rush to judgment" in the Coney Island case.
"A 35-second-long video does not provide enough information about a police encounter to come to any conclusion about what transpired," he said, the newspaper reported. "The rush to judgment will leave this city with an impotent police department where police officers will be afraid to act and neighborhoods will be left to the mercy of the criminals."
Thanks for reading CBS NEWS.
Create your free account or log in
for more features.