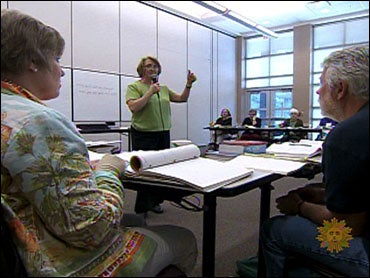 Not Your Grandfather's Retirement
Mountain air is not enough for a generation determined to ban boredom in retirement. Martha Teichner visited Asheville, N.C., to explore how some are designing more creative retirements:

---
John Bauer was a high school teacher in Michigan before retiring to Asheville, and getting a part-time job as a tour guide at the Biltmore Estate.

"Why do I wanna keep on teaching when I can retire financially and I can try something completely different?" he asked.

Americans just aren't retiring the way they used to ...

"We don't want to just sit down and vegetate," said Jim Wyatt.

And you don't have to go very far from the Biltmore Estate to see how they're redesigning the whole notion.

Nancy Long spent her career writing for newspapers and magazines. Now she's a volunteer docent at the Asheville Art Museum.

Long and her husband, Al, were attracted to Asheville, N.C., because for a small city, it has a lot going on culturally.

But the big selling point was the fact that they could live right downtown and walk everywhere, a growing trend among retirees.

The Longs live in a compact loft in an old commercial building, but here's the kicker: When they retired, they actually lived in Florida … and moved away.

Why?

"We thought it'd be boring," Martha told Teichner.

"Boring," Al agreed.

Ron Manheimer, who heads the Center for Creative Retirement at the University of North Carolina in Asheville, said, "People are saying, 'Well maybe Florida isn't the place to go.

"What I see is very high expectations that something special should happen in and around this time of life, and I think I see people searching for what that would be."

Asheville has been a beneficiary. Nestled in the Blue Ridge Mountains, it is on just about every top ten list of the best places to retire in the U.S.

It says something about Asheville that it's got a Center for Creative Retirement, where $115 a semester will buy you an all-you-can-eat menu of classes taught by retirees themselves … a cross-section of courses in Latin, French, bookmaking, or a how-to class on navigating senior benefits.

Then there's deepening inner stillness.

Asheville property developer Jim Anthony thinks they're looking for a healthy, outdoorsy lifestyle he calls "wellness."

Taking Teichner on a helicopter tour of the area, Jim Anthony said, "I look right down and there's about ten acres right there that we have set aside wildflowers and trail system, because that's what people are looking for."

Anthony is 65, but has no intention of retiring himself. He loves to fly prospective buyers over what will be the first golf course in the U.S. designed by Tiger Woods.

"I think we'll attract more people for this whole setting, this mountain top setting with the trails and the spa and wellness center than for golf."

Anthony is marketing a kind of "Blue Ridge Mountain high" to aging baby boomers with money, whose retirement may turn out to be a third of their lives.

"We walked into Asheville, said 'This reminds me of the Sixties without the Vietnam War,'" said Bill Dorfman. "I loved the Sixties."

The spirit of the '60s is alive and well in Asheville, including the need to do good.

Don and Lisbeth Cooper had all the retirement that money can buy. He'd been in finance, she was in fashion. They built the house of their dreams at the top of a mountain outside Asheville.

And then reality intervened. Lisbeth wasn't satisfied with the care available for her daughter, Danielle, who's had bouts of mental illness. She suggested to Don starting their own mental health care facility.

"And what did you say?" Teichner asked.

"No way, Jose," Don said.

Famous last words.

Together they raised ten million dollars and built the not-for-profit Cooperriis Center which seems more like a working farm than a hospital.

"We're making a wonderful improvement in many people's lives, and it's been very rewarding," Don said.

And they're still at it.

"This was 80 hours a week and still is because we're building a second center in Asheville," said Lisbeth.

"Now, was this your idea of your retirement?" asked Teichner.

"No, I had no clue," said Don.

"He used to tell me he was bored," Lisbeth said. "He's not bored anymore."

No, indeed. Gone are the days when retirement meant the end. In Asheville, it's clear retirement is the beginning.

For more info:

Thanks for reading CBS NEWS.
Create your free account or log in
for more features.