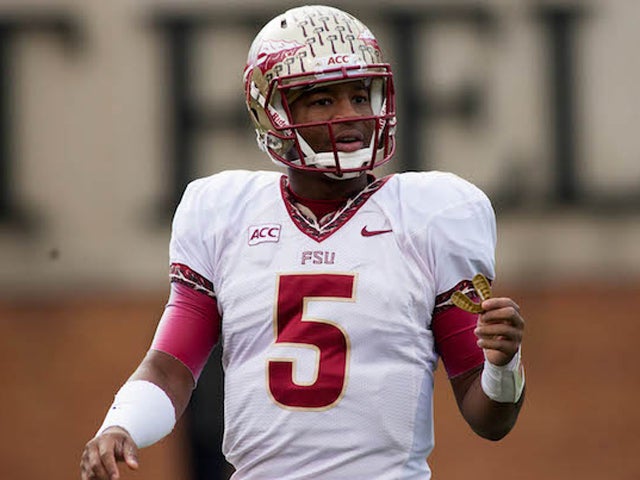 No charges for FSU's Jameis Winston in alleged 2012 rape
Updated 2:39 p.m.

A Florida prosecutor announced Thursday that he will not be charging Florida State University quarterback Jameis Winston in connection to an alleged rape on Dec. 7, 2012.
"We came to the decision that it was not a case that we could bring forward because we would not have...the reasonable likelihood of a conviction," said State Attorney Willie Meggs on Thursday.
Meggs indicated that the victim's "memory lapses" about the night in question were a problem for moving forward with a prosecution.

Thursday's announcement came almost an entire year after the alleged incident, but just three weeks after Meggs says his office received the case from the Tallahassee Police Department. Why it took so long for police to complete an investigation into the incident is a matter of some controversy. According to a Florida State University Police report, the alleged victim originally made the allegation on Dec. 7, 2012, and the university police turned it over to Tallahassee police because "it was determined the incident occurred off campus."
The Tallahassee police have said that the investigation into the incident became "inactive" in February 2013 because the alleged victim stopped cooperating and declined to pursue charges. But, through her attorney, the accuser and her family dispute this, saying that they were always available to work with police and that they repeatedly asked the department to obtain DNA samples from Winston and interview witnesses from that night.
However, State Attorney Meggs told CBS News' Crimesider last month that when he finally received the case on Nov. 13, police still hadn't taken Winston's DNA. Meggs said he told investigators that "things needed to be done" in the case and asked them to come back to him with more evidence.

"Obviously it would have been better if it had been handled a little earlier," said Meggs at a Thursday press conference. He said he couldn't think of a reason why police would not have taken Winston's DNA for so many months.


When Winston's DNA was eventually tested against evidence taken from the woman's underwear, it was a match. Meggs said in the press conference that another DNA sample was found on the woman's shorts.


"She acknowledged having sex with her boyfriend," said Meggs. "But she wouldn't tell us who her boyfriend was. But being a shrewd investigator I found out." Meggs said the boyfriend did not speak with investigators, but that they did obtain a DNA sample from him.


Winston's attorney, Tim Jansen, indicated to reporters on Nov. 21 that sex between Winston and the woman was consensual and that his client did "nothing wrong."

Meggs said that there was no evidence that the alleged victim and Winston knew each other prior to the night in question.


The Tallahassee police have declined to answer questions about why it took so long to obtain Winston's DNA, and did not return a Thursday call for comment on other allegations levied by the alleged victim, including that the department told Winston's attorney the case was closed back in February, and discouraged the accuser from pursuing her claim in the first place.

According to the Associated Press, search warrants released Thursday indicate that the alleged victim told police she had been drinking shots with friends at a Potbelly's restaurant on the night of the encounter before getting into a cab with a man and going to an apartment. She reportedly said her memory was unclear and she was not sure where she had been raped, but that she remembers the suspect dressing her, putting her on a scooter and dropping her off at an intersection.

"Her recall of the events of that night have been moving around quite a bit...there have been some memory lapses," said Meggs. He said there were "not inconsistencies" in the woman's story, but a "lack of memory" of the night. Meggs said her blood alcohol was .04 when tested, although he could not give an exact time for the test. He said he did not believe she had drugs in her system.

Immediately following Meggs' announcement, the victim's family released a statement through their attorney, Patricia Carroll: "The victim and her family appreciate the State Attorney's efforts in attempting to conduct a proper investigation after an inordinate delay by the Tallahassee Police Department.The victim in this case had the courage to immediately report her rape to the police and she relied upon them to seek justice.The victim has grave concerns that her experience, as it unfolded in the public eye and through social media, will discourage other victims of rape from coming forward and reporting."


On Wednesday, Winston was voted Atlantic Coast Conference player of the year. He is considered a front-runner for the Heisman trophy, college football's highest honor.

Thanks for reading CBS NEWS.
Create your free account or log in
for more features.