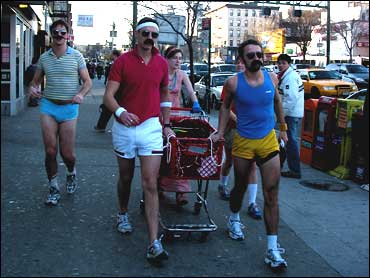 No. 4 Nebraska Crushes LA Tech

As far as coaching debuts go, Nebraska's Frank Solich chose to look at the bottom line.
"The only thing I was interested in was the win," the relieved Solich said Saturday after No. 4 Nebraska outmuscled Louisiana Tech 56-27 in the Eddie Robinson Classic despite an NCAA-record 405 yards receiving by the Bulldogs' Troy Edwards.
"That was a tremendous amount of yards, but that's the way it goes," Solich said. "There's no question we've got work to do, but for a first ballgame, it's OK. We'll take it the way it came."

Winning came easy for the Cornhuskers, who extended their home victory streak to 43 straight and the nation's longest major-college winning streak to 15 games.
"It wasn't the prettiest," fullback Joel Makovicka said, "but a win is a win."
Behind the efficient quarterbacking of Bobby Newcombe, making a debut of his own, the Huskers rolled to a 35-6 lead as the sophomore passed for one touchdown and ran for two.
But then the Tim Rattay-to-Edwards show took over as the duo established numerous records against Nebraska, which won or shared national titles in three of the last four years of Tom Osborne's 25-year reign.
Edwards caught TD passes of 94, 80 and 52 yards and finished with 21 catches -- three short of Jerry Rice's NCAA mark of 24, set in 1983.
The previous all-divisions record for receiving yards was 370, shared by Michael Lerch of Princeton (1991, vs. Brown) and Barry Wagner of Alabama A&M (1989, vs. Clark). The major-college record of 363 was set by UNLV's Randy Gatewood against Idaho in 1994.
Rattay rocked the Huskers by completing 46-of-68 passes for 590 yards -- all record numbers against Nebraska.
"They pretty much tried to play me one-on-one," said Edards, who led the nation in '97 in receiving yards while Rattay led in total offense. "I'm not a trash talker but I've worked hard all summer and I don't believe any defensive back in the country can go one-on-one with me,"
Nebraska's Sheldon Jackson runs past Louisiana Tech's Dewey Simpson to score the game's first touchdown. (AP)
---
Huskers defensive coordinator Charlie McBride agreed.
"He's a first-round draft choice," McBride said. "He can run off with it and run by most people he's going to play. He's that good."
Newcombe finished 9-of-10 for 168 yards and carried 12 times for 12 yards. The teams combined for 1,031 yards, with Louisiana Tech outgaining Nebraska 569-462.
"It was my first game and it's an experience I'll never forget," Newcombe said. "I will treasure it and won't be as nervous the next game."
Solich, the Huskers' 19-year assistant who replaced Osborne eight months ago, pumped his right fist in the air several times after Newcombe threw a 46-yard TD pass to Sheldon Jackson on the third play of the game.
Newcombe then ran over to Solich near the sidelines and the two embraced for a few seconds. Solich even smiled, something Osborne did rarely in 25 years as coach.
Red balloons soared into the sky as the 221st consecutive sellout crowd at Memorial Stadium celebrated the Huskers' first score for their new coach.
On a hot and sticky day, with temperatures in the 90s, the crowd of 76,021 had plenty to cheer about.
With the Bulldogs passing their way back into the game in the second half, Nebraska kept countering with touchdowns on the ground. After Louisiana Tech cut the lead to 35-21, Dan Alexander and Correll Buckhalter each ran 4 yards for scores. And when Rattay hit Edwards on an 80-yard scoring play to make it 49-27 with 12:55 left, Buckhalter ran 43 yards for a TD with 1:24 left. Buckhalter finished with 143 yards on 19 carries.
When the game ended, Solich walked to midfield and shook hands with Bulldogs coach Gary Crowton, and probably wiped his brow.
"I'm glad it's over and I think our players are, too," Solich said.
Rattay had four TD passes, tying the record for the most ever against the Cornhuskers. After his first scoring pass, a 1-yarder to Sean Cangelosi, made the score 21-6, Huskers defensive back Joe Walker returned the ensuing kickoff 99 yards for a TD.
The 94-yard TD hookup between Rattay and Edwards was the longest allowed by the Huskers since a 98-yarder by Missouri in 1976.
"We're embarrassed," free safety Mike Brown, beaten several times by Edwards, said. "I want to apologize to my teammates. We didn't hold up our end of the bargain. But we got the vitory and that's all that matters."
Osborne did not attend the game, but he wasn't really missed. The 5-foot-8 Solich ran onto the field with his team, took up his sideline position near midfield but was often lost in a sea of red Nebraska jerseys as his players dwarfed him.
Louisiana Tech, with alum Terry Bradshaw acting as honorary captain, won the toss but deferred. The Huskers took the opening kickoff and five plays later it was 7-0.
Newcombe scored from a yard out on the next possession and Willie Miller scored on an 8-yard run to give Nebraska a 21-0 lead early in the second quarter.
"We were a little shellshocked early but we settled down and played our kind of game," Louisiana Tech coach Gary Crowton said as his team was the first to outgain the Huskers since Kansas State had 565 yards against them in 1993. "But I'm disappointed we didn't win. We play to win."
© 1998 SportsLine USA, Inc. All rights reserved
Thanks for reading CBS NEWS.
Create your free account or log in
for more features.