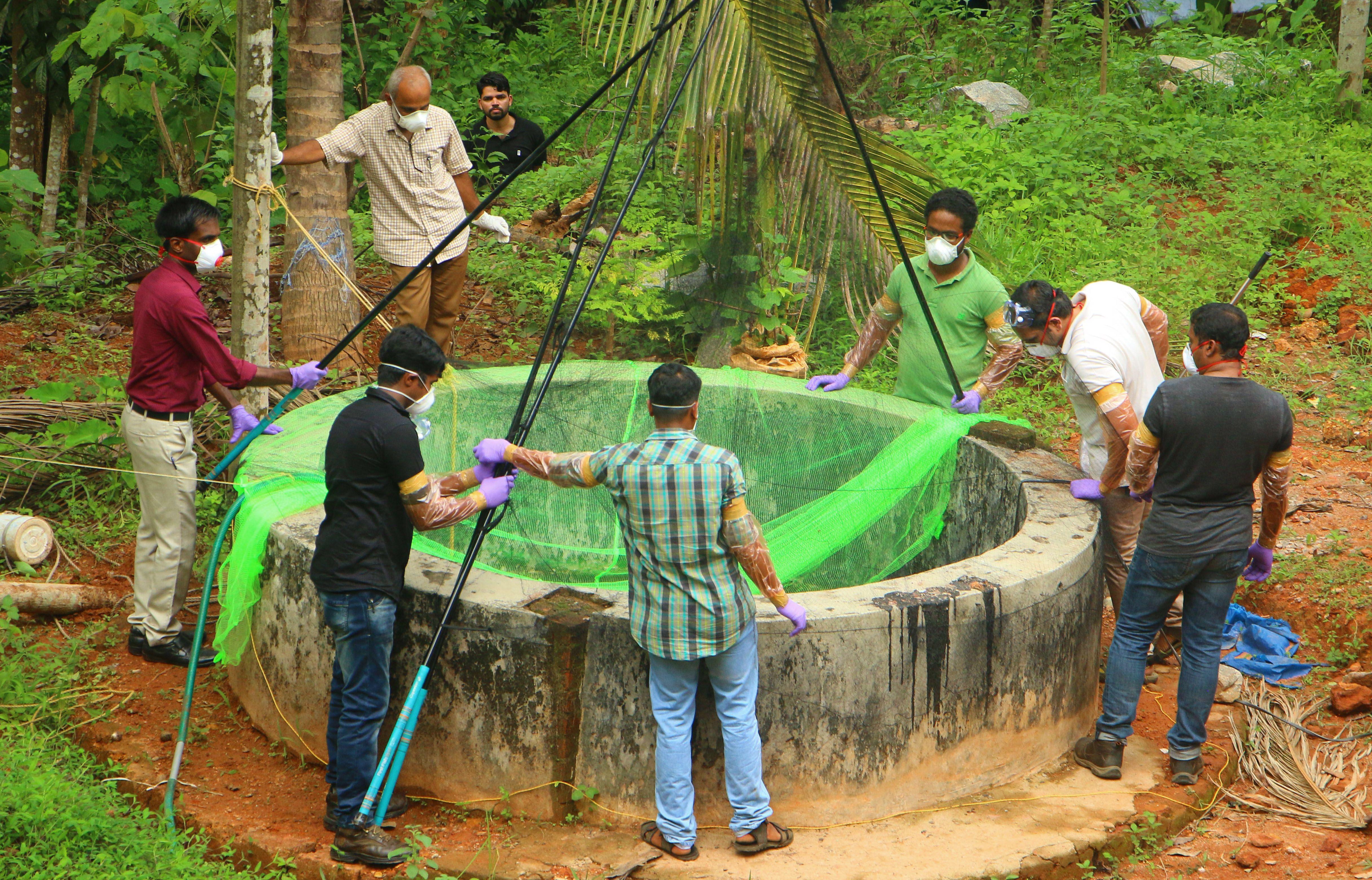 Panic as bat-borne virus kills 10, infects at least 13 more
NEW DELHI -- An outbreak of a deadly virus that attacks the brain has killed at least 10 people in the southern Indian state of Kerala. Nipah virus, or NiV, has infected 13 other people, two of whom were in critical condition in hospital on Wednesday. Dozens of others were under surveillance.
Almost 100 people have been quarantined inside their homes in the state, which is a popular tourist destination.
Nipah is a highly infectious virus carried by fruit bats that causes inflammation of the brain in humans. The symptoms include fever and headaches, followed by drowsiness and confusion, leading to possible coma and death within a week. There is no cure known yet, and patients are only given supportive care. The virus is spread by infected bats, pigs or humans.
Eight of the dead are from Kerala's Kozhikode district, the hub of the outbreak, where multiple members of one family were the first to be infected. Two brothers from the family died on May 5 and their father is also infected and being treated in hospital. A female relative who was with them in hospital also died later.
While the cause of the outbreak is still being investigated, a team of health experts who visited the family's house have linked it to dead bats found in the home's water well. Authorities have sealed the well and sent the bat blood samples for medical tests. The report is expected on Friday.
With panic setting in, several families in Kozhikode district have evacuated their homes in the last four days, some Indian media reports said. Two people have died in the neighboring district of Mallapuram.
"There is no need to panic. All cases are linked to the one family in Kozhikode -- those who came in contact with them," Rajeev Sadanandan, Additional Chief Secretary, Health and Family Welfare Department in Kerala, told CBS News.
One of the 10 victims was a nurse who died on Monday after treating a Nipah patient in hospital. Lini Puthussery, 31, whose "selfless service" is being hailed as "heroic" left a note for her husband before dying.
"I am almost on my way. I don't think I will be able to see you. Sorry. Take care of our children properly… Lots of love," she wrote. Her body was cremated soon after her death over fears the virus could spread; her family wasn't able to see her.
Government authorities have put Kerala state on high alert. Two "control rooms" in the worst-hit Kozhikode district have been set up to closely monitor the spread of the virus. Experts from the New Delhi-based National Centre for Disease Control (NCDC) and a top hospital have been sent to the state to try and contain the outbreak.
On Tuesday, Kerala Health Minister KK Shylaja said no new cases had been detected in 24 hours.
India's national Health Minister, J. P. Nadda, wrote on Twitter on Wednesday that he had instructed officials, "to leave no stone unturned in terms of proactively countering the Nipah virus threat."
A state government statement said "travelling to any part of Kerala is safe. However if travellers wish to be extra conscious, they may avoid Kozhikode, Malappuram, Wayanad, and Kannur districts."
There had been no travel advisories issued Wednesday morning by the Indian central government or the U.S. Embassy in New Delhi.
Nipah has killed more than 260 people in Malaysia, Bangladesh and India in outbreaks since 1998. The World Health Organization (WHO) describes Nipah infection as a "newly emerging zoonosis that causes severe disease in both animals and humans."
In Bangladesh in 2004, humans became infected with NiV as a result of consuming date palm sap that had been contaminated by infected fruit bats. Human-to-human transmission has also been documented, including in a hospital setting in India, the WHO says.
Thanks for reading CBS NEWS.
Create your free account or log in
for more features.