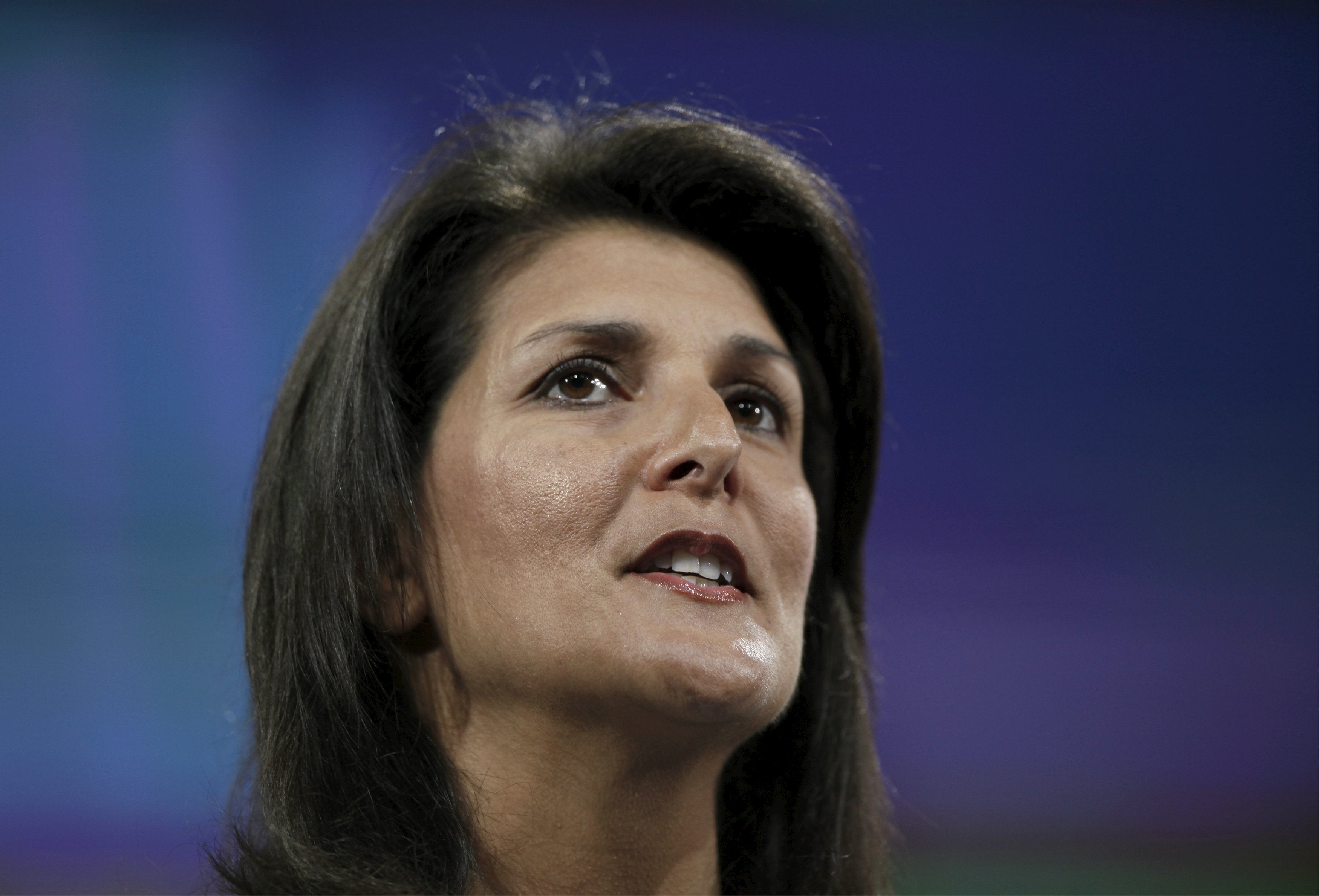 Nikki Haley is Trump's pick for U.S. ambassador to U.N.
President-elect Trump has offered South Carolina Gov. Nikki Haley the post of U.S. ambassador to the United Nations and she has accepted, Mr. Trump's transition team announced Wednesday morning.
"Governor Haley has a proven track record of bringing people together regardless of background or party affiliation to move critical policies forward for the betterment of her state and our country," the president-elect said in a statement. "She is also a proven dealmaker, and we look to be making plenty of deals. She will be a great leader representing us on the world stage."
The South Carolina governor, in her own statement, said she was "honored" for the chance to serve the country as U.N. ambassador.
Haley said she was moved to accept the nomination for two reasons: "The first is a sense of duty. When the President believes you have a major contribution to make to the welfare of our nation, and to our nation's standing in the world, that is a calling that is important to heed. The second is a satisfaction with all that we have achieved in our state in the last six years and the knowledge that we are on a very strong footing," she wrote.
Haley will remain South Carolina's governor until the Senate acts on her appointment.
Haley would, in effect, be the voice of the Trump administration at the 193-nation world body, if she is confirmed by the Senate, reports CBS News' Pamela Falk.
Haley, a 44-year-old Republican, is serving her second term in the South Carolina statehouse and is seen as a rising star in the Republican Party. She is the first female named to the Trump Cabinet.
Haley is also the daughter of immigrants, from India.
During the Republican primary, she first backed Fla. Sen. Marco Rubio and criticized Trump on some issues.
And Trump panned her, tweeting in March, "The people of South Carolina are embarrassed by Nikki Haley!"
Falk notes that Haley has been at the forefront of trade and labor issues in South Carolina, and has traveled internationally in recent years to negotiate global economic deals, but this would be her first foray in the federal government and in foreign affairs.
At the United Nations, Haley, would face a host of seemingly intractable problems, from violent extremism and nuclear threats to cyber security, world poverty, and foreign entanglements in Syria and Iraq.
The U.N. has had several female ambassadors from the U.S., but the post only became a Cabinet level position for a third time in U.S. history during the Obama administration, Falk points out.
U.N. Ambassadors were reacting positively to Gov. Haley's appointment.
Matthew Rycroft, Britain's Ambassador congratulated her on the nomination telling CBS News, "I look forward to working closely with her: She will bring to the U.N. a strong track record of achievement from South Carolina, and I know that the U.K.-U.S. relationship will continue...we sit literally side by side in the Security Council, and we will continue to be shoulder to shoulder."
Israel's Ambassador to the United Nations, Danny Danon added, "Governor Haley is a longstanding and true friend of Israel and is an outspoken fighter against the BDS movement [Boycott, Divestment, Sanctions] in her state, and throughout the U.S.; I know that we at the Israeli Mission will continue to work in full partnership with our friends in the American Mission, as we further strengthen the special bond and shared values between Israel and the US."
There are just over 4,000 political appointments to be made by the incoming Trump administration. About 1,200 of them will require Senate confirmation -- the cabinet secretaries and their deputies, as well as those appointees who will head independent agencies, like the CIA and EPA, for instance. These nominees will go through a vetting process and Senate hearing.
A smaller number -- 353 -- do not require Senate confirmation -- those are largely the White House staff positions, according to the Center for Presidential Transition. Reince Priebus, who has been named chief of staff, and chief White House strategist Steve Bannon fall into this category. The rest either work just below the top appointees or serve in a confidential or policy roles ranging from scheduler to confidential assistant to policy expert.
In recent years, presidents-elect have announced some staff picks in the days immediately following their election, while Cabinet secretaries were often announced later in November or in December.
Thanks for reading CBS NEWS.
Create your free account or log in
for more features.