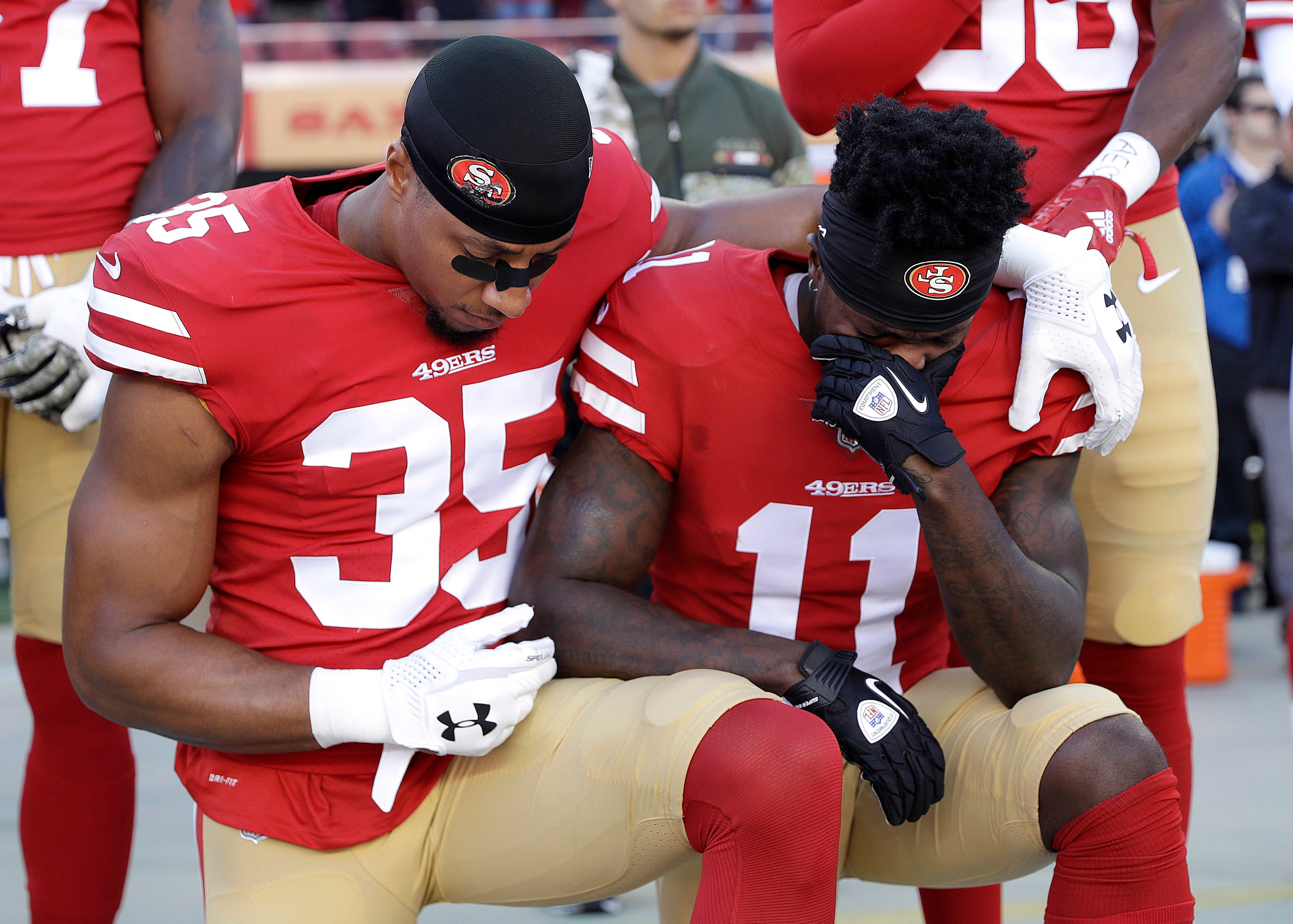 NFL protests continue during Veterans Day weekend
Three players took a knee during the national anthem before the New York Giants game at the San Francisco 49ers, as the rest of the league stood during Veterans Day weekend.
49ers Eric Reid and Marquise Goodwin, both of whom have been protesting for most of the season, knelt, as did Giants defensive end Olivier Vernon, who was just activated. Vernon had been protesting while he was injured.
The NFL Players Association had asked all players to observe a two-minute moment of silence before games to honor veterans. Last month, Commissioner Roger Goodell and several owners said that changing the language from "should stand" to "must stand" was not discussed at the league's fall meetings.
Other players who have been protesting most of the season stood for the anthem this week, including the Seahawks Michael Bennett, who stood before Thursday night's game. Titans receiver Rishard Matthews walked onto the field holding hands with soldiers and stood with teammates for the anthem for the first time since President Donald Trump criticized players for protesting.
Former 49ers quarterback Colin Kaepernick began the protest movement last season. He remains unsigned and has filed a complaint that team owners colluded against him because of the protests - aimed at police brutality against African-Americans and other issues.
The California chapter of the NAACP is pushing to get rid of the national anthem, calling the song racist and anti-black.
Bar packed with customers during NFL boycott
Customers packed a New Jersey bar that decided not to show any NFL games to honor veterans during the Veterans Day weekend and to raise money for a veterans' charity instead.
As many as 400 patrons stood and sang the national anthem at Woody's Roadside Tavern in Farmingdale on Sunday.
Veteran Andy Barcellona said the idea came about after NFL players chose to kneel during the national anthem to protest racism and police brutality. He was shocked when the tavern agreed to turn off the football games.
Woody's co-owner Chris Maltese told the Asbury Park Press the bar wasn't trying to be political and just wanted to support veterans.
The event raised money for the Special Forces Association and military families.
Thanks for reading CBS NEWS.
Create your free account or log in
for more features.