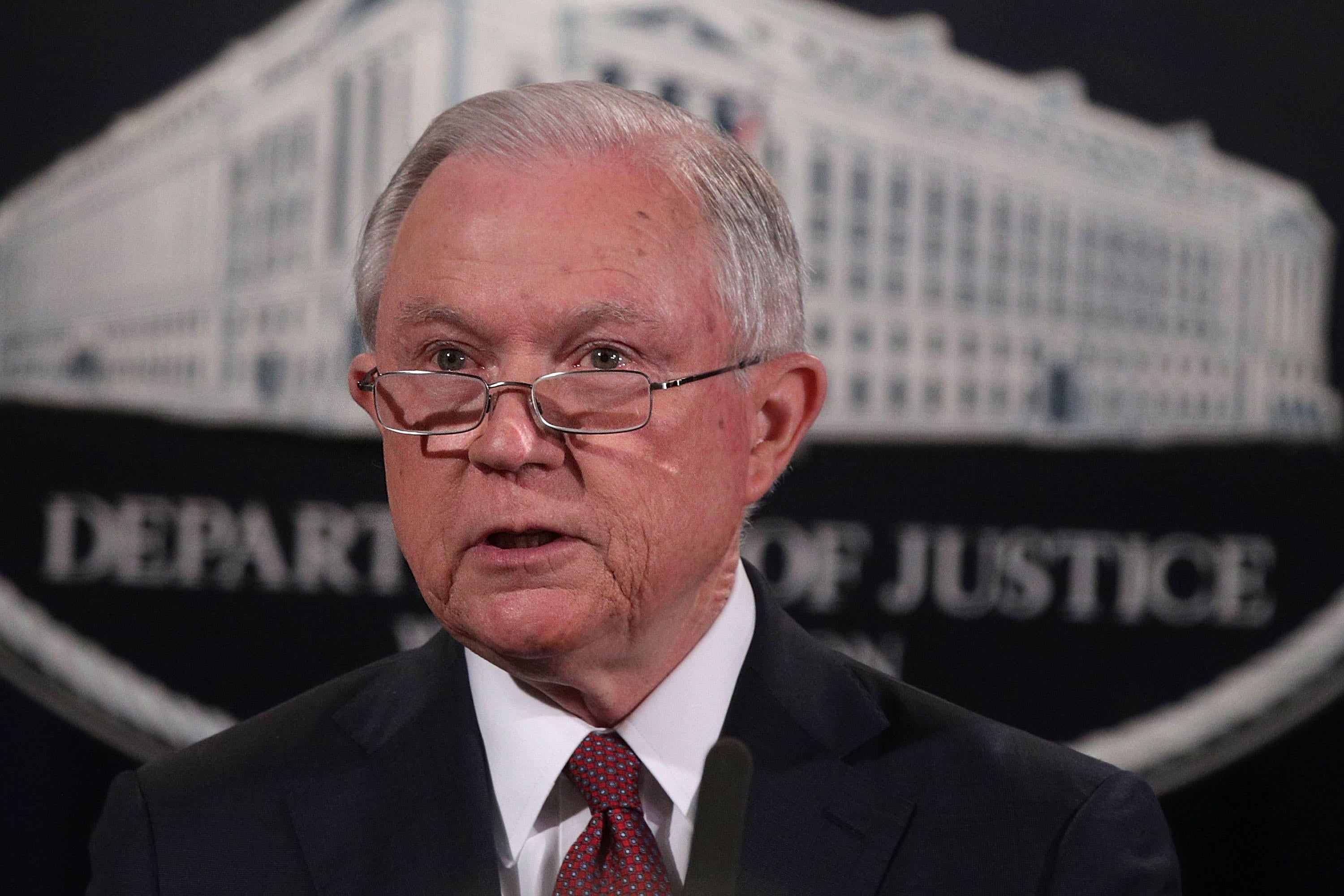 For GOP, an internal struggle in the ongoing tension between liberty and security
As Attorney General Jeff Sessions returns the Justice Department to revisit policies that allow law enforcement to seize property without a conviction or charge, even if their states prohibit doing so, some Republicans are turning to an older document -- the U.S. Constitution -- for guidance.
Tension between principles of liberty and security is nothing new in the Republican party, or in the history of the United States, for that matter. But under Sessions' DOJ, some Republicans are finding themselves challenging a Republican administration's Justice Department, navigating the uncertain waters to continue reforms to asset forfeiture they supported under the Obama administration, and now, under President Trump.
The House recently passed a set of amendments to curb asset forfeiture, written by Rep. Darrell Issa, R-California, Rep. Justin Amash, R-Michigan, Rep. Tim Walberg, R-Michigan, Rep. Raul Labrador, R-Idaho, Rep. Pramila Jayapal, D-Washington, Rep. Ro Khanna, D-California, and Rep. Don Beyer, D-Virginia. Asset forfeiture is the practice by which law enforcement seizes property believed to be connected with a crime. And it has yielded more than $28 billion in forfeitures in the last 10 years, according to the DOJ's inspector general. The House amendments were passed two months after Sessions announced he was reversing former Attorney General Eric Holder's decision to effectively end adoptive forfeiture, the program that allows law enforcement agencies in states with laws restricting asset forfeiture to circumvent that law if they provide a portion of the proceeds to the Justice Department.
"That was something we fortunately got Eric Holder to relinquish back when he was attorney general, and so it was a bit disappointing that Attorney General Sessions put that tool back in, because it circumvents the state laws of about 24 states, including Michigan, that have had reforms in their civil asset forfeiture proceedings," said Walberg, who introduced an amendment to prohibit the DOJ from using its funds to carry out adoptive forfeitures.
"I certainly support the efforts of law enforcement," Walberg said. "I appreciate their work in a society that we have that has much freedom. There has to be some protection against law breakers, so we want to make sure our law enforcement community has tools that can be used effectively. But sometimes those tools can go beyond the protections of the civil rights that we do have."
Sessions, who cut his teeth as a prosecutor during the war-on-drugs era of the 1980s and 1990s and is reasserting a tough-on-crime focus as attorney general, praised the return of adoptive forfeitures in a September speech to a law enforcement conference and expressed disbelief that "libertarians" and others would challenge the program.
"I love that program," Sessions said of asset forfeiture. "We had so much fun doing that, taking drug dealers' money and passing it out to people trying to put drug dealers in jail. What's wrong with that?"
Sessions' July shift also added guidance intended to safeguard against the abuse of the program, including a provision that the federal government should only adopt seized property if local agencies can prove it was taken with probable cause. But his comments convey the dilemma for the those in the GOP who want to champion a strong law enforcement while aggressively safeguarding Fourth Amendment and Fifth Amendment rights prohibiting unreasonable search and seizure and protecting the right to due process. Those members of Congress hope to avoid past reported abuses, like the seizure of $53,000 in cash donations destined for an orphanage from a Christian rock band or the home taken from Pennsylvania parents because their son was charged with selling drugs on the property.
Issa, whose amendment redirecting DOJ funds for implementing asset forfeiture towards rape kit DNA processing also passed in the House last month, said he doesn't currently have the attorney general's support. But since asset forfeiture was handled administratively, "it could be undone by the next attorney general, and I don't think I don't think the Constitution is something that should be at the discretion of the attorney general," he said.
"Ultimately I want the Constitution respected and I want to have the law of the land be one in which, criminals' assets can be seized, but they should be entitled to reasonable due process," Issa said.
Of course, members of Congress, Issa and Walberg included, have already tried to tackle the issue legislatively in the past, often with bills getting stuck in committee. Earlier this year, Walberg introduced a bill in tandem with Sen. Rand Paul, R-Kentucky, to raise the standard of proof for seized assets to "clear and convincing, a standard slightly below, say, proof beyond a reasonable doubt. That bill is still sitting in the House Judiciary Committee, chaired by Rep. Bob Goodlatte, R-Virginia.
But Republicans, generally known for espousing a more tough-on-crime policy approach than Democrats, face a particular challenge in heralding both due process and staunch support for law enforcement. The law enforcement lobby, said Walberg, who served on a police force in grad school, is strong.
The National Sheriffs Association, which spoke with the president about asset forfeiture at the beginning of the year, was happy with DOJ's recent shift on adoptive forfeiture, and displeased with Republicans' recent amendments. Jonathan Thompson, executive director of the National Sheriffs Association, said asset forfeiture amendments passed, "kind of in the dark of night." He said he wants more transparency around the conversation.
"We've expressed our displeasure with the Speaker (Paul Ryan), he knows where we stand on this," said Thompson, who noted that sheriffs' participation in forfeiture has increased already since the DOJ policy change in July.
Walberg said he understands that "you don't have a free society without law enforcement."
"There is no legislator -- myself included -- that wants to be perceived as anti-law enforcement," Walberg said. "... And so I think that's where our struggle comes, in saying, we are not anti-law enforcement. And we don't believe the majority of law enforcement agents or agencies are abusing civil asset forfeiture or anything else. But we do know that there has been some abuse, and we do know that there has been fundraising that's going on as a result of asset forfeiture."
But despite — or perhaps, because of — those ideological tensions, Republicans working on asset forfeiture issues hope asset forfeiture reforms have sufficient bipartisan support to proceed.
"When the ACLU, the NAACP, Tim Walberg, Keith Ellison, Tom McClintock, a libertarian-leaning Republican and then organizations like Heritage (Organization) come on board together, you've got to understand, there's tension there," Walberg said. "And I think it's good tension, that we're working together for true civil liberties that ought to be protected."
Asset forfeiture isn't likely to be the only philosophical and ideological battle for the GOP when it comes to law enforcement and security issues.
The D.C. Court of Appeals in September ruled that using a cell-site simulator, a device that mimics a cell-phone tower to allow police to locate and track a phone, violates the Fourth Amendment without a warrant. It's an issue Congress will likely need to address legislatively. Congress is also in the middle of considering if or how to reauthorize the Foreign Intelligence Surveillance Act (FISA), which serves as the current legal basis for surveillance programs in the U.S.
As the Republican Congress considers those issues under a tough-on-crime Republican administration, that tension between security and liberty persists.
"Civil asset forfeiture can be useful," Walberg said, "but the tension has to be there, that in our free society, freer than any society on the face of the earth, with clear principles on how we keep the freedom for our people, we also must have some restraint that assures people that they will be protected from even a government that goes a bit awry."
Thanks for reading CBS NEWS.
Create your free account or log in
for more features.